Good Wednesday morning.  I have a fun Christmas project to share with you today using the Impression Obsession Bare Christmas Tree, Pine Sprig Cluster, Window With Shutter , Cat Set and Border Duo 1.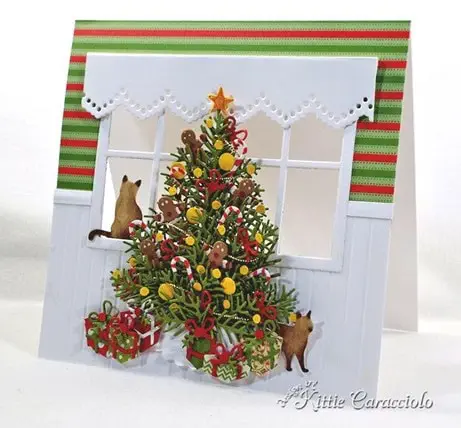 I have to admit this card took a few hours but I had so much fun making it.  I started by cutting the bare tree and lots and lots of the pine sprigs.  I started applying the pine at the top of the bare tree and worked my way down alternating from the center, then left and then right.  I kept moving down the base of the tree and repeating the steps.  As the tree got wider I added more sprigs on the branches but still continued the center, left and right to keep the tree even in appearance.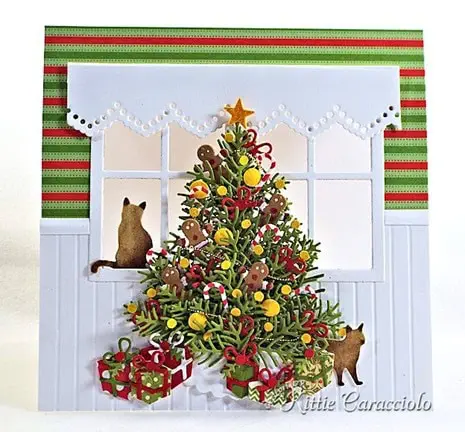 I cut four windows, two to create a double window for the front of the card and two to put on the inside of the card to create a clean finish. I used the windows as a template to draw lines on the card base and cut out the opening with my craft knife. I attached the windows directly on to the card base both inside and out with ATG adhesive. I finished the window by creating a decorative valance. If you would like to see step by step photos of how I create my see thru window check out my tutorial here.  I have picture below of the inside of the window. 
I cut out all the tiny decorations.  The gingerbread boys were cut from kraft cardstock and colored with a red copic marker and white watercolor paint. I cut the candy canes in white and used the red copic marker to add the lines.  The bows for the trees were all cut using red.  The packages and ribbon and bows were cut using a variety of paper.  I applied metallic rich gold pan pastel to yellow cardstock and punched out the ornaments.  They are so sweet with the soft gold but it only shows up as yellow in the photo.  The cats were cut using white, colored with the distress markers and blended with a waterbrush. All of the decorations on the tree with the exception of the round ornaments were made using the Bare Christmas Tree decorations.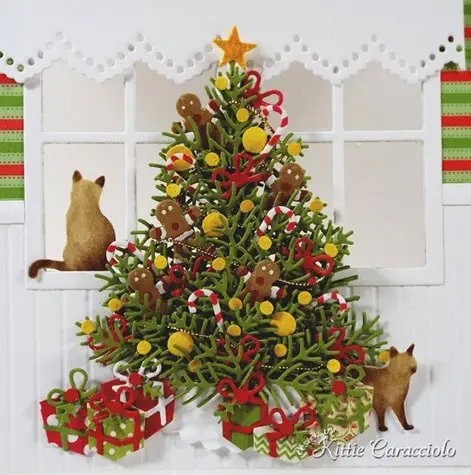 I hand cut a scalloped tree skirt, attached it and then tucked the presents in under the tree.  I couldn't resist adding a couple cats in the scene to make it feel like home.  We have four cats.  LOL!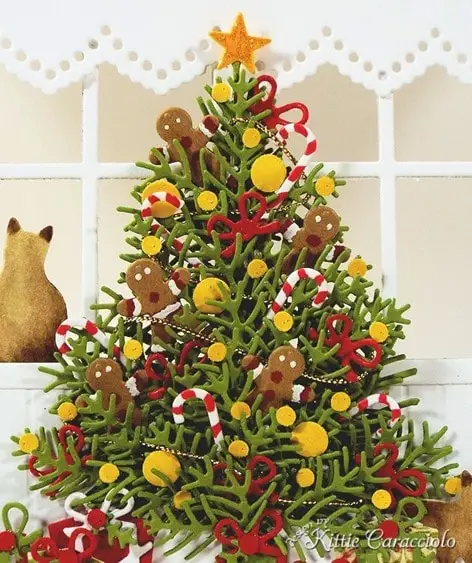 Here's a closer view so you can see the decorations better,  Aren't they cute!!!  I really love how this turned out.  My husband wants this to go to his mother for Christmas.  sniff, sniff!  I guess I will have to part with it. Maybe I should just have it matted and framed for one of her Christmas presents.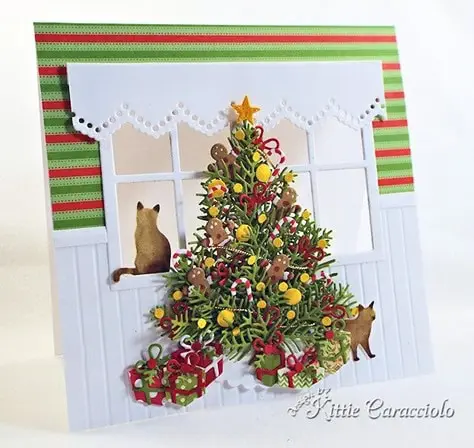 Thanks for stopping by and I hope you have a great day.
Paper:  Papertrey Christmas Prints, White, Olive, Red, Yellow Gold, Kraft, Assorted Paper (packages)         Accessories:  Impression Obsession Bare Christmas Tree, Pine Sprig Cluster, Window With Shutter, Cat Set,  Border Duo 1, Scor-Pal, Metallic Gold Twine,  Craft Knife, Pan Pastel Metallic Rich Gold 911.5, Sofft Knives and Covers, Waterbrush, Distress Markers Vintage Photo, Antique Linen (coloring cats),Copic Marker Strong Red R46 (gingerbread boys and candy canes), White Watercolor Paint (gingerbread boys),   Fiskars 1/4" Circle Punch, Fiskars 1/8" Circle Punch (gold ornaments), Small Tipped Brush, Yellow Stickles (star), Glossy Accents, Mounting Tape, Metal Adapter Plate  , ATG  , Big Shot , Teflon Bone Folder , Guillotine Paper Cutter