Good Thursday morning and welcome to the Impression Obsession design team "Favorite Technique" challenge. Creating winter moonlight snow scenes with evergreen tree images is one of my all time favorite techniques.  I thought I would try using the Solid Tree set and I love how it turned out.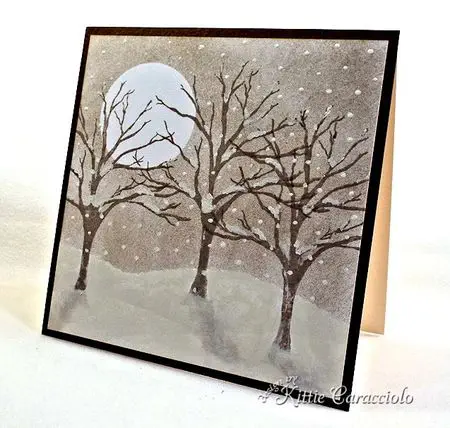 I started by stamping the trees.  I laid a circle mask in the sky and a hand cut ground mask on the bottom of the card and held in place while I sponged in the sky area.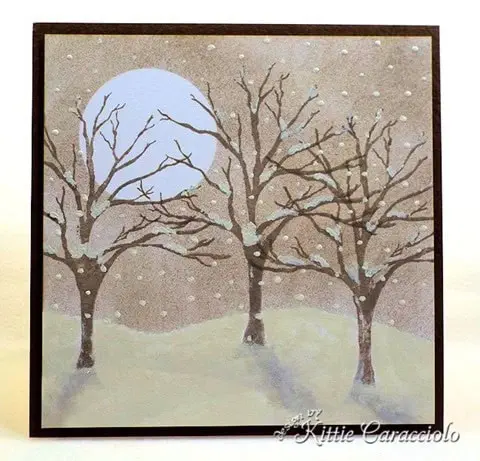 I used a tiny brush to apply pure white watercolor paint to the trees and to create the falling snow.  I used a large brush and painted in the ground area around the trees with white paint and allowed it to dry.  I used a mini applicator to lightly apply ink to create the light tree shadows. I liked the picture exactly as it is and didn't see any need for framing or embellishment.  Do you feel the icy cold chill in the air when you look at this scene?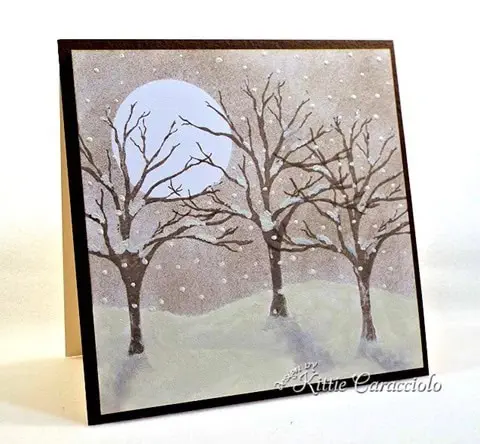 Why don't you come along and play with us. To enter the challenge go to the Impression Obsession Blog (all the details are there!). A random challenge card will be selected to showcase on the IO blog and you can to enter to win a $25 gift certificate to IO just by playing!
I hope you will go check out what the other IO teams members created for the challenge. Thanks for coming by today.
Kittie Caracciolo (you are here)
Stamps:  Impression Obsession Solid Tree Set     Paper:  White, Brown      Ink:  Pumice Stone      Accessories:  Inkssentials Ink Blending Tool, Brush, Sofft Mini Applicator,  White Watercolor Paint, 1 1/2 " Circle Punch, Circle Mask, Hand Cut Ground Mask, Mini Mister, Mounting Tape, ATG, Teflon Bone Folder, Guillotine Paper Cutter