Good Thursday morning.  I have another garden full of flowers to share with you today.  I had almost all of the parts and pieces still sitting on my desk from this past weekend and I decided to use them.  The Wheelbarrow is another new Impression Obsession die and this is the first time I have used it.  I thought it would be perfect paired with the Fancy Cut border as a trellis filled with vines and flowers.  I was inspired to fill the wheelbarrow with flowers by a card made and shared with me this week by Mitra Friant, owner of Impression Obsession.  She had filled her wheelbarrow with lots of tulips and I feel in love with it.  I decided to fill mine with flowers matching the trellis and vines cut from the Leafy Branch. The vines on the trellis were made using the new Leaves and Stems and all the flowers were made using the new Tiny Flowers die. I just can't seem to have a garden scene without several butterflies.   
I cut the wheelbarrow using Sahara Sand cardstock and aged it using Rusty Hinge ink  applied with a dry brush rubbed directly across the pad. I used a black Pitt artist pen to add dents along the edges of the wheelbarrow to add more age and wear.  I cut a couple leafy branches, cut them apart and attached them to the wheelbarrow using glossy accents. 
I cut the trellis, applied thin strips of mounting tape to the back and attached to the card base.  I attached the fence section to the base with mounting tape and attached the Grass Border and Small Grass Border using ATG adhesive. I attached the small stems and flowers to the trellis with glossy accents.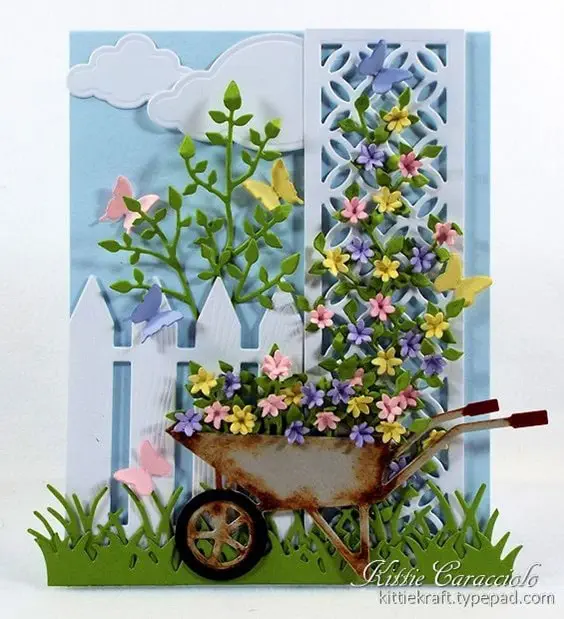 I attached the clouds and the wheelbarrow with mounting tape and finished by adding the butterflies.  I tucked the leafy branch in behind the fence and attached with glossy accents. I sure wish my garden looked like this.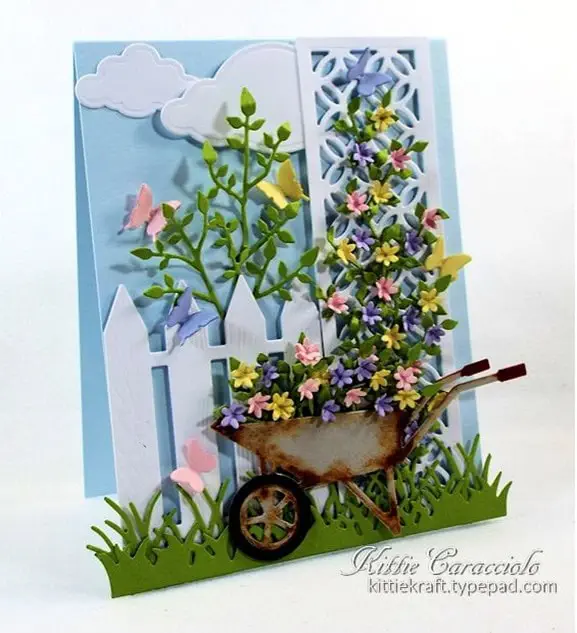 Thanks for stopping by and I hope you have a great day.
Card size:  5.5" x 4.25"