Good Friday afternoon.  I'm sorry my post is so late today.  Typepad was down all morning with some kind of technical issues.  Before I start my post I want to announce the winner of my blog candy.  Congratulations to Conniecrafter for winning my ribbon blog candy. Connie please send your mailing address to me at kittie747@cfl.rr.com and I will get your gift right out in the mail to you.
 39    Conniecrafter said…   I am sure she will just love it, I like how you use the inner cuts for the flowers, lovely coloring of the background, flowers and leaves!
ReplyApril 14, 2014 at 10:47 AM
True Random Number Generator Min: 1 Max 68: Result: 39 Powered by RANDOM.ORG
My project today was made using the newly released Taylored Expressions Neighborhood Border and Build a House.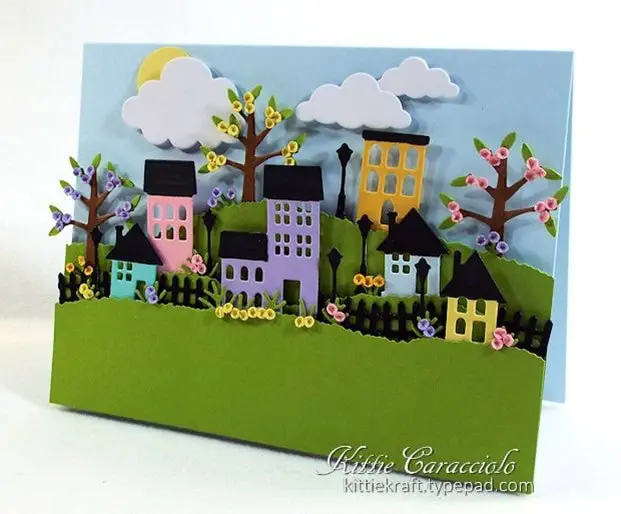 Instead of creating a single line border of houses I wanted to create a dimensional neighborhood. I cut each one with a different color of cardstock and colored the roofs with a black copic marker. I couldn't resist adding lampposts to every house. I cut three different layers of green cardstock using my deckle scissors and attached the houses. I attached the layers together with mounting tape to create a small separation between each one.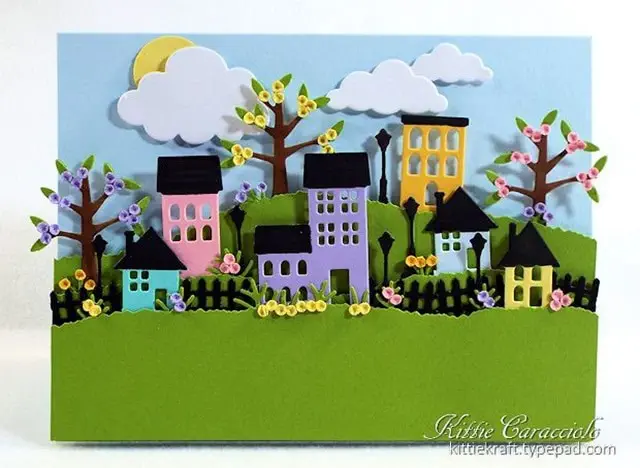 I cut the trees and fence from the Build a House set.  I created leaves by using the negative cutouts from my Fancy Cutout Border.  I attached them to the tree limbs with glossy accents and attached tiny flowers made using my 1/8" circle punch.  I attached the fence sections along the front row of houses and then filled in around the the lampposts, houses and trees with tiny flowers and pine sprig cluster..  I used the cloud from the Build a House set and Puffy Clouds and created the sun with a 3/4" circle punch.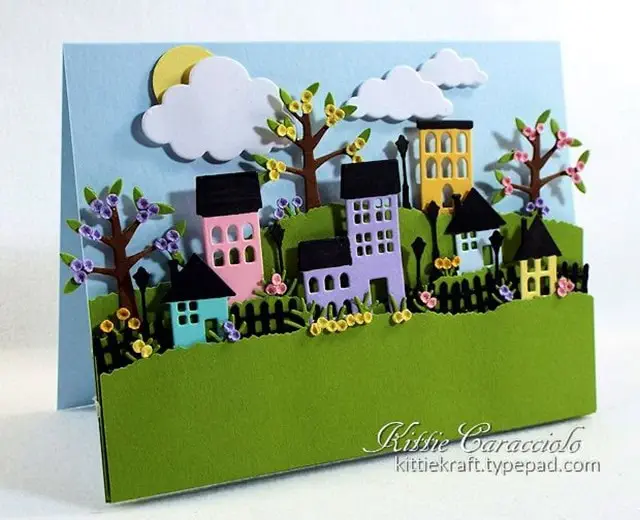 I think this would such a cute "Welcome to the Neighborhood" card.
Thanks for stopping by today and I hope you have a wonderful holiday weekend.  Happy Easter.
Card size"  5.50" x 4.25"