Good morning.  My project was made for the Splitcoaststampers Clean and Simple Challenge to use some form of water.  I decided to pull out some inks and reinkers, a brush, a couple mini applicators and ink blending tools, and the mini fern from my Kittie Kits Outdoor master to create a country landscape scene.  It's been a long time since I created a project using no die cuts. LOL It is certainly a primitive scene but I sure had fun getting my fingers inky.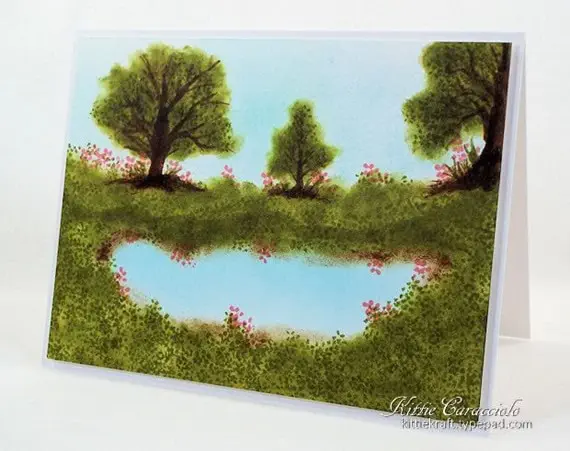 Using Color Box stylus and foam tip I applied the blue pond water and then applied green ground area around the pond. I set the ink by drying with my heat gun.  
Using a brush with reinker mixed with water I painted in the tree trunks and limbs and heat set.  Using a mini applicator I applied green around the branches to create the tree tops and heat set. Using a ink blending tool I applied blue ink to the sky area and heat set.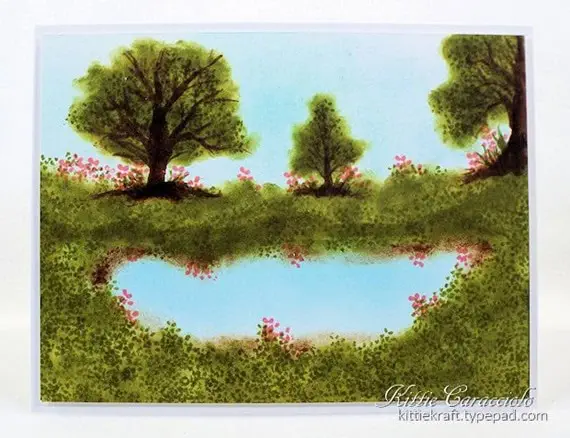 I applied texture to the grassy area and the tree tops with the mini fern stamp from my Kittie Kits outdoor master. I finished by adding pink flowers around the the pond area and tree line with the mini fern stamp.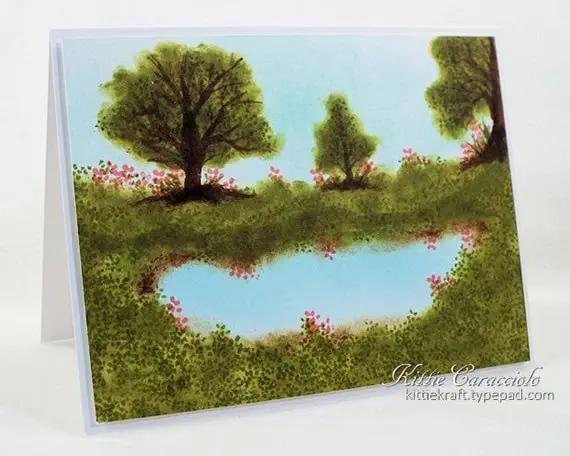 This is no great work of art but it takes me back to my beginnings in paper crafting.  I have always loved creating outdoor scenes around stamped images. My scenes became more and more dimensional with the introduction of all of the wonderful dies we have today.
Thanks for stopping by and I hope you have a wonderful day.