Good Friday morning.  I have a clean and simple fall project to share with you today made using the Impression Obsession Leaves set and Fancy Cutout Border.  I love fall leaves and they are so much fun to make for a card front.  I wanted the leaves to be the main focus but added the decorative die cut border with the orange peeking through for another touch of color.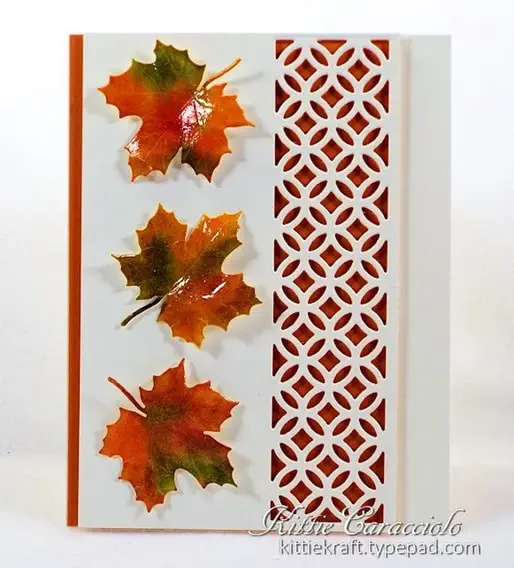 I cut the leaves using watercolor paper.  I actually had a happy mistake when I first started.  I noticed a dot of black on one of the leaves and tried to lightly wipe it off with a clean baby wipe.  The baby wipe didn't remove the dot but it did add just a light layer of moisture which allowed my inks to sponge on so smoothly.  I had actually intended to mist the leaves before starting to apply ink but I wouldn't not have gotten such a delicate layer of moisture and I think would have had a totally different outcome. Baby wipes….who knew???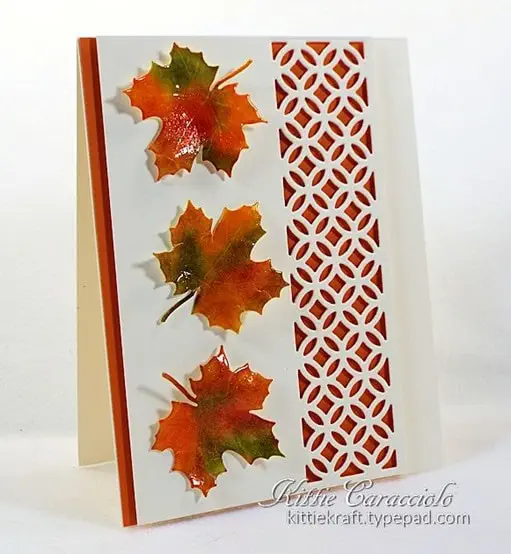 I used rusty hinge, peeled paint, fired brick, wild honey and spiced marmalade distress inks.  The Sofft mini applicator  is such a wonderful tool for sponging small areas.  This is a tool I would never want to be without.
When I was finished apply and blending the ink on the leaves I applied versa and embossed with clear embossing powder.  The embossed shine brought out the rich colors of the leaves but made it very difficult to get a good photograph. I formed the leaves lightly with my stylus and molding pad.
I popped the die cut layer over the orange with mounting tape and then applied to the card base with ATG.  I attached the leaves in place with a healthy dose of glossy accents.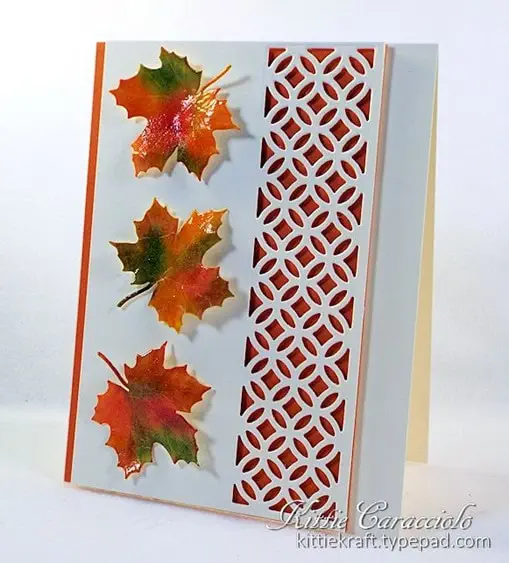 Check out my  Leaves with Alcohol Ink and Leaves with Pan Pastel tutorials to see other leaf coloring techniques.
Thanks for coming by and I hope you have a wonderful day and weekend. 
Card size:  5.50" x 4.25"