Good Thursday morning and Happy New Year! Welcome to the Impression Obsession Design Team "It Must Be Love" challenge.  February is the special month of love when we celebrate Valentine's Day.  Bob and I also celebrated our seventeenth anniversary on February 1st and had a wonderful day together.  Nothing represents love on a card front like hearts and red roses.  My project today was made using the Love You Heart, Spiral Flowers, Leaf Cluster and Rectangle 6-in-1 Frames.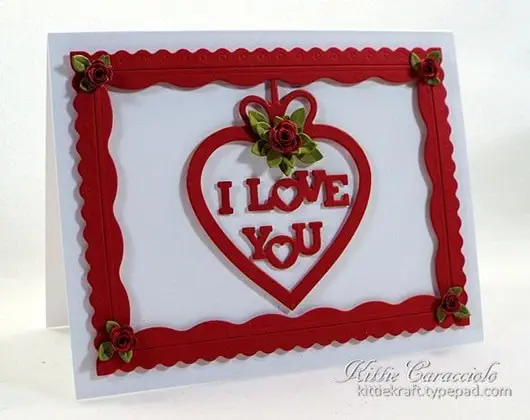 I started by cutting the frames, attaching the two largest frames together with double stick tape, applying mounting tape and attaching it to the card base.  I cut the heart and applied small pieces of mounting tape on the back and attached to the card base.  The letters were cut and attached inside the heart with thin strips of rolled up double stick tape.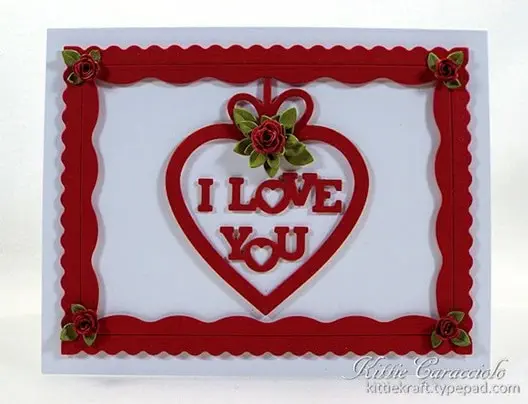 I attached a single leaf and tiny rolled rose to each corner with glossy accents.  I wanted the arrangement at the top of the heart to be larger than the corner so I attached several leaves with glossy accents and finished by using a larger rose.   
Why don't you come along and play with us. To enter the challenge go to the Impression Obsession Blog (all the details are there!). A random challenge card will be selected to showcase on the IO blog and you can to enter to win a $25 gift certificate to IO just by playing! I hope you will go check out what the other IO teams members created for the challenge. Thanks for coming by today.
Kittie Caracciolo  (that's me)
Card size:  5.50" x 4.25"