Good Thursday morning and welcome to the Impression Obsession Design Team "School Spirit" challenge.  Can there be anything more exciting for high school girls than picking out their prom dresses?  I decided it would be lots of fun to create a store display of fancy dresses. I can hear the squeals of  excitement. and anticipation as these dresses are tried on. My project today was made using the Impression Obsession Gown set, Wedding Cake set, Tiny Flowers,  Leaves and Stems.and Rectangle 6-in-1 Frames. I chose coordinating designer paper from the Penny Black Painted Blooms pad. I love the bright colors.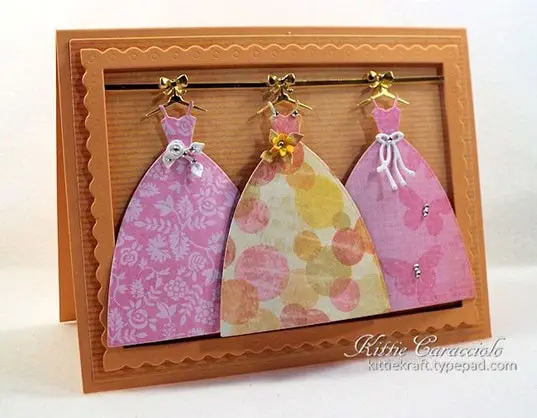 I attached the gold strip of cardstock to the back of the frame to create a rod to hold the dresses.  I then attached mounting tape to the frame and attached it to the card base.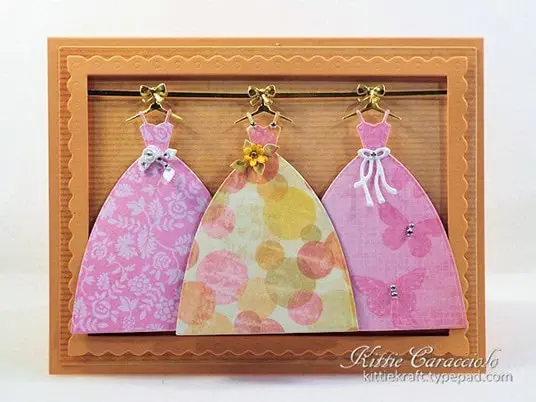 The dresses were embellished with flowers and bows and each one had rhinestones added for a touch of bling. The dresses were attached to the little dress hangers with glossy accents.  I attached layers of mounting tape to the back of each dress and attached to the card base.  The hangers were attached to the rod and covered with  little gold bows to dress them up a little more.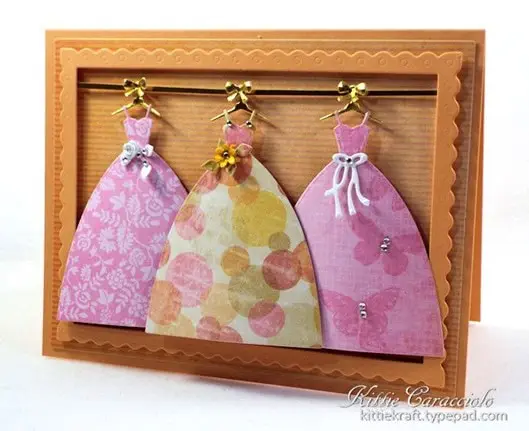 I think the dresses hanging on the rod are so sweet.  Why don't you come along and play with us. To enter the challenge go to the Impression Obsession Blog (all the details are there!). A random challenge card will be selected to showcase on the IO blog and you can to enter to win a $25 gift certificate to IO just by playing! I hope you will go check out what the other IO teams members created for the challenge. Thanks for coming by today..
Kittie Caracciolo  (that's me)
Card size"  5.50" x 4.25"