Good Sunday morning.  I love making tree scenes.  I just can't seem to help myself.  LOL!  I especially love making then on a crisp white background. My project today was made using the Impression Obsession Tree Die, Leafy Branch, Leaves and Stems, Sun and Moon, Elizabeth Craft Designs Susan's Sunflower (tiny flowers) and Planted In Faith Sentiment.  The curved grass strip was hand cut using my deckle scissors.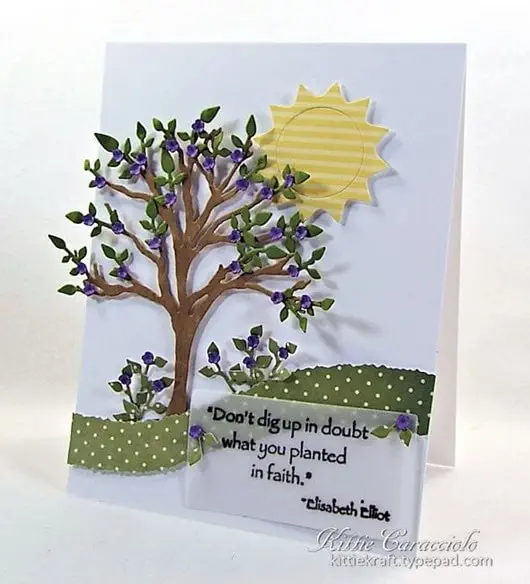 I started by cutting the tree using kraft cardstock and colored it with a brown Copic marker.  I cut two leafy branches and cut all the  individual leaf sections off and attached to the tree branches with glossy accents. The tiny flowers were formed with my stylus and molding pad and attached to the leaves with glossy accents.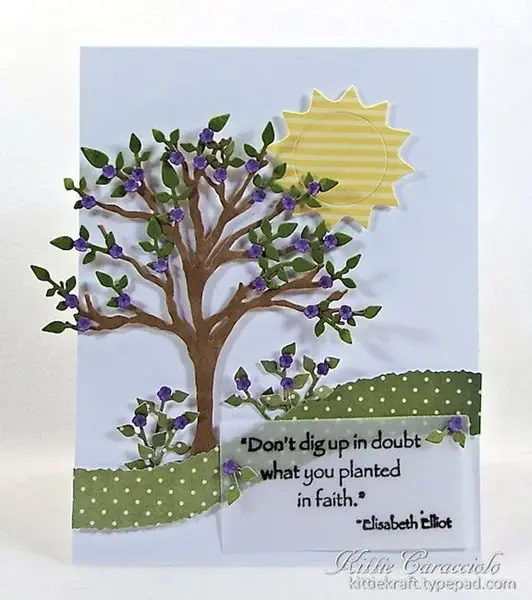 I hand cut the designer paper with deckle scissors to create an interesting ground piece and attached it to the card base with mounting tape.  I didn't think of using designer paper for the ground until after I had made the leaves for the trees.  If I had I would have cut them with the pattern paper as well. I attached the tree to the card base with thin strips of mounting tape.  The stems were cut with the same designer paper and the tiny flowers were attached with glossy accents. Then I attached the stems in behind the grass with glossy accents. The sun was cut with yellow stripped designer paper and attached to the card base with mounting tape.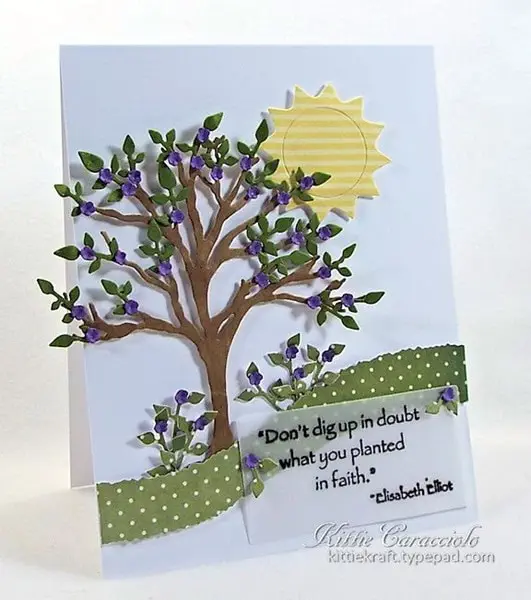 The sentiment was stamped on vellum using black versafine and embossed with clear embossing powder.  A thin strip of mounting tape was attached directly under the Elizabeth Elliot name so it wouldn't show through when attached to the card base.  The upper section of the sentiment layer was attached to the grass with tiny glue dots and then covered with a tiny leaves and flowers.  I love this sentiment.
Thanks for coming by and I hope you enjoy your Sunday.
Card size"  5.50" x 4.25"