Good Saturday afternoon.  My project today was made for the Splitcoaststampers Inspiration Challenge. A Pinterest Mix Media/Canvas Art site was provided as our inspiration and I must say I almost became overwhelmed with all the wonderful projects. A few weeks ago my friend Audrie posted a gorgeous beach card using texture paste that took my breath away.  She used the paste to create a foamy ocean and puffy sky as a background for her framed beach house. I was so intrigued because I had never used texture paste.  I was getting ready to order some so I could give Audrie's technique a try and then remembered I had purchased some quite a while back and had never even opened the jar.  Sad isn't!!  Anyway….I decided to try my hand at creating a mixed media project for today's challenge and was inspired by two different projects.  I loved the brick and window in the project found here and the frosty, snow covered  evergreen and pinecones found here.  Here's what I came up with.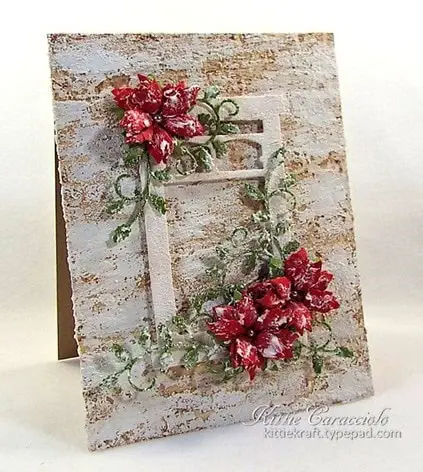 I embossed the background layer with Taylored Expressions Brick Embossing Folder using white cardstock.  I applied brown ink to the brick with a sponge and heat dried with my gun.  I sat looking at my bottle of Wendy Vecchi's white Embossing Paste wondering the best way to apply it over the brick and finally decided to use my finger.  I dabbed it all over trying to leave some of the brown showing through but got a little heavy handed.  I also had the complication of having the brown ink coming up into the paste and turning it a little brown.  Ugh!  I reached for a bottle of white gesso and dabbed it around over the paste with my finger to try and cover the brown spots.  It worked pretty well but I needed to add a couple coats in places.  When this mess was all dry and used a sanding block to sand some of the paste and paint off so more of the brown brick would show.
I cut the window die and applied the embossing paste over it with my finger.  After the window dried I sponged a touch of brown on it to tone down the white to match better with the background and then attached it using thin strips of mounting tape.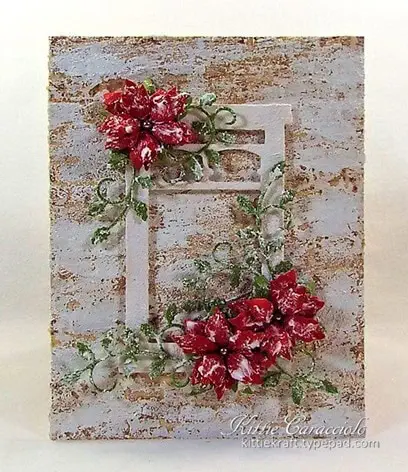 I loved the snowy foliage from the inspiration piece and was inspired to use Impression Obsession Holly Flourish and poinsettias from the Tattered Lace Winter Florals set to embellish my window.  I cut and formed the poinsettias and then assembled them using glossy accents.  I applied the embossing paste to the poinsettia petals using a old small brush and set them aside to dry.  I cut the holly and lightly dabbed the paste with my finger. Once everything was dry I arranged the holly and flowers and attached with glossy accents.  I discovered that adhesive doesn't like to stick very well to embossing paste so I had to hold the pieces secure in place to allow them to adhere completely.  I finished by placing a tiny pearl in the center of each flower.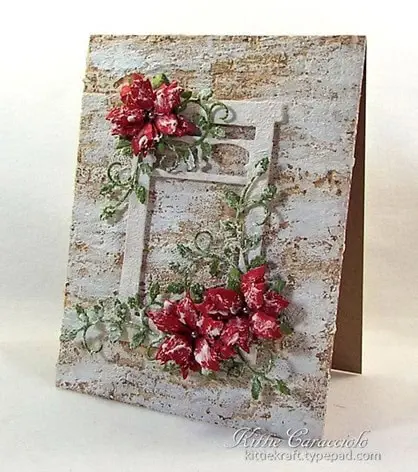 The embossing paste  was lots of fun to play and experiment with.  Now maybe I will make myself pull out a palette and try using it with the several stencils that I purchased and have never used.  LOL! 
Thanks for coming by and I hope you have a great weekend.
Card size:  5.50" x 4.25"