Good Friday morning.  I hope you all had a wonderful Thanksgiving.  I admit that I ate way too much but Bob and I had a great day together.  We felt especially blessed for Bob to be off for the holiday.  He works for Mickey Mouse and has had to work many of the past holidays.  Before I move on to my project I want to announce the winner of my May Arts ribbon blog candy.  Congratulations to Becky Green.  Becky please send your mailing address to kittie747@cfl.rr.com and I will get your gift in the nail to you.
23 Becky Green said… What a GORGEOUS CARD, Kittie!!! I LOOOVE the addition of the candle in the window to your famous window scene!!! 😉 JUST GORGEOUS!!!! Question: Do you make EVERYONE the same Christmas card or do you do different cards for each? AND are each of your cards ELEBORATE, needing special mailing? Just a thought that came to me! 😉 As for your question: I use FRESH! Even if the recipe calls for canned, I use fresh. I have several different recipes that I use changing them around each year, so we don't get tired of the same dish. We do have our FAVORITE of those dishes though…. It seems I am always looking for a new & delish cranberry dish too, so I am adding to my list of cranberry dishes as I find them. But, fresh is ALWAYS BEST!!! 😉 Reply November 22, 2015 at 11:34 AM
True Random Number Generator Min: 1 Max: 48 Result: 23 Powered by RANDOM.ORG
My project today is another tag.  I had several leftover parts and pieces already on my desk to I decided to create a whimsical snowman scene. He is such a precious little guy and he comes with all the pieces you see on with the exception of the bird and tree.  The only thing I didn't use in the set was the broom.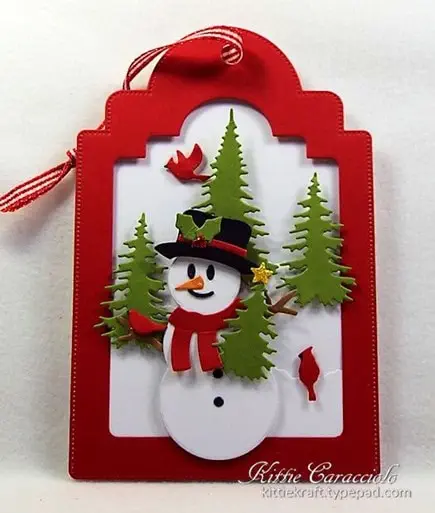 I cut the tag frame, attached two pieces of ground snow to the back of it with ATG adhesive and then applied mounting tape to the back and attached it to the white tag base.  I didn't realize that my little snow hills don't really show in the photo until just now.  The trees were attached to the scene with double stick tape. All the parts and pieces of the snowman were assembled and attached with glossy accents.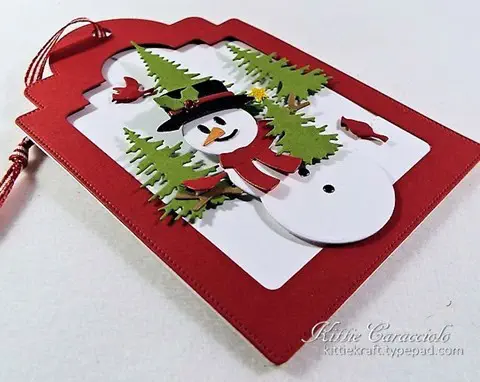 The snowman was attached to the scene with mounting tape. The finishing touch was adding the birds and the tiny sparkly star to the little Christmas tree he is holding.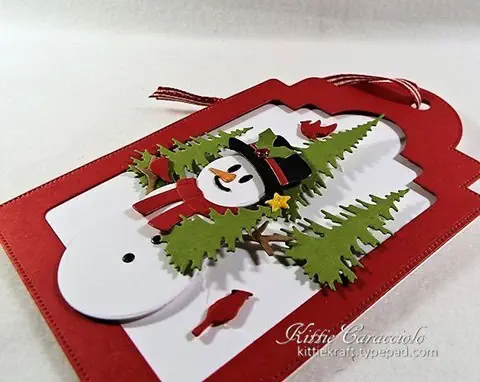 Two of my favorite places are having holiday sales with great discounts.  Clock on the  ads below and shop, shop, shop!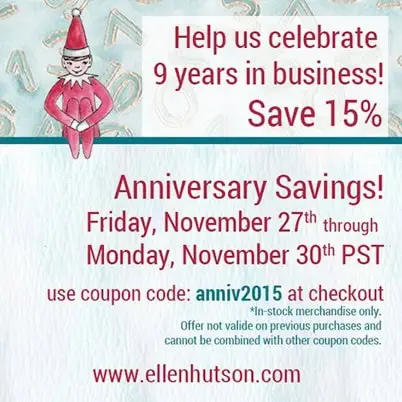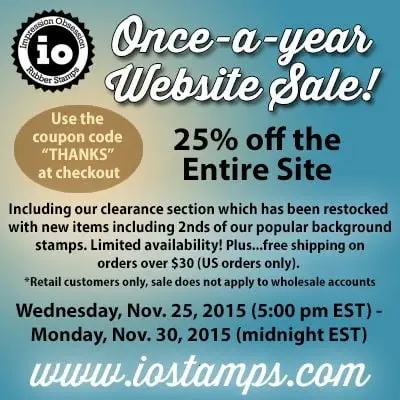 Thanks for stopping by today.  I'm not a Black Friday shopper but I do wish those of you who are good luck.
Tag Size:  5.00" x 3.25"