Good Saturday morning.  My project today is made especially to encourage those who are experiencing terrible winter storms. My brother-in-law in New Jersey says they have 20 inches and it's still falling.  My sister who lives in Philadelphia decided to skip the winter this year and spend the first three months of the year in Florida.  She's a very happy camper.  I won't even try to complain that it is windy 46 degrees here in Orlando today but it feels cold to me.  LOL!
I love the Susan Tierney-Cockburn's Winter Spring sentiment and thought it would be perfectly paired with a simple flowering tree scene made using the Country Scapes Backyard 2 and the Country Scapes The Woods 1.  I happened to notice when I was creating the links for the bottom of my post that The Woods 1 set is on sale at Ellen's for 30% off.  Just thought I would let you know.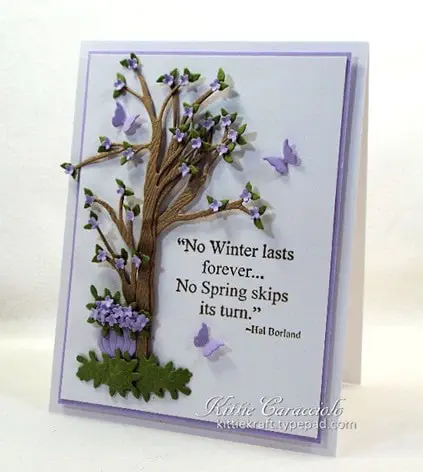 I started by stamping the sentiment on the card base with black versafine and embossed with gold embossing powder.  I cut the tree sections and several sections of the leaves and flowers dies and began assembling.  I added two leaves to the end of every branch tip attaching with glossy accents.  I formed the tiny flowers using my small tipped stylus and molding pad and attached a flower over each leaf section using glossy accents.  The leaves and flowers are tiny and I use my QuickStik to pick up the pieces. The  main tree die is made to cut two connected tree sections but I wanted my tree to look like one larger tree.  I cut the trees apart,applied double stick tape to the back of the larger tree and attached it over top of the small tree. I attached the larger loose branch to the back of the tree with double stick tape.  I applied thin strips of mounting tape to the back of the tree in several spots and then attached it to the card base.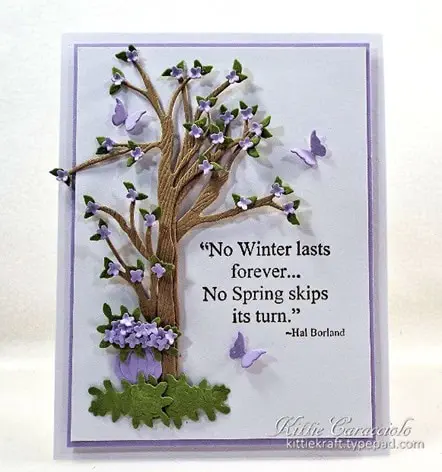 I cut the vase and flower arrangement sections, and attached them together with glue dots.  I attached lots of tiny flowers around the foliage to fill in the arrangement. I attached the completed vase to the foot of the tree with mounting tape.  I cut two more sections of the foliage and pieced them together to create a grassy base for the vase and tree and attached them to the card base with rolled glue dots. I had the smaller loose branch left over and tucked it down in behind the vase of flowers.  I added three butterflies to complete the scene for the finishing touch.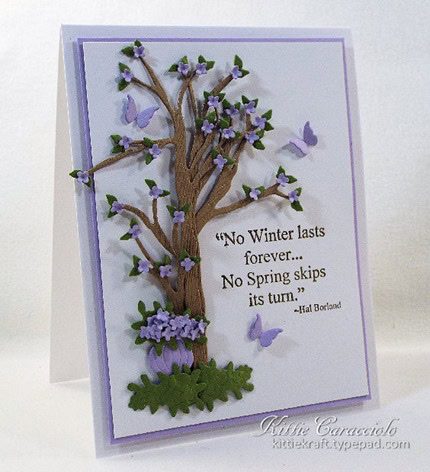 Once again I have used my favorite spring and flower color combination for my card.  I am going to have to make myself branch out a little more.    Thanks for coming by today and I hope you are enjoying your weekend.  
Card size:  5.50" x 4.25"