Good Sunday morning.  My project today was made using the Taylored Expression In The Garden silhouette die and was paired with the Memory Box Butterfly Delights,  Puffy Clouds  and Lawn Fawn Scalloped Rectangle Stackables to create a fun and colorful scene.  Texture was added to the grass and tree top using a stamp from the Art Impressions Watercolor Foliage.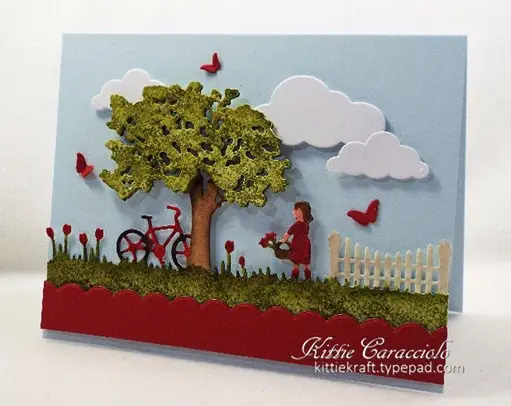 I cut the whole scene out using watercolor paper.  I lightly misted with water using a mini mister so the paper would accept the color more easily.  The large sections of the scene were painted using a water brush and distress reinkers.  I add a drop of reinker into the lid of the ink pads and mix the ink with water from my water brush and paint on to the paper. I used Peeled Paint for the tree and ground area and Gathered Twigs for the trunk of the tree.  The fence was painted using Pumice Stone reinker.  I cut a second tree top, painted and then stamped with a foliage stamp to add texture.  I popped the tree top up on the base using mounting tape.  I cut a second girl image, colored her with markers and attached her to the base using rolled glue dots. The flowers and bicycle were colored using Distress markers. The ground area was stamped with the foliage image to match the tree top.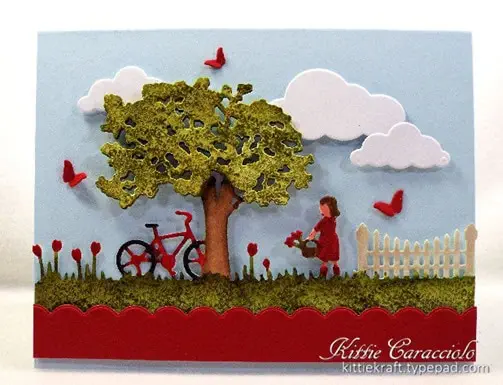 I applied strips of mounting tape to  the back of the  tree top and girl portion of the scene and then applied ATG adhesive to the back of the lower grass section and attached the scene to the card base. I wanted the tree and girl to stand away from the card base but wanted the grassy area flat so I could attached the scalloped red base over top with mounting tape. I cut the scalloped red layer using one side of the largest rectangle die and attached it over the grass area with mounting tape. The clouds were attached to the card base with mounting tape.  The tiny red butterflies were attached with glossy accents for the finishing touch to the scene.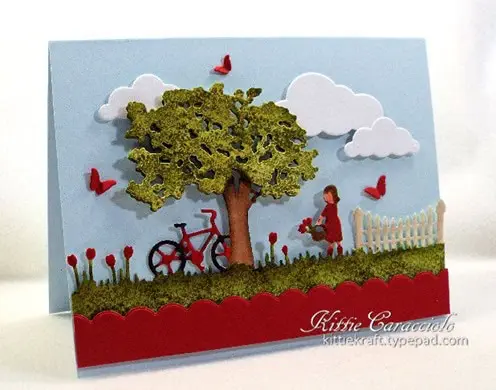 I like how the red is repeated on the girls dress, flowers, bicycle, butterflies and scalloped layers.  I originally was going to use all different colors for the flowers, bike and dress to make the scene look more springy  but thought red coordinated far better and made all of those images pop better against the blue background.
Thanks for coming by today and I hope you have a great Sunday. I will be fitting playing with some of my new Art Impressions stamp sets in between loads of wash today.  I wish I could wiggle my nose like Samantha and have all that laundry done.  Are any of you old enough to remember who Samantha is?  LOL!
Card size:  5.50" x 4.25"