Good Monday morning.  It 's starting to feel like Spring here in Florida and the warmer temps and blooming flowers inspired me to create a few spring cards this past weekend.  My project today was made using the Impression Obsession Bunny Set, Reading Tree, Picket Fence, Small Bird Set, All-in-One Frames Squares 2, Small Grass Border, Elizabeth Craft Designs Garden Edges Hyacinth and Garden Edges Tulip.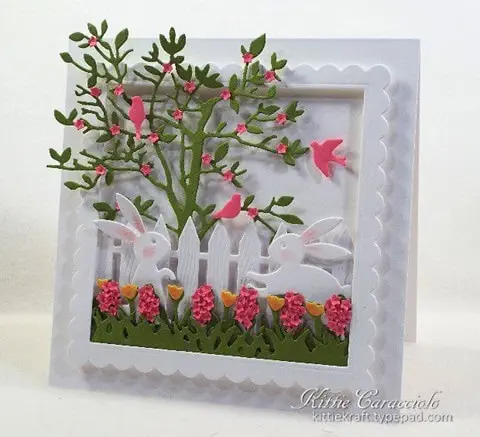 I started by cutting the hyacinth and tulip edges and assembling the tiny flowers and attaching them to the base of the flowers with glossy accents. I cut a few extra tiny hyacinth blooms and attached to the tree branches with glossy accents. Once the flower edges and tree were finished I cut the frame and grass border and attached them together with double stick tape. I added another layer of double stick tape to the back of the grass border and attached the two flower edges, offsetting the flowers so both would show along the fence line. I applied thin strips of mounting tape to the back of the frame and then attached the fence to the frame.  I wanted the fence to stand away from the card base so I attached a second layer of mounting tape to the back of the frame and attached it to the base.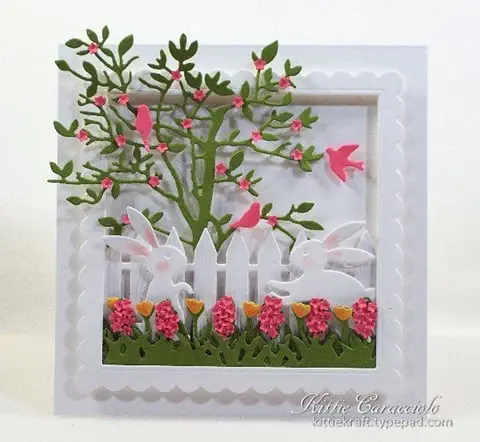 I applied thin strips of mounting tape to the tree trunk and attached it in behind the fence.  I applied tiny rolled up glue dots to the back of a few key branches to anchor them to the frame.  I applied pink to the bunny ears and cheeks with a mini applicator and attached them behind the flower border with mounting tape.  I finished by adding three tiny birds in the scene.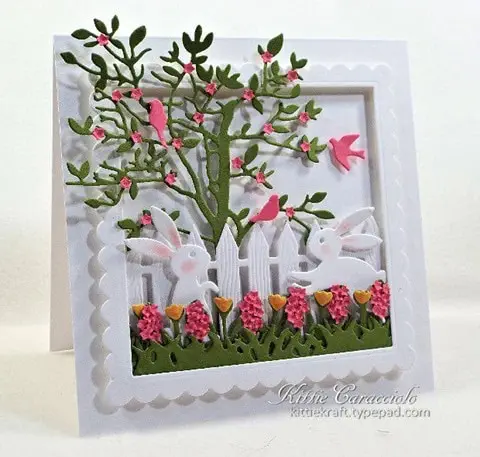 Thanks for coming by today and I hope you have a great week.
Card size:  4.50" Square