Good Thursday morning and welcome to the Impression Obsession "Summer Fun" design team challenge. For me summer fun means going to the beach, kicking off my flip flops, walking along the water's edge and sitting to watch the waves roll in. My project today was made using the Impression Obsession Flip Flops, Sea Birds and Tiny Flowers.
I cut a matting frame for my scene using the Matting Basics A and B and attached it to the base using mono adhesive . I wanted to create a white border around the scene. I applied a mask straight across the middle of the scene base to create the ocean water line. I sponged in both the sandy beach and water using ink blending tools. I removed the mask for the water line and light sponged in the blue for the sky. I applied touches of embossing paste to the water using a triangle shaped palette knife to create the appearance of sea foam and heat set it. I used a green marker to sketch in a few clumps of sea oats.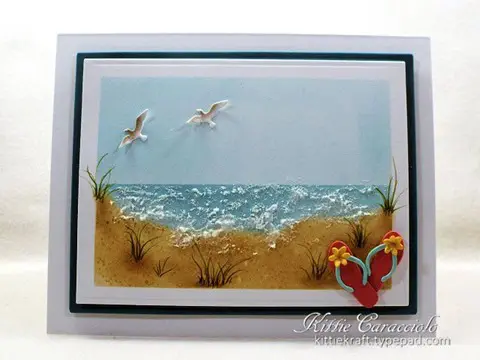 I cut and assembled the flip flops using glossy accents and couldn't resist adding a flower to each of them. I attached them in the corner of the scene using glue dots. I applied a light touch of gray ink to the birds using a mini applicator and attached them to the sky area using glossy accents. The scene was attached to the blue layer with strips of mounting tape and then the scene was attached to the white card base with strips of mounting tape. I wish I could kick off my flip flops and walk into this peaceful beach scene.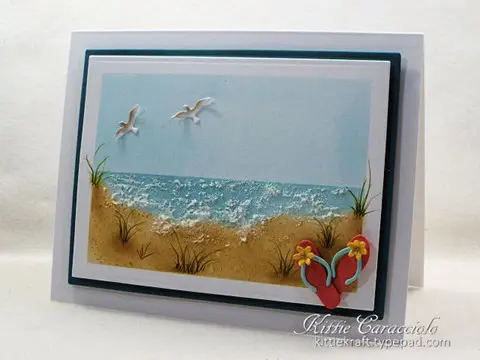 Why don't you come along and play with us. To enter the challenge go to the Impression Obsession Blog (all the details are there!). A random challenge card will be selected to showcase on the IO blog and you can enter to win a $25 gift certificate to IO just by playing! I hope you will go check out what the other IO teams members created for the challenge.
Kittie Caracciolo (that's me)
I want to give you a heads up that Ellen Hutson is having a 15% off sale now through midnight on June 17. It's a good time to get some of the wonderful things you have on your wish list.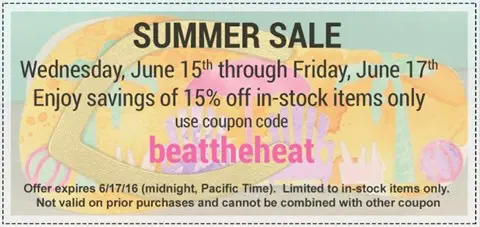 Thanks for coming by and I hope you have a great day.
Card Size 5.50 X 4.25"