Good Friday morning.  Wheeee!  The weekend is almost here and I'm looking forward to it!  How about you?  My project today was made with the new Elizabeth Craft Designs Garden Notes Jasmine by Susan Tierney-Cockburn, the new Taylored Expressions Dotted Lattice Embossing Folder and the Impression Obsession Ornate Oval Frame.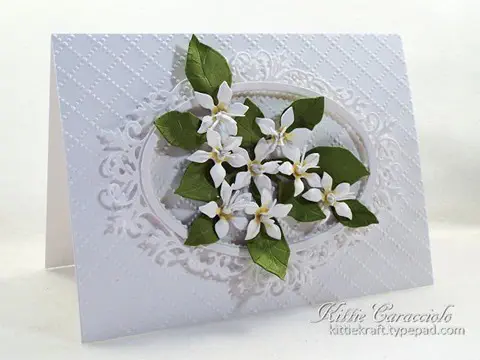 When I saw Susan's pretty Jasmine set I knew I wanted to play with it.  The flowers are so delicate and I really love the foliage that comes with the set.  I cut the flowers, lightly applied Scattered straw in the center of each one and then formed using my stylus and molding pad from Susan's Garden Tool Kit. I formed the stamen by rolling them around my tweezers tip and securing them with Crafter's Pick glue.  I also used Crafter's pick to attach the stamen in the center of the flower because it dries clear.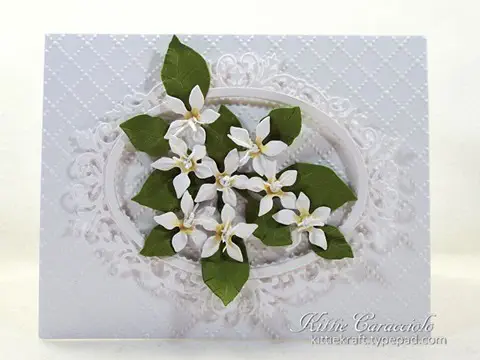 The frame was attached to the card base with thin strips of mounting tape. The leaves were cut and then scored  with the leaf tool, and formed lightly with the stylus and molding pad.  They were arranged and attached  to the card base with glossy accents. The flowers were attached to and around the foliage with glossy accents.  I made this arrangement more of a free form design so the flowers and branches would look more natural.
Here's a closer view of the flowers.  I think they are so pretty and delicate.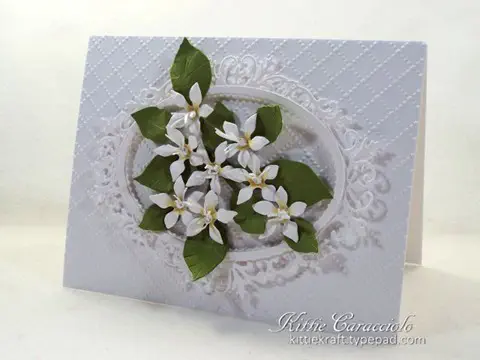 Don't forget to check out the 15% off sale over at Ellen Hutson.  The sale ends tonight at midnight Pacific Time.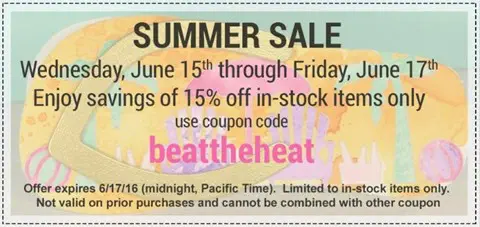 Thanks for stopping by today and I hope you have a great weekend.
Card size:  5.50" x 4.25"