Good Thursday morning and welcome to the Impression Obsession "Oh Baby" design team challenge. Baby cards are fun to make and I always like using soft colors.  I have two projects to share today using the Patchwork Sheep and Baby set.  The sentiments are from the Clothesline set.
I thought the little lamb would be so cute made using the soft blue checked paper and created into a little scene with the soft yellow flower, birds and sun.  I assembled the sheep using glossy accents and mounting tape.  I crimped the fluffy hair on top of the lamb's head to add a little dimension.  The grass was cut in the same shape as the background layer and attached it with double stick tape.  I tucked the lamb in behind the the grass and attached to the card base with mounting tape.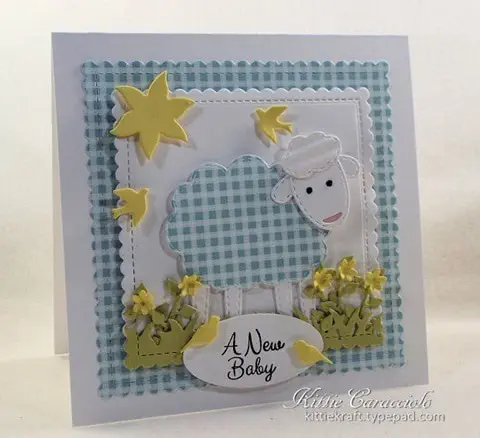 I created a few flowing stems and attached them in behind the grass with glossy accents.  I used a flower from the Bunch of Blossoms set to create a whimsical sun and attached it with mounting tape.  The sentiment was attached to the base of the scene and the little birds were attached to the sentiment layer and in the sky for the finishing touch.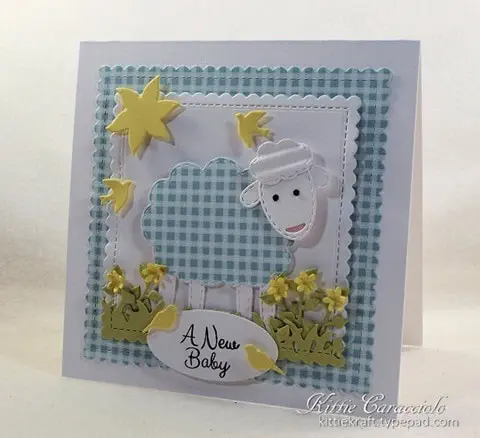 The new Baby Set images are so cute.  This was a very fast and easy card to make.  I cut the double layered background layer the card base with mounting tape. I attached the decorative center frames from the All-in-One Squares to the card base using mounting tape.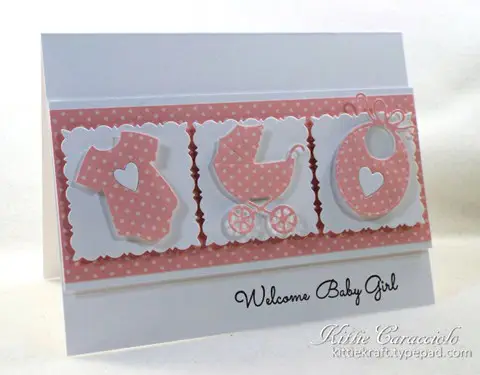 I popped the three images up on the white frame layers for one more element of dimension.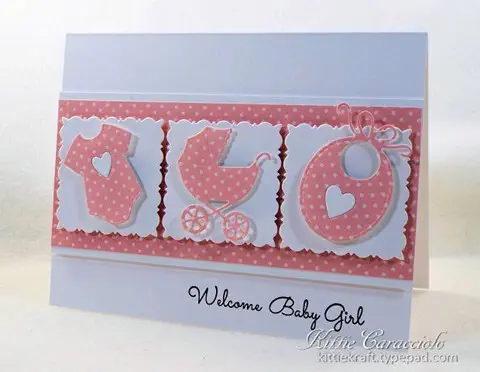 Why don't you come along and play with us. To enter the challenge go to the Impression Obsession Blog (all the details are there!). A random challenge card will be selected to showcase on the IO blog and you can enter to win a $25 gift certificate to IO just by playing! I hope you will go check out what the other IO teams members created for the challenge.
Kittie Caracciolo  (that's me)
Lamb card is 4.50" Square
Baby Set card is 5.50" x 4.25"