Good Friday morning.  I'm so happy the weekend is almost here.  My husband will be off work this weekend so I'm looking forward to doing something fun. Bob's works at Disney and is a big kid at heart. His idea of something fun is going to see Finding Dory so I'm sure that is on the schedule.  My project today is is a smaller version of the Inspired Vintage Roses that I made a couple of weeks ago.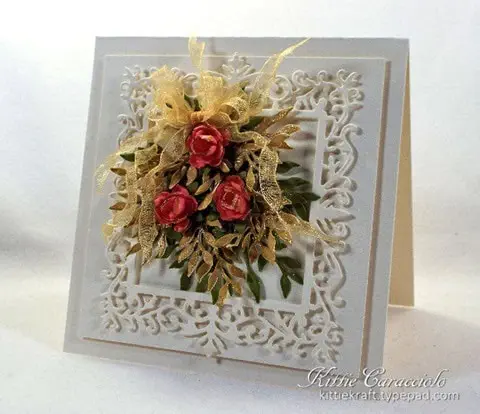 I used a flower from the Impression Obsession Bunch of Blossoms set.  Each rose has three layers and the petals were formed using my stylus and molding pad and attached together with glossy accents.  After the flowers were assembled I applied gold Wink of Stella to the edges of the petals and set them aside. I cut two sections each of green and cream Foliage to use for the spray.  I colored the both the green and cream foliage sections with gold Wink of Stella, let them dry and  then lightly formed with the stylus and molding pad. I attached the Ornate Square Frame to the card base with a section of rolled up double stick tape.
.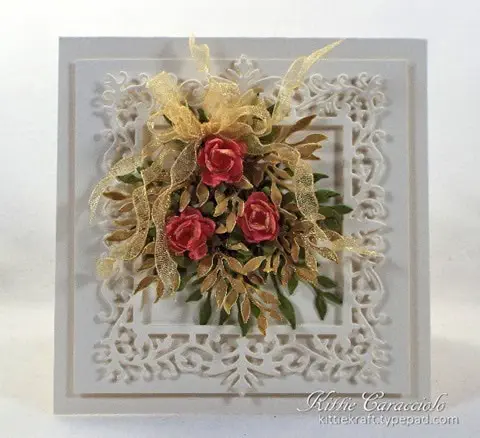 I created a green foliage base for the flowers by attaching the sections to the card base with glossy accents. You can see step by step pictures of my Flower Spray Tutorial here.  I attached the roses to the foliage with glossy accents and then filled in around them with the gold foliage and attached with glossy accents.  I finished by making a gold multi loop bow that I gently heated with my heat gun to curl the loops and streamers to make them appear old.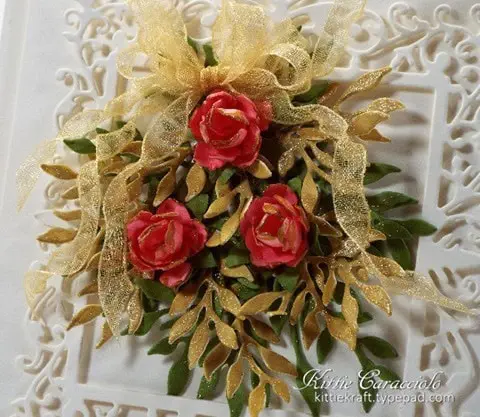 Here's a closer view of the arrangement.  I think the roses are so pretty surrounded with the foliage and old-fashioned ribbon.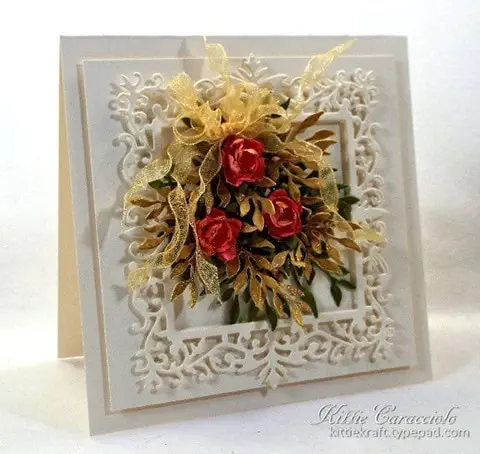 Here is a picture of the larger vintage rose card I mentioned at the beginning of my post.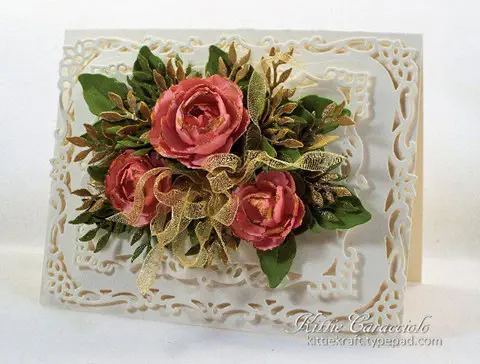 Thank you for coming by today and I hope you have a wonderful weekend.
Card size:  4.50" Square