Good Saturday morning.  It's Watercolor Weekend at Ellen Hutson and featuring Sandy Allnock and some of her favorite things for watercoloring.  I decided to try my hand at painting a little tree scene using some of the Daniel Smith watercolors that I have collected.  First let me say without a doubt I am no Sandy Allnock.  I only wish I could watercolor like her.  I am not exactly thrilled with how my tree scene and pitiful matching envelope turned out but I  thought  I would blog it in hopes that it may give other's the courage to try.  And since I am sharing my feeble attempt with you I hope none of you will let Sandy know how far off my tree is compared to the ones she is sharing in her video tutorial in the CLASSroom today.  Deal!!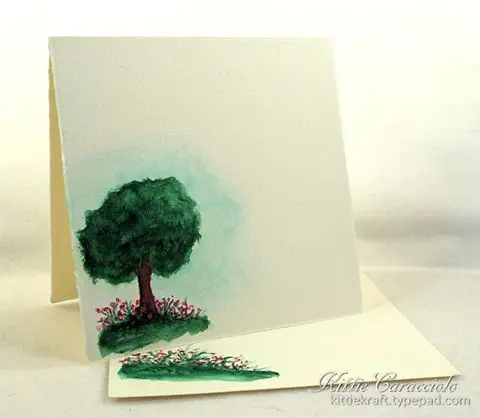 I signed up to take Sandy's Exploring Watercolor class a while back and have all the lessons saved but haven't been able to start them yet.  I think it's about time that I do. I treated myself to a special Exploring Watercolor with Sandy Allnock Bundle being offered at Ellen Hutson.  It is a great savings compared to purchasing the items separately and you can get an additional 10% off this weekend.  If you have been thinking of trying to play with watercolors this is a great way to get started. 
Contents of the bundle:
DANIEL SMITH Extra Fine Watercolors, Essentials 5ml Set of 6
Canson Arches French Bound Cold Press Watercolor Paper Pad 9×12
Black Velvet Watercolor Brushes, Short Round 8
Black Velvet Watercolor Brushes, Short Round 12
Black Velvet Watercolor Brushes, Short Wide Wash Blender 1 in
I used  the Daniel Smith Extra Fine Primatek Set of Six and a Fabriano note card that I have had in my stash for years.  I started by applying a light wash of water to the corner of the card where I wanted to paint my scene.  I painted the trunk of the tree first, allowed it to dry some and then applied the green to the ground area and tree top.  Next I painted in the green sprigs and tiny pink flowers.  I didn't have the courage to watercolor a blue sky around the scene so I lightly sponged Tumbled Glass distress ink with an ink blending tool and then lightly brushed it with my brush.  I have a problem getting too heavy handed with my paints and get the images too dark. I hope with practice I can get over that.  I wish that a tiny bit of Sandy's talent would come my way.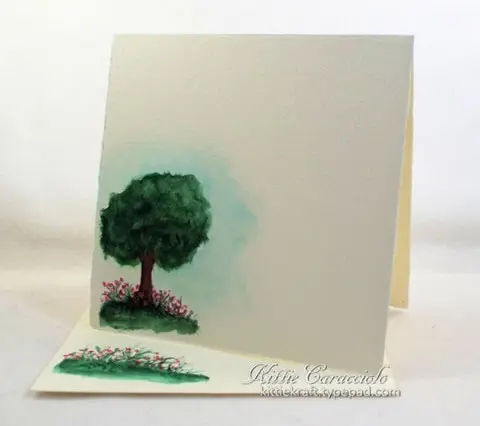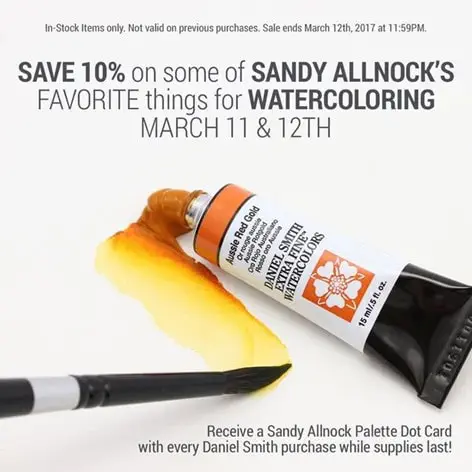 Thanks for coming and I hope you have a great weekend.
Save