Good Sunday morning.  My project today was made using the Impression Obsession Ornate Oval Frame and Wrought Iron Fence paired together to create this awesome frame.  The floral arrangement was made using the Foliage set, Tiny Flowers and Elizabeth Craft Designs Bunch of Flowers 1.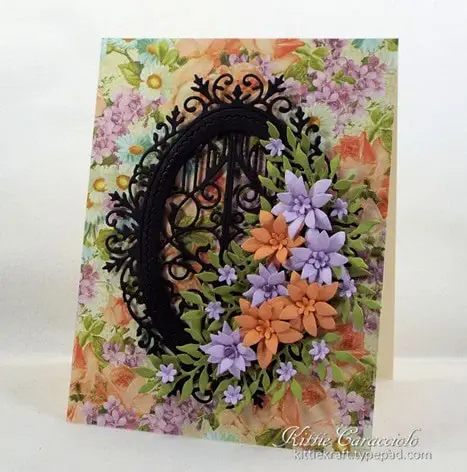 I thought combining the two dies would make a really pretty frame for my floral arrangement.  The frame die cuts into 4 sections, three frame layers and an oval.  I attached the three frame sections together using double stick tape to create a more substantial frame to attach the fence sections to.   The fence comes in two sections and I attached then together in the center with double stick tape.  This got a little tricky as the border around the fence is very thin.  I cut 1/8" double stick tape sections in half lengthways to create a thin enough adhesive to hold the sections together without showing from the front.  I removed the backing off the tape on the frame and attached the frame to the fence. Once it was secure I used my snips to cut off the excess portions of the fence.  I applied thin strips of mounting tape to the back of the frame and attached it to the card base.  I really love how the frame and fence sections look together to create a totally different piece.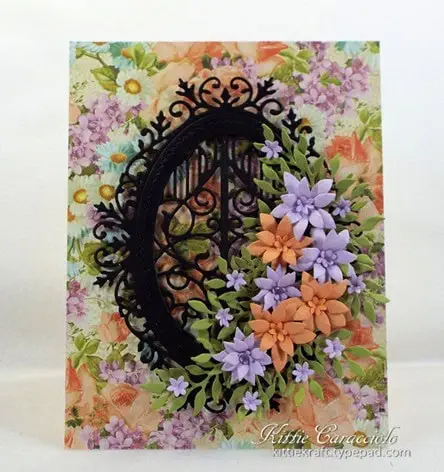 I had one more piece of this beautiful paper from the Graphic 45 Sweet Sentiments Collection and I thought it would be so pretty as the background for my frame and flowers.  I had a bit of a hard time trying to decide what color flowers I should use.  The dominant colors of the paper are peach and lavender so that's what I used.  They are a fairly strange color combination but I went with it anyway.  If I had it to do again I would have created the frame using cream colored cardstock.  I formed the flowers using my stylus and molding pad and attached the sections together using glossy accents. I cut two sections of foliage and attached it to the frame using glossy accents to create the base for the flowers.  I arranged the large flowers and attached with glossy accents. I finished by adding several of the tiny flowers around the edges of foliage to soften the arrangement.  The floral arrangement covered up more of the frame than I had intended but It still shows enough to be pretty.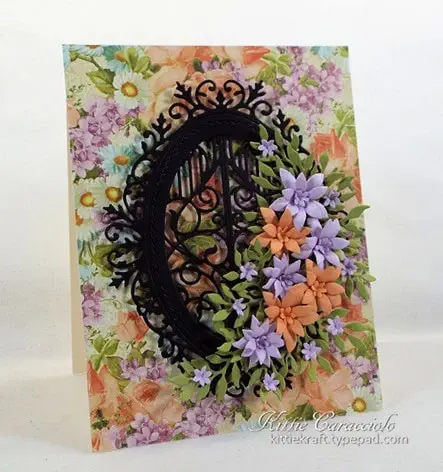 Thank you for stopping by today and I hope you have an enjoyable Sunday. One thing is for sure.  I'm gong to have a few hard days getting used to the daylight savings time change.  Ugh!  How about you??!!
Card size:  5.50" x 4.25"
Save