Good Wednesday morning.  I have another Art Impressions to share with you today and it has lots and lots of purple.  I had to laugh as I was working on this project because I heard Julie say on her Hello Monday Live that purple was her least favorite color.  It's one of my favorites but I think I may have gotten a little carried away with it on my floral scene,
I placed my watercolor paper in my Mini MISTI and set the stamp in place.  Then I applied Hickory Smoke and Chipped Sapphire to the watering can using Distress markers and stamped the image.  I used a small brush to pull the ink out of the lines to shade the watering can.  I cut a mask and cover the can so I could protect it while I stamped the foliage and flowers.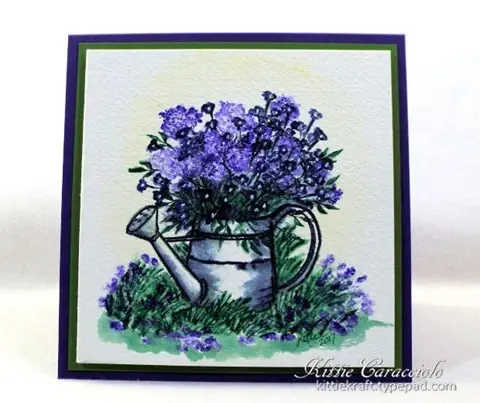 I used a Chipped Sapphire, Wilted Violet and Mowed Lawn Distress markers to apply ink to the flowers and foliage.  I tried to follow along with the picture on the front of the Watering Can package but I just carried away.  I kept adding and adding until I knew I had added too much.  So to try and solve the problem…..I added some more.   LOL!  Do any of you have this problem with your projects?   I lightly touched all the flowers and foliage with a damp brush to soften the images.  I removed the mask and stamped some foliage to appear flowing down over the can and stamped the grass image around the ground area.  I just wasn't satisfied with all that green grass so I added some soft purple flowers all around and sent my project even further over the top.  What can I say!  I'm a more is more kind of girl!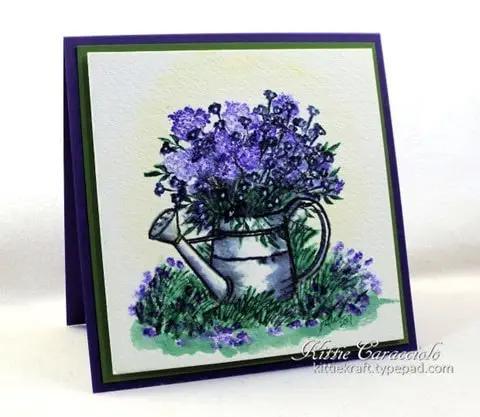 I would like to invite  you to join me in the CLASSroom for my Bench Scene and step by step tutorial.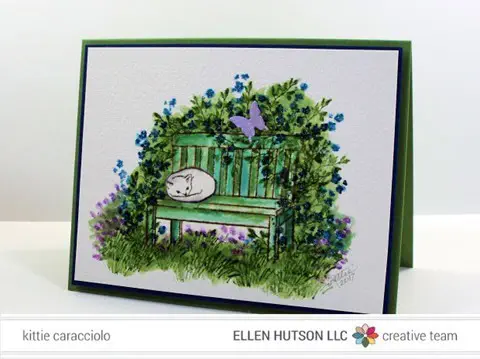 Check out Ellen Hutson's Art Impressions stamps on sale this week.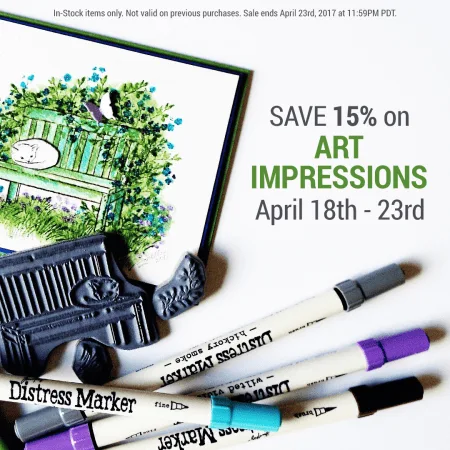 Thanks for coming by and I hope you have a good day.
Save