Good Tuesday morning.  Do you love Art Impressions watercolor scene sets as much as I do.  I had fun trying my hand creating a bucket full of flowers using the Watercolor Containers Set, Watercolor Flower Set and Watercolor Foliage Set.  My flowers and foliage got a little too mixed up and messy but I thought it was still good enough to share.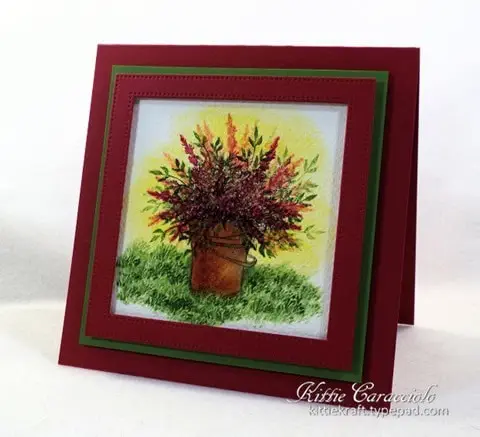 I stamped the bucket on cold pressed watercolor paper and stamped again on Eclipse masking tape using a Hickory Smoke marker.  I applied Hickory Smoke and Rusty Hinge ink on an acrylic block to use as a palette and mixed the inks with water and then painted the bucket.  Sadly I got the bucket a little too dark with the rust color but Ki just kept going.  I cut out the mask and placed it over the bucket to protect it.  I applied Mowed Lawn ink on the foliage stamp and stamped it two or three times each time I inked it up to create darker and lighter foliage.  I repeated the same steps using Worn Lipstick and Picked Raspberry inks using a flower image.  I removed the mask, masked off the top of the flower and foliage portion of the arrangement and inked up the foliage stamp and stamped down over the bucket to create a more natural appearance. I used Mowed Lawn to multi stamp the grass around the bucket.  When I was finished with the scene I took used a damp brush to lightly touch on the grass, flowers and foliage to soften the images.  I thought everything looked a little too plain so I sponged in some yellow around the flowers but sadly got a little too heavy handed with it. 
I created a frame using the My Favorite Things Pierced Square Frames and attached it over top of the scene using mounting tape.  I attached a green piece of cardstock behind the scene layer using ATG adhesive and then attached it to the card base using mounting tape.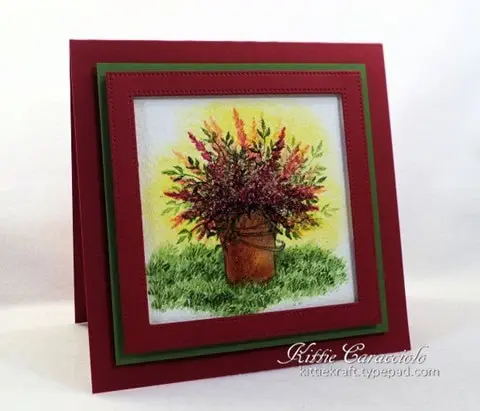 I love Art Impressions watercolor sets and hope that as I use them I can become more accomplished.  Now is a great time for you to check them out as Ellen Hutson is holding a 15% off sale this week.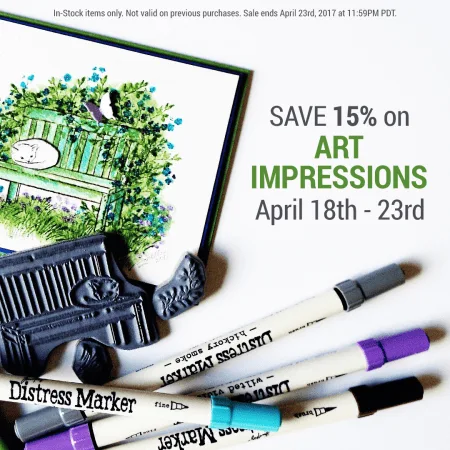 Thanks for stopping by and I hope you have a great day.
Card size:  5.00" square
Save