Today I'm sharing a fun beach chairs scene card with palm trees swaying in the breeze and a kite flying up in the sky.  I used the Rubbernecker Stamps Beach Chairs #2, Kite, Palm Trees, Deckle Hills, Small Flowers #1, Grass #2 and Deckle Hills.  I sure wish I was sitting in one of those chairs right now looking out at the sparkling water.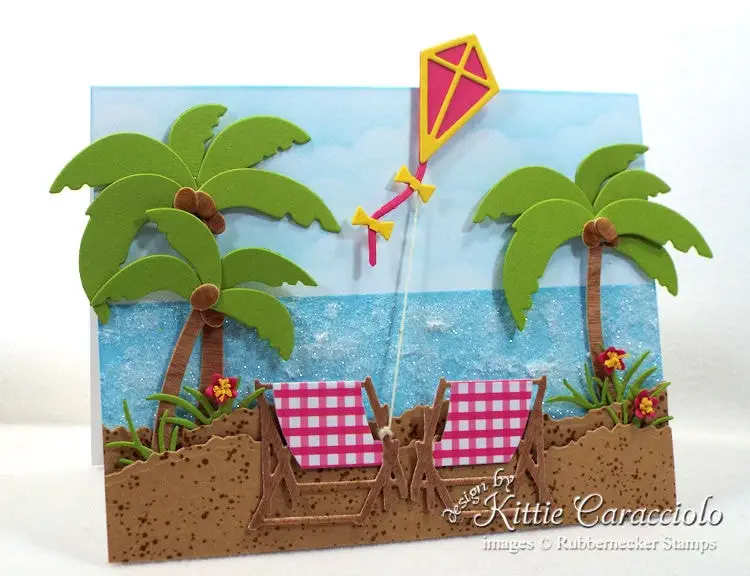 The Water and Sky
Cut a piece of masking tape and attach it to the center of the card base.
Apply Tumbled Glass ink to the water portion of the base using an ink blending tool.
Remove the tape and apply Tumbled Glass to the sky area using an ink blending tool and a cloud template.
Lightly dab white embossing paste on to the water using your finger to create the sea foam.
Apply clear glitter to the paste while it is still wet to create sparkle.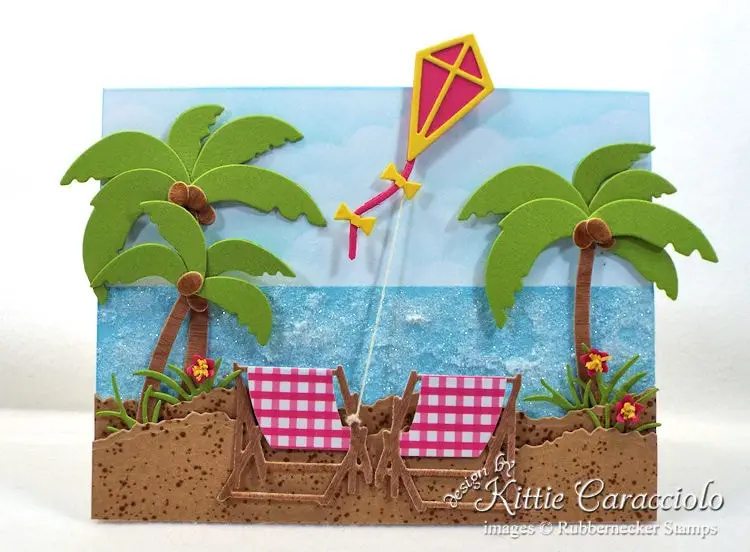 The Die Cut Images
Cut the chairs using Kraft cardstock and colorful paper.
Apply Antique Linen ink to the chairs using a mini applicator.
Attach the sling portion of the chairs to the frame using glossy accents.
Cut the kite using yellow and bright pink cardstock and attach the pieces together using glossy accents.
Cut the palm trees using Kraft and green cardstock.
Apply Antique Linen and Vintage Photo ink to the coconuts and trunk.
Attach the fronds and coconuts to the trunk using glossy accents.
Cut the sand layers using Kraft cardstock and apply Antique Linen ink directly to the paper using the ink pad.
Cut small grass sprigs using green cardstock and tiny flowers using pink and yellow cardstock.
Assemble the Beach Chairs Scene Card
Apply strips of mounting tape to the sand layers and attach to the card base.
Tuck the palm trees in behind the sand layers and attach using strips of mounting tape.
Tuck grass sprigs and tiny flowers around the base of the palm trees and attach using glossy accents.
Apply mounting tape to the back of the kite and attach to the card base.
Tie the kite string around the arm of the chair.
Apply pieces of mounting tape to the beach chairs and attach them to the sand layer.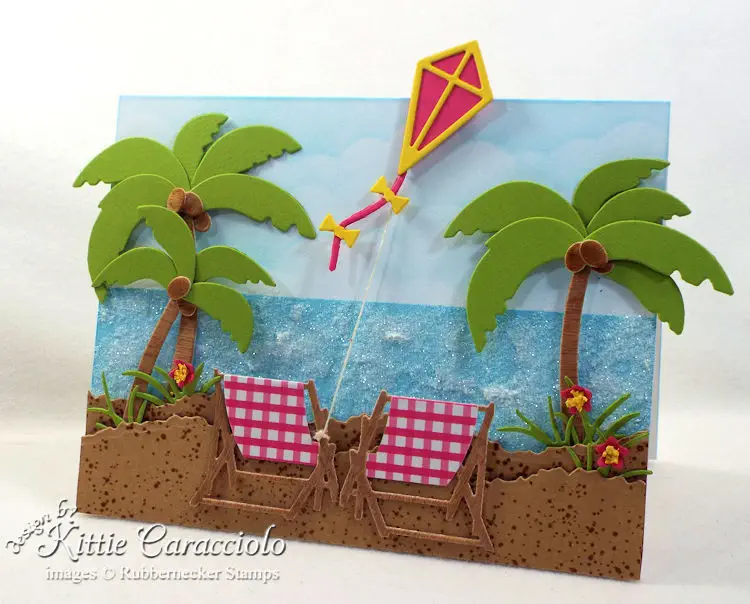 I had fun making this beach chairs scene card.  I love using the white embossing paste and clear glitter to create the sparkling sea foam on the water.  You can check out my Pinterest Scene Cards Board if you would like to see more cards like this.  I appreciate you coming by and I hope you'll check in tomorrow to see my next project.  Have a great day.
5212-01D Beach Chairs #2 Die Cut

5212-06D Palm Trees Die Cut

5173-02D Deckle Hills Die Cut

5202-04D Kite Die Cut

5210-04D Small Flowers #1

5210-02D Grass #2 Die Cut

Ranger Distress Stickles Dry Glitter,…

Studio 490 Embossing Paste by Wendy…

Ranger Distress Ink Pad, Vintage Photo

Ranger Distress Ink Pad, Antique Linen

Ranger Distress Mini Ink Pad, Tumbled…

My Colors Cardstock – My Minds Eye -…

Bazzill Card Shoppe Cardstock, Sour…

Bazzill Card Shoppe Cardstock,…

Bazzill Card Shoppe Cardstock, Easter…

Neenah Cardstock, Neenah Heavyweight,…

PanPastel Sofft Mini Applicators, 12 pk

My Sweet Petunia MISTI Laser Etched…

My Sweet Petunia Mini MISTI Laser…

Be Creative Tape, 7mm (3/10″)

Be Creative Tape, 15mm (3/5″)

Be Creative Tape, 25mm (1″)

Be Creative Tape, 5mm (1/4″)

Be Creative Tape, 3mm (1/8″)

Elizabeth Craft Designs Susan's…

Molding Pad

EK Tools, Precision 5 Inch Scissors…

Ranger Non-Stick Craft Sheet

Glue Dots, 3/8″ (4029)

Glue Dots, Mini (3/16″)

Glue Dots, Micro (1/8″)

Scotch Foam Mounting Tape

ATG Double-Sided Refill Tape, 2 pk, 1/4″

ATG Kit, Advanced Tape Glider

Ranger Accents, Mini Glossy Accents

Ranger Accents, Glossy Accents

Creative Expressions Cosmic Shimmer…

Crafter's Pick The Ultimate Glue, 4 oz.

Hero Arts Embossing Gun (Wagner)

Teflon Bone Folder

Scor-Pal Measuring & Scoring Board 12×12

Scor-Pal Glitter Clean-Up Cloth

Memory Box Dies, Metal Adaptor Plate…

Sizzix – Big Shot Express Machine…

Sizzix – Big Shot Machine – White and…

Sizzix – Accessory – Magnetic…

Sizzix – Precision Base Plate for…

Sizzix – Cutting Pads – Standard – 2…

Dremel 7700-1/15 MultiPro 7.2-Volt…