Handmade felt Christmas ornaments are the perfect crafty gift.  These cozy poinsettia and holly mugs would be so sweet to accompany a gift of hot cocoa mix and marshmallows or tea and cookies.
For this project I used the Rubbernecker Stamps Winter Cocoa Set, Mixable Flower Stack, Wreath Set and Greenery #1.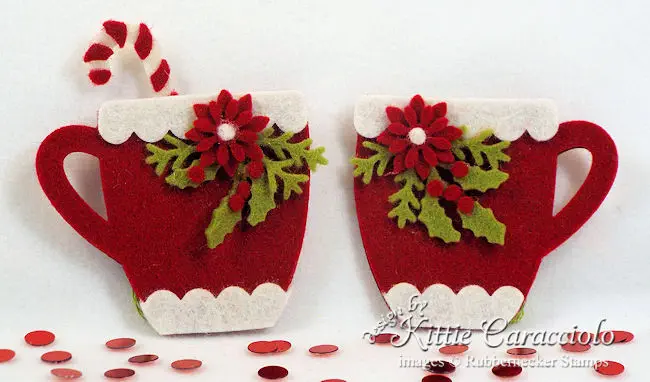 The Mugs
Cut the mugs using dark red and winter white felt.
Use dark red cardstock to cut two additional mugs to create a base for the felt.
Apply a generous amount of Crafter's Pick tacky glue to the cardstock mugs and attach the felt mugs over them.
Attach the decorative white scalloped layers to the mugs using tacky glue.
Allow the glue to dry and then trim off the side edges of the bottom scalloped layers to fit the mug.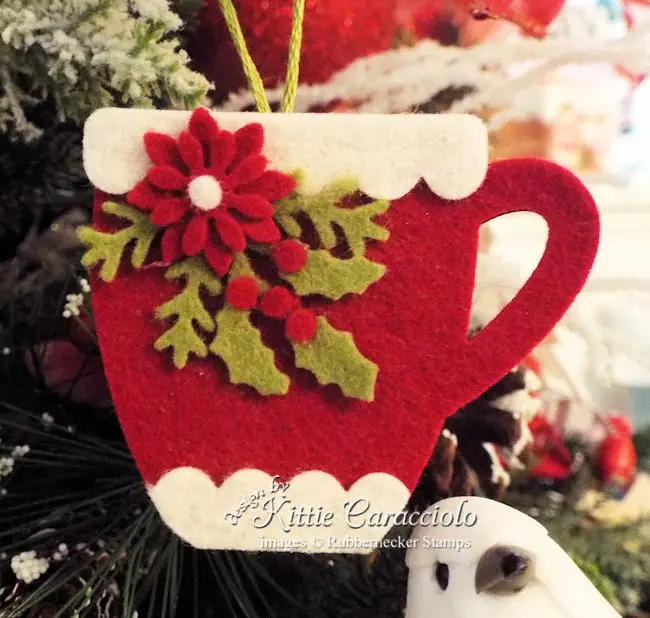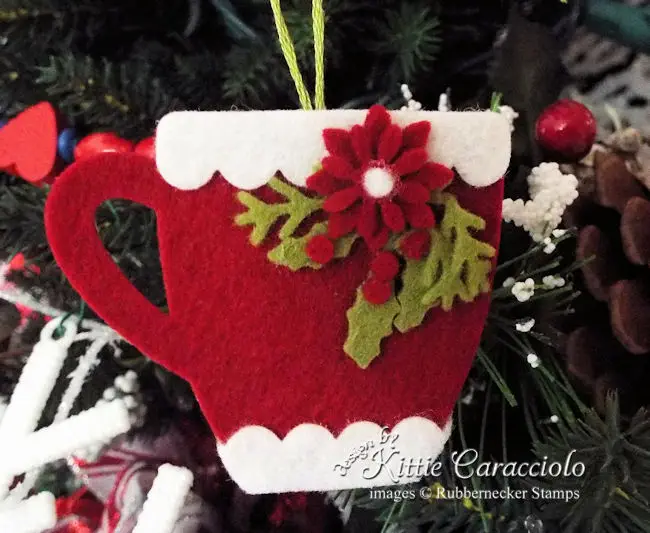 The Poinsettia, Pine and Holly Embellishments
Cut the two sets of flowers using red felt and cut the pine and holly using green felt.
Use a 1/8″ circle punch to punch out several red felt circles to use for holly and white felt circles for the flower centers.
Apply tacky glue to the poinsettia, holly and pine and attach them to the mug bases.
Attach the red felt circles to the holly and the white felt circles to the flower centers using tacky glue.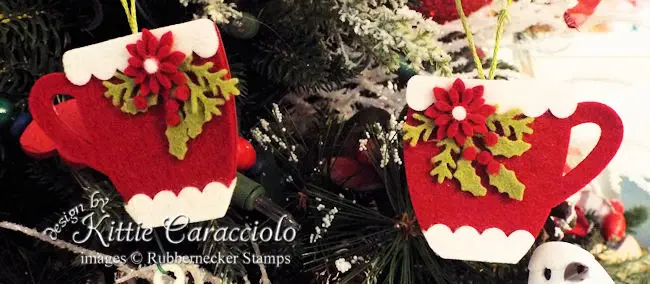 Finish by attaching green string ornament hangers to the back of the mugs using double stick tape. Cover the tape with a small piece of matching dark red cardstock.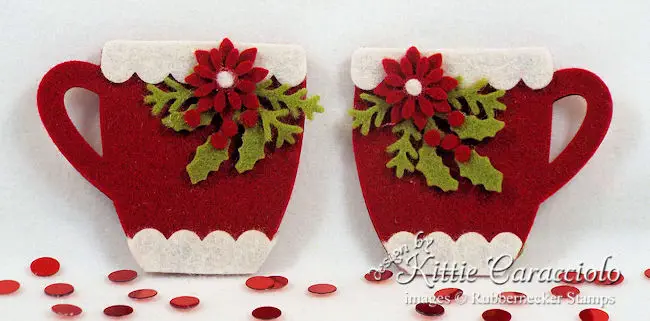 Here are the links to the dies I used for my project.
5217-06D Winter Coco Die

Greenery #1 Die Cut 5162-09D

Mixable Flower Stack Die 5109D

5217-03D Wreath Set Die
Here are the tools and supplies.
Sprout, Essentials By Ellen Wool Felt…

Winter White, Essentials By Ellen…

Garnet, Essentials By Ellen Wool Felt…

Premium Rainbow Color Embroidery…

Bazzill Card Shoppe Cardstock, Red…

The Ultimate Glue – 4 oz., Crafter's…

Crossover II Fabric & Paper Cutting…

Susan's Garden Tool Kit, Elizabeth…
Have you made handmade felt Christmas ornaments for your own tree or to give as gifts?  I would love you to share links to your projects in the comments section.  Here is a Pinterest link to handmade felt Christmas ornaments that are lots more intricate than mine. I know you are going to be very busy today baking pies and early meal prep for Thanksgiving.  Thank you for coming by and I hope you have a great day.