I am so excited to share several projects that I've been making over the last several days for the new Rubbernecker release.  There are so many fun new dies and I had a really hard time deciding which of my projects to share with you first so I am sharing four to get started.  I won't give an individual step by step for each project today but will share a full post tutorial on each card over the next couple of weeks.  You can see links to the full release below.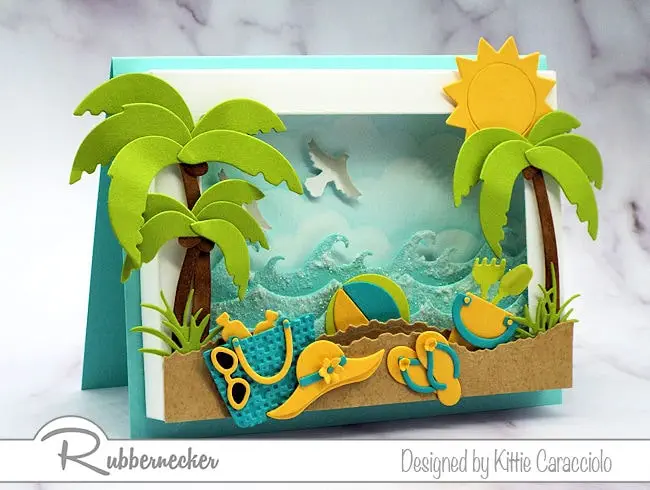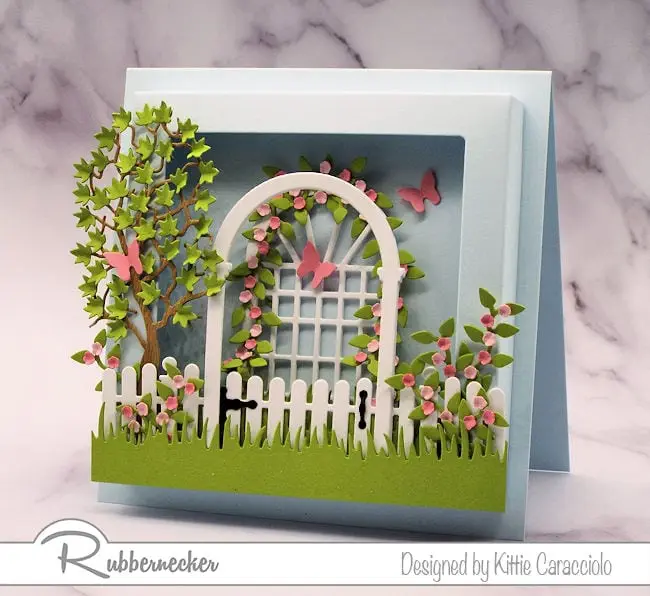 Of all the new dies in the release I am most excited about the new A2 Shadow Box Frame and Square Shadow Box Frame.  Over the last several months I have hand made a few shadow box frame cards.  Rubbernecker liked my frames so much they created these two new dies to make the process much easier.  The depth of the frames allows enough space to create dimensional diorama scenes that draws the eye in.  The beach shadow box card also uses the new Beach Bag and Sand Toys sets.  The square shadow box card also uses the new Sloped Fence.
Make note that to cut the Square Shadow Box Frame you will need a larger die cutting platform of at least seven inches or more like the Crossover II, Big Shot Plus, etc.   The A2 Shadow Box Frame can be cut with most regular sized cutting platforms such a Big Shot, Big Kick, etc.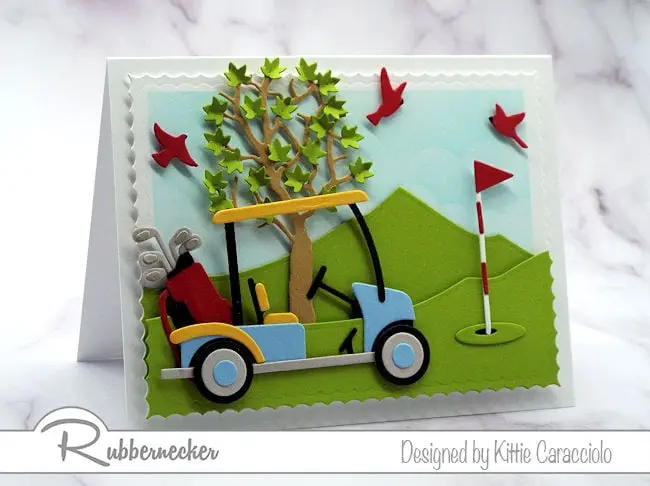 Do you have a golf enthusiast in your family?  The Golf Cart and Golf Bag and Flag Stick sets are perfect to add to your collection.  I also used the new Tabbed Mountains to create the golf fairway.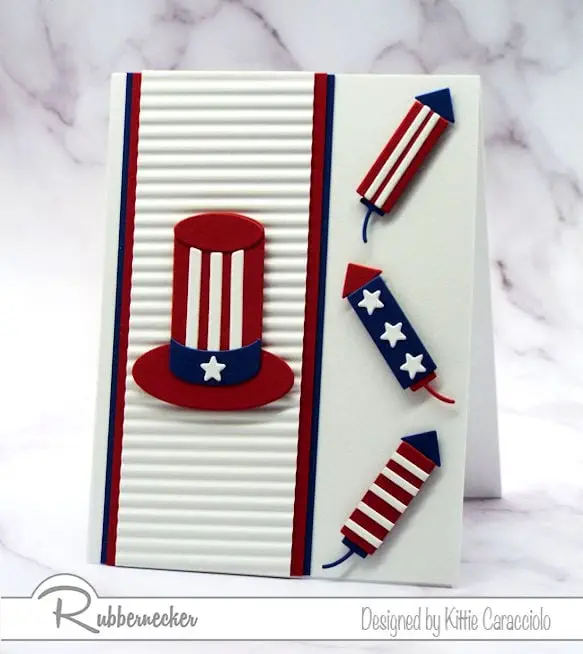 The Fourth of July is right around the corner and nothing is quite as patriotic as the red,white and blue USA Uncle Sam Hat set.  
Here are links to all the dies available in the new Rubbernecker Release.  I hope you have enjoyed seeing my new projects.  Thank you for coming by and I hope you have a great day.
5316D Square Shadow Box Frame Die

5315D A2 Shadow Box Frame Die

5320D Nested Scallop w/ Half Holes

5314-01D Sand Toys Die

5314-03D Beach Bag Die

5314-02D Sand Castle Die

5313-03D Cooler Die

5313-02D Golf Cart Die

5313-01D Golf Bag and Flag Stick Die

5319-03D Balloons Die

5314-04D Peak Fence #4 Die

5314-05D Sloped Fence #5 Die

5318D Tabbed Mountains Die

5317-01D Mai Tai Die

5317-02D Margarita/Daiquiri Die

5319-04D Star Bursts/Fireworks Die

5319-02D USA/Uncle Sam Die