I am SO excited to share projects using some of the latest new dies from Kittie Kraft by Rubbernecker!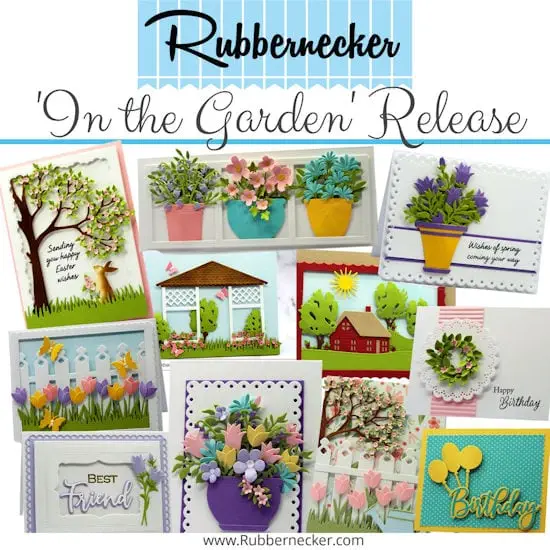 Are you ready for some BRAND new dies from Kittie Kraft by Rubbernecker? Yes, that's ME! As you can tell from all the fun things I share with you all, I LOVE using dies to make my cards. So much so that occasionally, I collaborate with the wonderful people at Rubbernecker to come up with dies for my own line with them. I particularly love all things having to do with nature and these brand new dies reflect that passion. Let's take a look at a few projects I have to share and see what's new!  I'm not listing a tutorial for any of the cards today but I will be doing individual posts over the next couple of weeks.  
First, I created this double shutter card. You will see that I created these new dies in a slightly different size to enable us all to create additional perspective on our cards and to add a TON of creative opportunities mixing the size and scale of the dies to create new arrangements.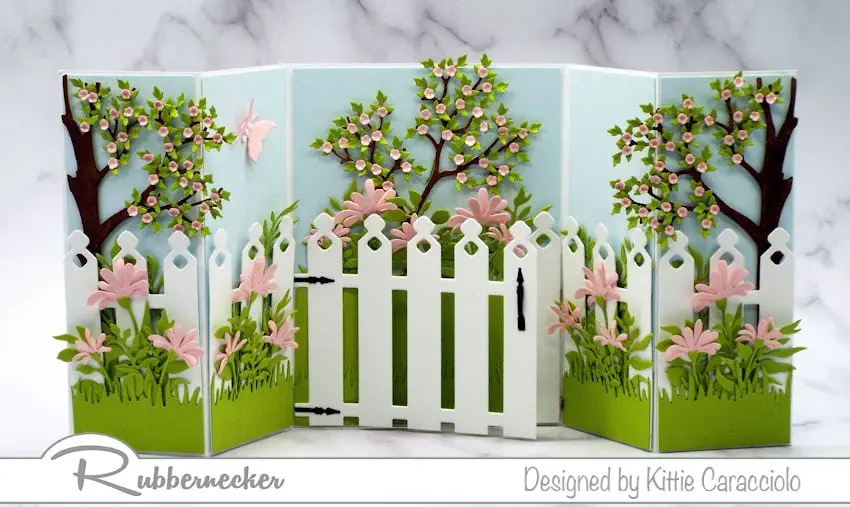 Speaking of new arrangements, you can see here how I have mixed some of my new dies with some parts and pieces from other older ones to dramatically increase how many different types of flowers I can add on my cards!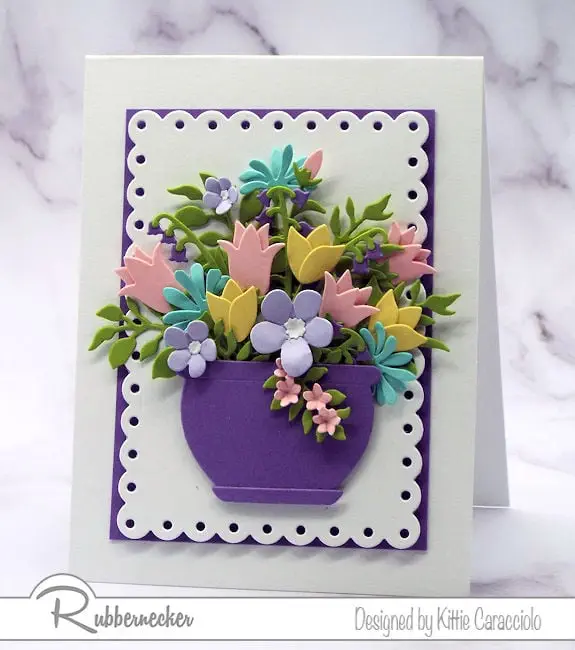 I just love this new fence! And combined with the new tulips, I can get a bigger bang for my buck on a card! Isn't that new tulip shape just so pretty?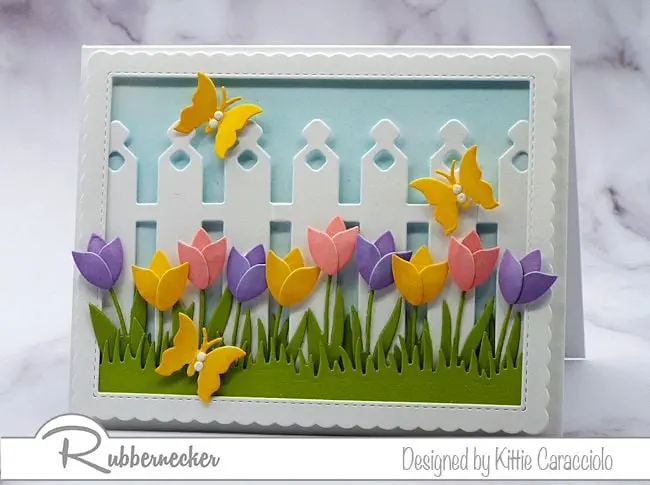 I love trees! And I love how taking a plain "naked" tree with branches and adding whatever I want in any color for any season lets me just put my vision on my cards. I love this new Half The Tree die for its classic shape and it being designed deliberately to sit on one side of a card, leaving plenty of room for details and decoration. And you can see how beautifully older, smaller dies will work so well with this fun die. This card also includes a greeting from my new Kittie Says Spring Time stamp set.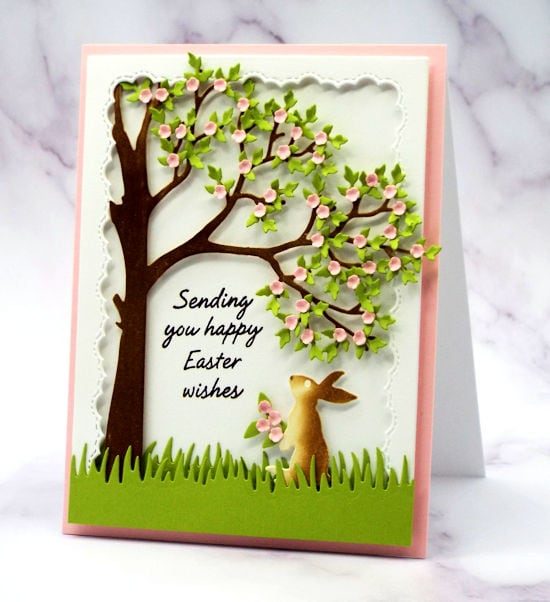 How beautifully do these new flowerpots with all their pretty blossoms fill this slimline card? I am absolutely thrilled with the scale of these new dies because they work so perfectly on standard sized cards AND slimline cards without taking up too much or too little space on either version.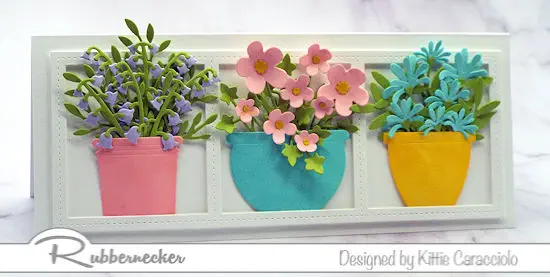 Last today, I had to share a card using one of my new dies along with one of the SIX new word dies from Rubbernecker. They've added these six new die sets that include the word plus one of the finest shadow mats I've seen. I am not a huge fan of the words that come with the gigantic, balloony shadows and Rubbernecker added the exact ideal shadow width to let the words stand out without taking up a ton of precious real estate on a card. What gorgeous design! I paired it with a couple of flowers from my Gentian and Stems set and they look fantastic together!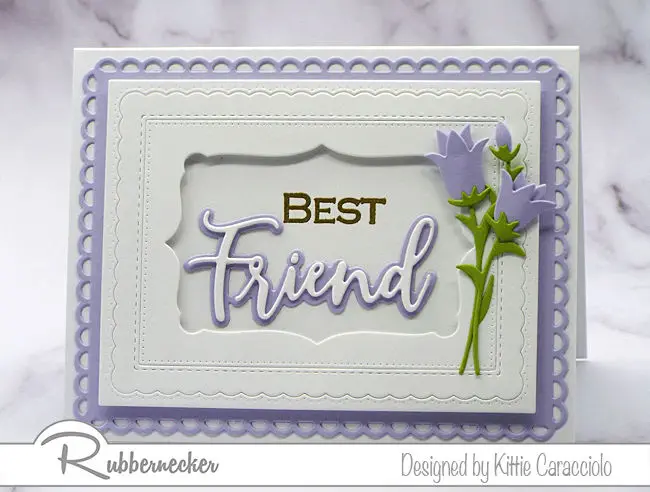 Here are all the new, fun things available today including all of MY goodies:
5403D Half Tree Die

5402-01D Tulips and Stems Die

5402-02D Gentian and Stems Die

5402-03D Buchnera and Stems Die

5402-04D Classic Flower and Stems

5402-05D Canterbury Bells and Stems

5401-04D Large Garden Pots Die

5401-01D Watering Cans Dies

5404D Branches and Leaves Die

5401-02D Large Garden Fence Die

5405D Gazebo Die

5401-03D Spring Tree Die

5406-05D Hello script w/ Shadow Die

5406-04D Friend script w/ Shadow Die

5406-03D Happy Script w/ Shadow Die

5406-02D Birthday Script w/ Shadow Die

5406-01D Spring word w/ Shadow Die

5406-06D You script w/ Shadow Die

3411 Kittie Says Spring time

3412 Build a Phrase #1
I am truly very excited to share these new dies from Kittie Kraft by Rubbernecker and hope you love using them as much as I loved designing them!