It's not too late to get some tips on how to make a Mother's Day card!
Today I am going to share a card I made earlier this week and offer a quick PRO TIP on how to make a Mother's Day card out of ANY card you have on hand.  
It's pretty simple, actually, turning any card into a Mother's Day card – you just add or swap out the greeting! I can't tell you how many times I have needed a card for a specific occasion and have been able to just choose a greeting that says exactly what I want to express and added it to a card I've already made.  -Of course, if you have the time, you can make this card from scratch. It's not that difficult and a lot of what makes it so pretty are the simple layers and my trick for making sure your greeting looks perfectly finished. Check it out:
For this card I used the new , Nested Scallop with Half Holes, Watering Cans, Leaves and Greenery and Flower Buds. Today I added the sentiment from the Mother's Day Set.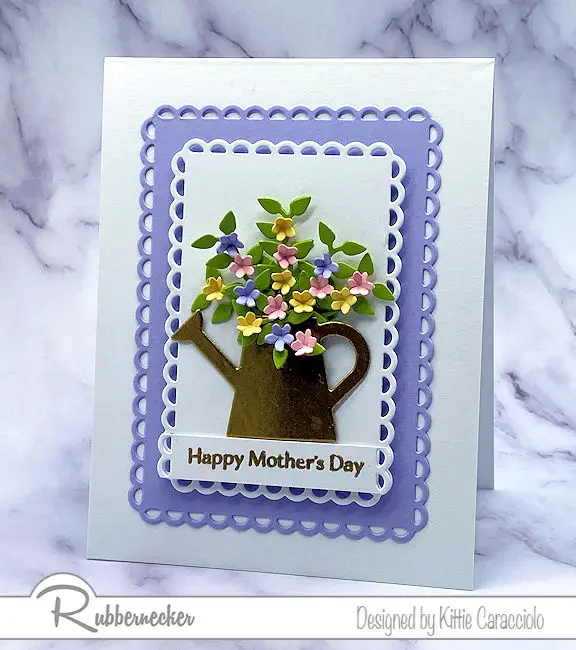 The Card Base and Decorative Layers
Cut the card base and small scalloped layer using white cardstock.
Use purple cardstock to cut the larger scallop layer and attach it to the card base using ATG adhesive.
Apply mounting tape to the back of the white layer and attach it the card base.  
The Watering Can and Flowers
Cut the watering can using white cardstock, apply Versa and gold embossing powder and heat.
Cut several sections of greenery using green cardstock.
Arrange and attach the branches to the back of the watering can using glossy accents.
Cut the small flowers using pink, purple and yellow.
Place the flowers on the molding pad and push down in the center of each using a small tipped stylus. 
Attach the flowers to the branches using glossy accents.
The Sentiment
Use white cardstock to cut a thin strip for the sentiment.
Cut the edges using the scalloped die so the sentiment layer will match the white layer.
Stamp the sentiment using Versa and emboss with gold embossing powder.
Apply a thin strip of mounting tape to the back of the sentiment layer, line it up to match the decorative border and attach.  Pro Tip:  I love creating sentiment layers for my card fronts.  Cutting the edges to match the decorative border of the layer you are using adds interest to the card front.
Now you know how to make a Mother's Day card, a birthday card, a sympathy card – any specific card – out of ones you have on hand with the right greeting and my fun trick for making it look perfectly polished on every project!  Check out this card and this card to see Mother's Day cards I've made in the past.
3417 Happy Mother's Day Set

5320D Nested Scallop w/ Half Holes

5401-01D Watering Cans Dies

5309-04D Leaves and Greenery Die

Flower Buds Die Cut 5147-09D

VersaMark Watermark Stamp Pad

Mirror Gold Embossing Powder

Paper Blossom Tool Kit 4/Pkg

Paper Blossoms Molding Mat

Glossy Accents .5oz

Scotch Advanced Tape Glider & Tape

Scor-Tape .125″X27yd

Crossover II Fabric & Paper Cutting…