I packed this slimline flower pot card with tons of pretty paper flowers!
I really had fun making this slimline flower pot card and love that it can be used for so many different occasions. You can change up all the colors and get totally new looks every time with the same basic layout. And I love that I was able to create something really sweet combining foliage, three different flowers and pots.  For this card I used the Rubbernecker Slimline OPC Squares, Large Garden Pots, Buchnera and Stems, Canterbury Bells and Stems, Classic Flower and Stems, Large Ivy and Leaf Group.  All the new flower sets are back in stock at Rubbernecker.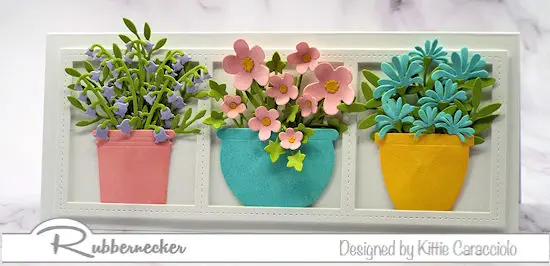 The Card Base and Slimline Frame
Use white cardstock to cut the slimline card base and slimline frame.
Apply thin strips of mounting tape all the way around the back of the frame and to the inner frame sections.
Line up the frame on the card base and attach.
Assemble the Flower and Stems
Use purple pink, aqua and yellow cardstock to cut the flowers.
Cut the foliage and flower stems using green cardstock.
Form the flowers using a stylus and molding pad.
Attach the Buchnera sections together and attach the flower center in the Classic flowers using glossy accents.
Use glossy accents to attach the flowers to the stems.  Check out my How to Make Paper Flowers Step by Step Video to see how to assemble the flowers.
Flower Pot Arrangements
Create the foliage frame by attaching the Leaf Group branches and Large Ivy branches to the back of the flower pots using glossy accents.
Tuck the flower stems down in between the foliage branches and attach using glossy accents.
Apply large pieces of mounting tape to the back of the garden pots, Tuck them inside the frame openings and attach them to the card base.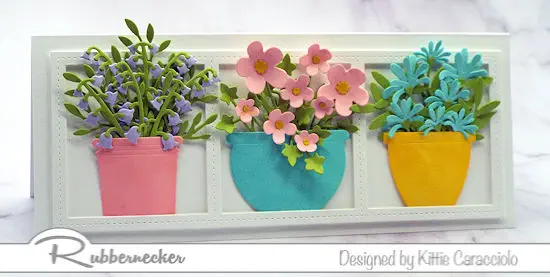 I am planning to make more variations on this basic slimline flower pot card using even more of the flowers from the new collection and perhaps mixing in some older, smaller ones, like on this card. What do you think? Are you going to try this out?
5325-03D Slimline OPC squares Die

5401-04D Large Garden Pots Die

5402-03D Buchnera and Stems Die

5402-04D Classic Flower and Stems

5402-05D Canterbury Bells and Stems

5162-02D Large Ivy

Leaf Group die 5118D

Paper Blossom Tool Kit 4/Pkg

Paper Blossoms Molding Mat

Glossy Accents .5oz

Scotch Advanced Tape Glider & Tape

Scor-Tape .125″X27yd

Crossover II Fabric & Paper Cutting…