Check out the exceptional detail on this handmade tool box card!
I am over the moon with how this tool box card turned out thanks to all the fantastic details these dies add to the classic tool shapes and the vintage style tool box. This is perfect for not just Dad cards or men cards but for anyone who is or wants to be handy, anyone doing any kind of building and those tools can used as fun accents on other cards.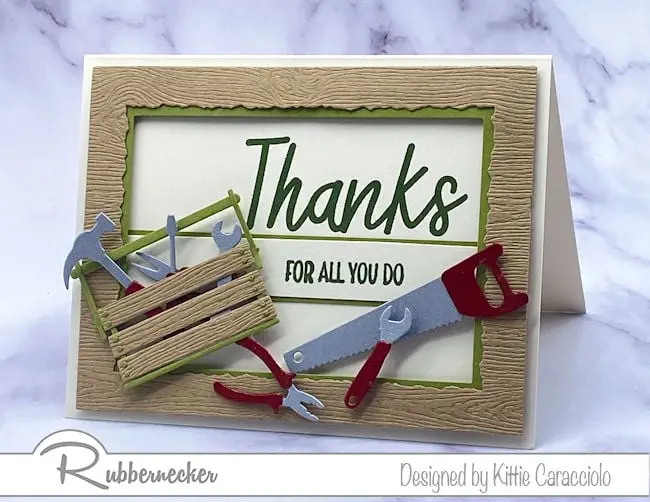 I made this card before I had received the new Dad Phrases clear set.  It is such a fun set that works well with the tools as well as having generic sentiments that can be used not only for dads but anyone who loves work with tools. I've linked it below so you can check it out.
The Card Base, Sentiment and Frame
Cut an A2 sized frame using cream cardstock and a 3/4″ wide strip of cardstock 
Use green card stock to cut a a 7/8″ wide strip of cardstock to layer the cream strip.
Use woodgrain cardstock to cut the deckle frame and green cardstock to cut the rectangle mat frame.  Note:  I think the Deckle Frame is perfect to use on masculine cards.  
Apply double stick tape to the back of the deckle frame and attach it to the green mat.  
Secure the card base in the MISTI and  line the frame up over the card base to see where to stamp the large sentiment.
Remove the frame and use dark green ink to stamp the sentiment.
Stamp the second sentiment on the cream strip using green ink and attach it to the green layer using ATG adhesive.  Note:  The Thanks Set comes with multiple words that can be used to create all kinds of thank you sentiments. 
Attach the sentiment strip to the card base using ATG adhesive.
Apply mounting tape to the back of the frame and attach it to the card base.
The Tool Box and Tools
Use green and woodgrain cardstock to cut the tool box sections. 
Assemble the pieces together using glossy accents.
Cut the tools using silver metallic cardstock and the handles using red cardstock.
Use versa and clear embossing powder to emboss the tool handles (if desired) to add a shiny appearance.
Attach the handles to the tools using glossy accents. 
Attach a few of the tools to the back of the tool box using glossy accents and tiny pop dots.
Use mounting tape and tiny pop dots to attach the saw and smaller tools to the frame. 
Doesn't this make you want to create your own tool box card designs? Who knew that something as simple as a regular ol' tool box and some basic tools could give us so many fun ways to make cards? Take a look at my Fishing Father's Day card to see another masculine card that I made recently.
5409-02D Tools Die

5409-01D Tool Box Die

5176-01D Deckle Frame Die

Nested Rectangle Die Cut Set 5003D

3419 Dad Phrases

3335 Thanks Set

Glossy Accents .5oz

Clear High Gloss Embossing Powder

VersaMark Watermark Stamp Pad

Scotch Advanced Tape Glider & Tape

Scor-Tape .5″ X 27yd

Scor-Tape .125″X27yd

Crossover II Fabric & Paper Cutting…