The season is here and this DIY campground card is perfect for your friends who love to fish!
This DIY campground card combines two of people's favorite outdoor pursuits – camping and fishing. I am so excited that the  new fishing dies work so perfectly with Rubbernecker's existing camping dies! It's really fun to spend the time to create a whole scene with all the details I think make it feel so ready to just plop down and enjoy the great outdoors.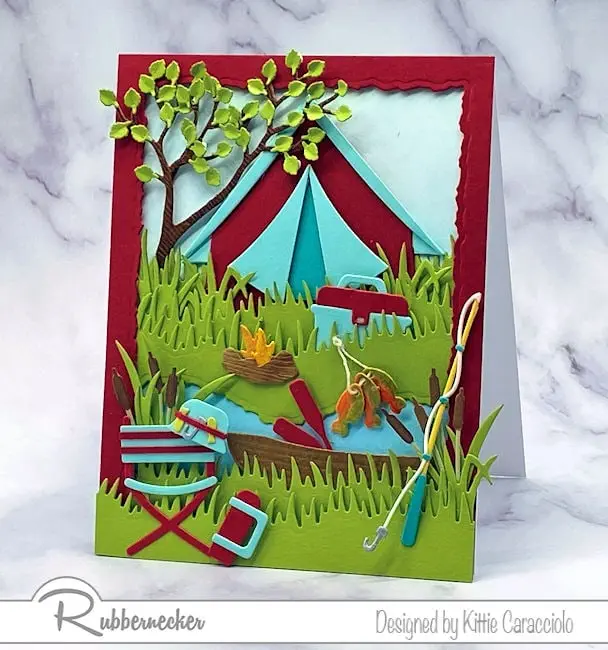 The Frame and Scene Base
Use white cardstock to cut an A2 sized card base.
Apply light blue ink to the sky area and darker blue to the lower ground area using a blender brush.
Cut four grass layers with a straight edge bottom and one grass layer with a deckle edge.
Attach two straight edged grass layers and the deckle edge layer to the card base using ATG adhesive.  Note:  I used the grass section with the deckle edge along the water edge to look more natural.
Cut the frame using red cardstock and apply ATG adhesive to the back bottom and attach one grass section.
Apply strips of mounting tape to the back of the frame and attach it to the card base.
Apply a strips of mounting tape to the last grass section and attach it to the front of the frame.
The Campground Accessories, Tree and Foliage
Cut the tent, stool, tackle box, thermos and hat using red and blue cardstock.
Assemble all the pieces for each item and attach them together using glossy accents and mounting tape.
Use white cardstock to cut the fish and color them using green and orange ink and mini applicators.
Cut the campfire sections using brown colored woodgrain and yellow cardstock and attach them together using glossy accents.
Use woodgrain cardstock to cut the boat and red cardstock to cut the oars . 
Cut the tree branches using brown colored woodgrain, the leaves using green cardstock , form the leaves using a leaf tool and molding pad and attach the leaves to the branches using glossy accents.
Use yellow, blue, silver and white cardstock to cut the fishing rod, hook and line.
Use green cardstock to cut the cattails and reeds and color the tops of the cattails using a brown marker.
Finish the Campground Scene
Apply strips of mounting tape to the top section of the tent, tuck it in behind the grass sections and attach to the card base.
Cut a portion of the boat off the back, attach the oars using glossy accents, tuck it in behind the front grass sections and attach using mounting tape. 
Use pieces of mounting tape to the stool, tackle box, campfire and thermos to the scene.  
Tuck the tree branches in behind the grass and attach using rolled up strips of double stick tape and tiny pop dots behind a few leaves.
Hang the fish on the water's edge using glossy accents and tiny pop dots.
Use glossy accents to attach the fishing rod.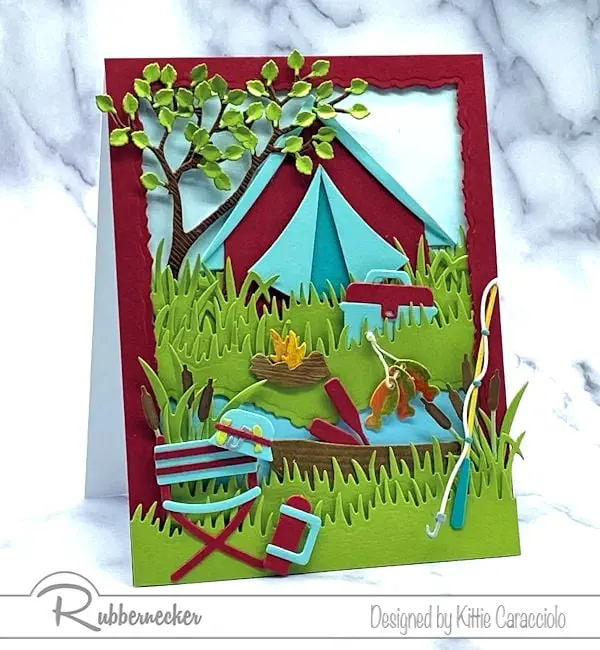 If you would like to see other cards made using these fun dies take a look at my Z Fold Camping Card,  Fishing Father's Card and Make a Father's Day Card.  
5176-01D Deckle Frame Die

5323-03D Camping Tent Die

5411-02D Tackle box Die

5411-01D Fishing vest Die

5411-03D Reeds Die

5323-04D Lake Boat Die

5323-01D Camp Fire Die

5173-02D Deckle Hills Die Cut

5403D Half Tree Die

5334-02D Tiny Leaves #2 Die

Tabed Grass Set Die Cut 5152-03D

Color Fuse Set #3

Color Fuse Set #2

Color Fuse Set #9

Paper Blossom Tool Kit 4/Pkg

Paper Blossoms Molding Mat

PanPastel Sofft Applicators 12/Pkg

Glossy Accents .5oz

Scotch Advanced Tape Glider & Tape

Scor-Tape .5″ X 27yd

Scor-Tape .125″X27yd

Crossover II Fabric & Paper Cutting…
| | | |
| --- | --- | --- |
| Amazon.com: Mini Foam Dots… | Picket Fence Studios – Tools – Life… | Amazon.com: Scotch 1/2-Inch by… |
| Fiskars 01-005452 Recycled Bypass… | Teflon Bone Folder, Essentials by Ellen | Scor-Pal Measuring & Scoring Board 12×12 |
Now that you can create a DIY campground card perfectly customized to your fishing friends, what would you like to see next? I love hearing your suggestions and ideas and I might just have to make a card around one of them!