Sizzix Sculpting Foam + Rubbernecker Flower Dies = MAGIC!
This was my first time trying Sizzix Sculpting Foam with my collection of flower dies from Rubbernecker and I have to say that the results are truly beautiful and this was very fun to do! I find that the Rubbernecker dies were designed with the right number of shapes to work best with these foam sheets – too many and the flower gets bulky and too few and the flower looks like it's on its way out! If you haven't tried this Sculpting Foam yet, I highly recommend you make your first flowers with any of the dies I show below for the best results.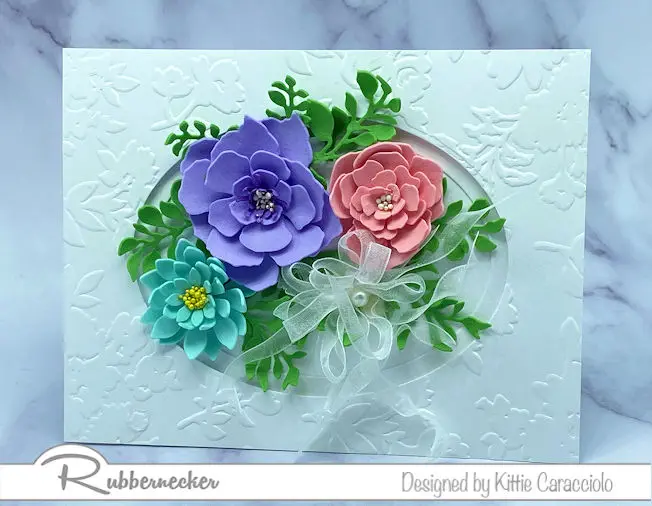 The Embossed Oval Frame Card Base
I'm sorry to say I have no idea who made this pretty embossing folder.  I've had it for years and there is no company name on it.  
Use white cardstock to cut an A2 sized card base, a 5.50″ x 4.25″ layer and a 5.00″ x 3.75″ layer.
Secure the largest white layer in the embossing folder and run through the machine.
Place the embossed layer on the cutting plate, line up and center the large oval die, secure it with mint tape and run through the machine.  Pro Tip:  Mint Tape is perfect to secure your dies in place when it's crucial for the die to stay in place while going through the machine.
Place the smaller white layer on the cutting plate, center the next size small oval frame, secure it with mint tape and run through the  machine.
Apply strips of mounting tape to the back of the embossed layer, line it up and attach it to the smaller frame layer.
Apply ATG adhesive to the back of the double matted frame layer and attach to the card base.
The Sculpting Foam Flowers and Foliage
I happened to come across the Sculpting Foam products when I was browsing on Scrapbook.com.  There is a great video attached to the product link showing how to use the foam.  I was intrigued and had to give it a try.  If you are interested in checking out the foam I suggest you watch the video to see how easy and fun it is to use.
Cut the flowers and foliage using different colors of foam.  
Heat the individual flower layers to curl them up to appear more natural.
While the petals are still warm add shape by pulling slightly and/or gently bending and folding each individual petal.  Note:  You can see this process on the video.
Attach each flower layer together using a touch of hot glue.  Pro Tip:  I have used a hot glue gun for floral design (artificial flowers, foliage) for many and have had some really terrible burns.  I was excited about using the finger protectors from the Sizzix Glue Gun  Accessories .  They are a lifesaver.
Heat the foliage sections gently with the heat gun to add just a touch of dimension.
Use hot glue to attach the flowers and foliage to the card base.
Apply a small dot of hot glue to each flower center and drop in several Prills.  Note:  I didn't have any artificial stamen stems when I made this.
The Organza Multi Loop Box
Create a white organza multi loop bow.  Pro Tip:  Take a look at my Multi Loop Bow Video to see how I make my bows.
Attach it to the card base using the hot glue.  Note:  I usually use glue dots to attach my bows but since I had the glue gun heated up I used it instead.
Apply a touch of hot glue in the center of the bow and attach the white snow pearl.
Gently heat the ribbon with the heat gun to curl up the loops and streamers.  Pro Tip:  Sometimes I love to heat organza ribbon bows with my heat gun to add an additional touch of softness and whimsy.  This heated ribbon technique looks especially beautiful on Victorian style projects.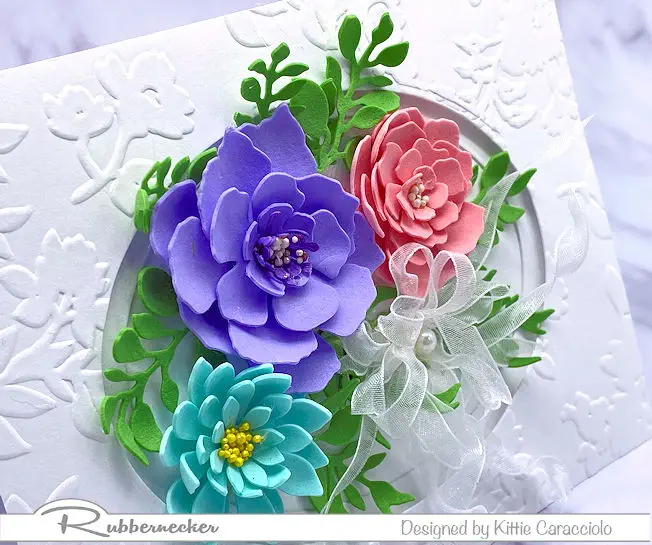 Check out my Flower Category to see all the flower projects I have made over the years.  
Nested Oval Die Cut Set 5004D

5301-04D Organic Shapable Poppy Die

5309-10D Mixed Flower stack Die

Mixable Flower Stack Die 5109D

5404D Branches and Leaves Die

Paper Blossom Tool Kit 4/Pkg

Paper Blossoms Molding Mat

Glossy Accents .5oz

Scotch Advanced Tape Glider & Tape

Scor-Tape .125″X27yd

Crossover II Fabric & Paper Cutting…
The Color Catalog by Sarah Renae Clark

Sizzix – Making Essentials Collection…

US Artquest Minnie Pearls Prills, 3 oz

Amazon.com: US Artquest Mini Prills…

Amazon.com: Kaisercraft Self Adhesive…

Amazon.com: Ben Collection 1/4″ X 50…

Amazon.com: Hot Glue Gun, MONVICT 40W…

Scrapbook.com – Mint Tape Bundle -…

Sizzix – Glue Gun Accessories

Amazon.com: Mini Foam Dots…

Amazon.com: Scotch 1/2-Inch by…

Fiskars 01-005452 Recycled Bypass…

Teflon Bone Folder, Essentials by Ellen

Scor-Pal Measuring & Scoring Board 12×12

Glue Dots, Mini (3/16″)

Amazon.com : Accent Opaque White 8.5"…

I give Sizzix Sculpting foam a great rating because it was fairly easy to use, the ability to shape it so well and have that shape hold really helps create a life-like element and it cut beautifully with the Rubbernecker dies. I know your mileage may vary depending on what YOU use but I will for sure be making more of these! And I can absolutely see where flowers made with Rubbernecker dies and Sizzix Sculpting Foam could earn a permanent place on lots of home decor and giftables!