Looking for batch card making ideas for Christmas cards? This one can do double duty!
I love coming up with card ideas that you can mass produce and batch card making ideas for Christmas cards is always something I am thinking about. What other time of the year do we need ideas like this more? I particularly love this Christmas card design because it can be used for the entire winter season by just swapping out or eliminating the greeting. I was able to make twelve of these in four hours, from cutting to mailing, even with a couple of phone calls and a couple of nature calls for the puppers. Since each step is relatively easy and quick, increasing the number of cards won't necessarily increase the total amount of time needed proportionally. 
Here are some reasons this is a perfect card to mass produce. First, I used white on white to increase the impact of the shadows and to give that look of luxury. Using white on white also makes the colored elements REALLY pop. I used just a few dies and cut multiples at a time. embossed all the panels in one sitting and then plopped down in front of a movie to assemble them. Once you get going, you can really move! .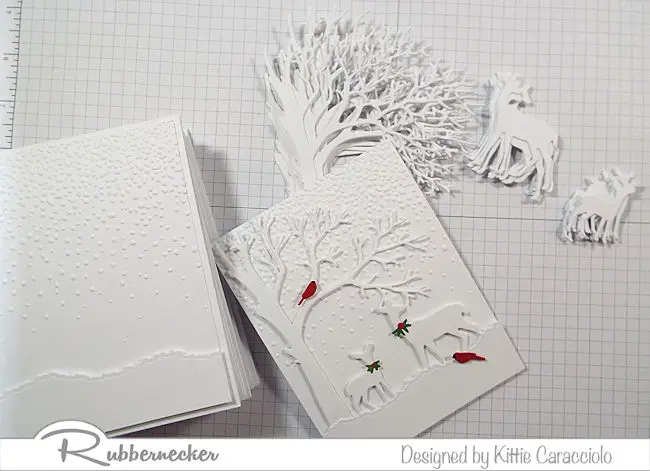 The Card Base
Cut 12 A2 sized card bases, 12 snow layers and 12 5.25″ x 4.00″ layers using white cardstock.
Use green ink to stamp the Christmas Joy sentiment on the inside of each card.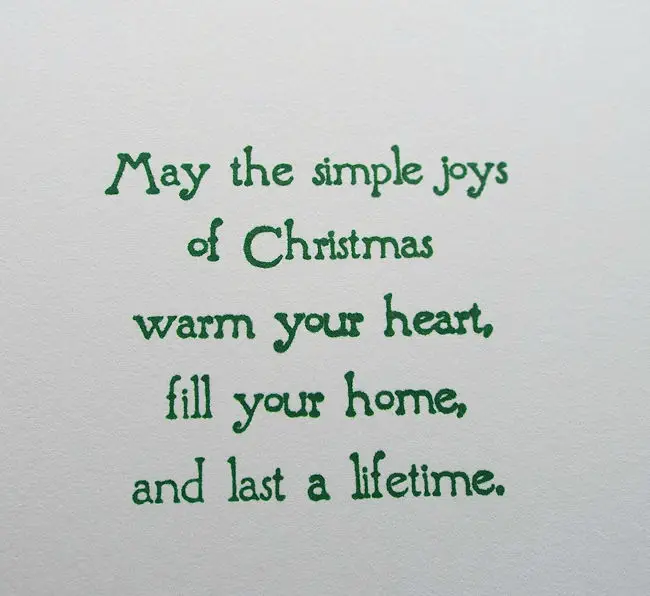 Use a falling snow embossing folder to emboss the 12 white layers.
Attach each embossed layer to a card base using ATG adhesive.
Use mounting tape to attach a snow layer to each card base.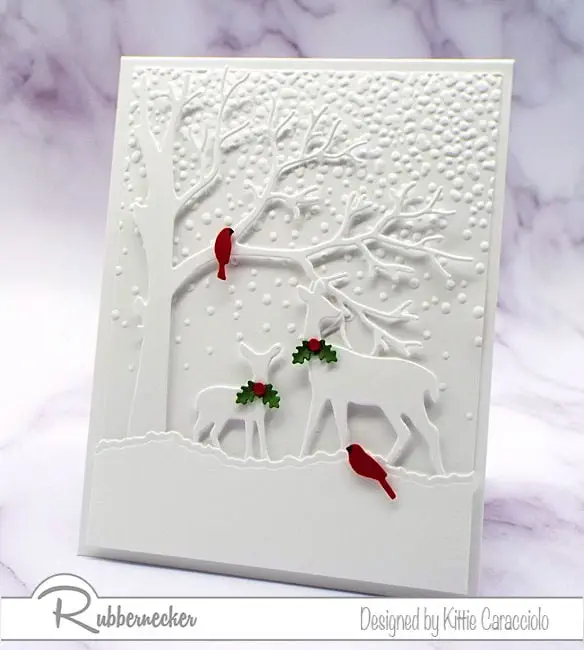 The Trees
Cut 12 tree sections using white cardstock.
Apply a strip of mounting tape to each tree trunk and a couple tiny pop dots to the back of the larger branches.
Tuck the trees in behind the snow layers and attach them to the card base.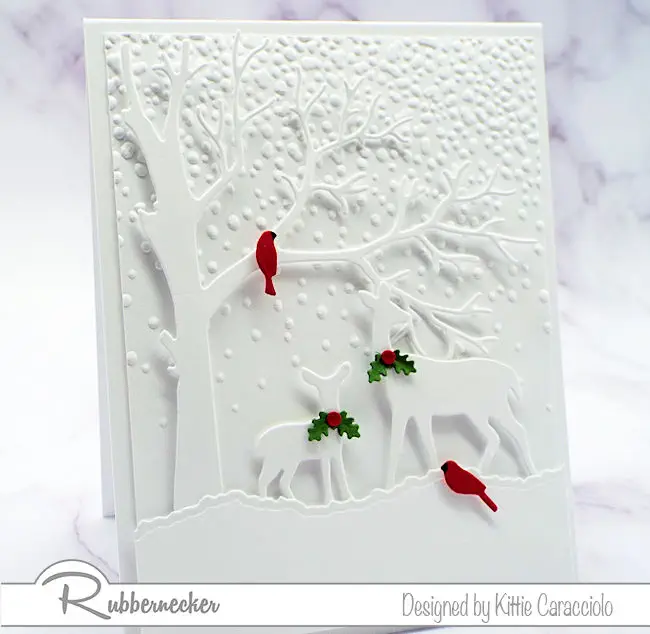 Deer, Embellishments and Birds
Use white cardstock to cut 12 deer family sets.
Cut tiny holly leaves using green cardstock and red punched 1/8″ circles.
Use red cardstock to cut red birds and color their beaks with a black marker.
Place the holly leaves on the molding pad and gently form them with the leaf tool.
Attach two leaves and a circle to each deer neck using glossy accents.
Apply mounting tape to the back of each deer, tuck them behind the snow layer and attach to the card base.
Apply a small piece of mounting tape to the back of the birds and attach them to the tree branches and snow layer.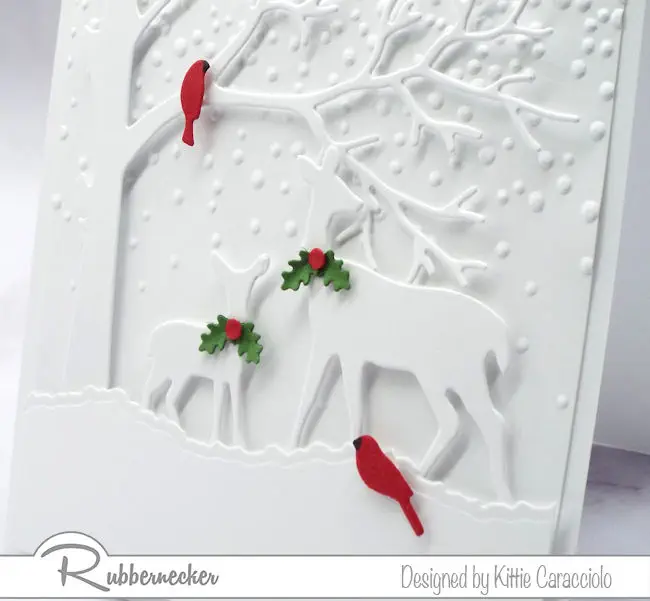 Check out my Christmas Cards With Deer and Die Cut Deer and Pine to see other examples of deer cards that look complicated but came together quickly.  
3426 Christmas Joy set

Deer Family Die Cut 5162-10D

5173-02D Deckle Hills Die Cut

Greenery #1 Die Cut 5162-09D

5162-04D Tiny Leaves

Crossover II Fabric & Paper Cutting…

Color Fuse Set #10
The Color Catalog by Sarah Renae Clark

Sizzix – Tim Holtz – Alterations…

Sizzix – Paper Sculpting Kit

Dress My Craft – Hole Punch – One…

New MISTI Stamping Tool – The Most…

Amazon.com: Scotch CAT 085 Advanced…

Mini Glossy Accents, Ranger Accents

Amazon.com: Mini Foam Dots…

Amazon.com: Scotch 1/2-Inch by…

Fiskars 01-005452 Recycled Bypass…

Teflon Bone Folder, Essentials by Ellen

Scor-Pal Measuring & Scoring Board 12×12

Glue Dots, Mini (3/16″)

Amazon.com : Accent Opaque White 8.5"…
I really like having several batch card making ideas for Christmas greetings on hand and this one was both relatively easy to make and I think it's just so pretty. Honestly, it could even make a beautiful all-winter card, too! Try these out – there's still time!