Today I am sharing how to make a poinsettia and mistletoe card to combine two beautiful elements in one!
When I saw the brand new Buildable Poinsettia, Mistletoe, Greenery #3, Joy Word with Shadow, and Quilted Stitch Pierced Cover in the Christmas In July New Release from Rubbernecker I knew I wanted to combine everything to make a poinsettia and mistletoe card. I am SO happy with how this turned out and love that all the gorgeous texture from the new pierced cover die and the details from the Rectangle Combo OPC #4 Die offers to set off that 3D die cut paper flower. I'd love to share the details with you! Keep reading…..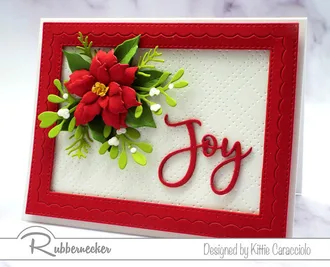 Card Base, Frame and Die Cut Sentiment
Use white cardstock to cut an A2 sized card base and a 5.50″ x 4.25″ layer.
Place that new plaid pierced cover die over the white layer and run through the die cutting machine.
Trim the pierced layer down to 5.00″ x 3.75″ to fit behind the frame and attach it to the card base using ATG adhesive.  
Use red cardstock to cut the two frame sections, turn them face down and attach them together using double stick tape. Picture below from previous post.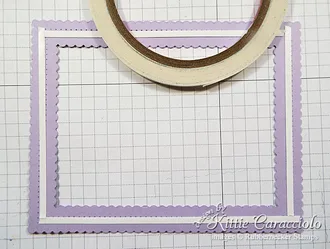 Apply strips of mounting tape to all four sides of the frame back and attach it to the card base.
Cut three sections of the Joy word sentiment and attach them all together using Connect glue.  Pro Tip: Building layers with the die cut word builds it up to make a much more significant feature on the card front.
Create a rope of adhesive using rolled up double stick tape.  Pro Tip:  The rolled up tape is the perfect size of adhesive to attach and pop up thin die cuts.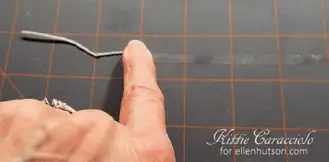 Attach the Joy word to the lower right corner of the card base.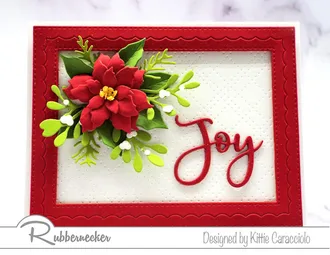 Poinsettia and Mistletoe Foliage
Cut the poinsettia sections using red, green and yellow cardstock.
Place the poinsettia sections face down on the molding pad and roll over each petal using a round stylus.
Turn the sections face up and push down in the centers to push the petals up.
Use glossy accents to attach the poinsettia sections together making sure to offset each layer for a natural flower.
Roll the yellow flower center around your tweezers, finish wrapping and secure it with glossy accents.
Apply a generous amount of glossy accents to the rolled up center and attach it in the poinsettia center.
Gently form and bend the green poinsettia leaves with your fingers.
Cut the greenery, mistletoe and berries using green and white cardstock.
Attach the berries to the mistletoe branches using glossy accents.
Check out my Shaping and Assembling a Poinsettia Video to see the steps I take to form the poinsettia and foliage.  The video was made using the larger poinsettia from the Poinsettia #2 set but the procedure is exactly the same for this smaller flower.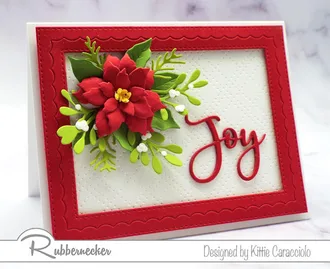 Create the Poinsettia and Mistletoe Arrangement
Apply a generous amount of glossy accents to the back of the poinsettia and attach it to the card base.
Tuck the green poinsettia leaves under and around the poinsettia and attach them in place with glossy accents.
Tuck the greenery and mistletoe in between the flower and leaves and attach them using glossy accents.
Finish by apply yellow stickles to the flower center and crystal stickles to the white berries.
Check out my Arrange Poinsettia and Foliage on a Card Front Video to see how attach the poinsettia to the card base and how I tuck the foliage under the petals to create the arrangement.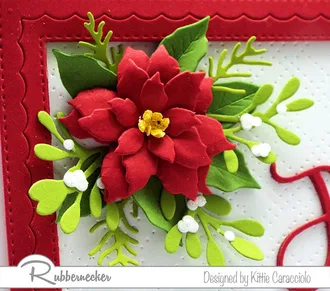 I just LOVE the way this new poinsettia die is the perfect scale to work so beautifully together with the new mistletoe and greenery dies. Did you notice that there are three different sprigs of mistletoe with LOTS of different berries in the new die? That makes me so happy because it adds that very natural and realistic look to all the pretty arrangements we can make of winter foliage on our cards. Rubbernecker thinks of so many great details! Here is what you will want to have to make this card at home:
| | | |
| --- | --- | --- |
| 5514-07D Buildable Poinsettia Die | 5514-06D Mistletoe Die | 5514-04D Greenery #3 Die |
| 5515-05D Joy Word w/ Shadow Die | 5512-05D Quilted Stitch Pierced Cover | 5217D Rectangle Combo OPC #4 Die Cut |
The Color Catalog by Sarah Renae Clark

Ranger Ink – Stickles Glitter Glue -…

Ranger Ink – Stickles Glitter Glue -…

Susan's Garden Ultimate Tool Kit

Sizzix – Paper Sculpting Kit

Scrapbook.com – Magic Mat – Standard…

Scrapbook.com – Magic Mat – Short -…

Scrapbook.com – Magic Mat – Standard…

Crossover II Fabric & Paper Cutting…

Amazon.com : Dahle 550 Professional…

Scotch Advanced Tape Glider & Tape

Connect Glue, Gina K Designs

Mini Glossy Accents, Ranger Accents

Amazon.com: 1000 Pieces Foam Sticky…

Amazon.com: Mini Foam Dots…

Amazon.com: Scotch 1/2-Inch by…

Teflon Bone Folder, Essentials by Ellen

Scor-Pal Measuring & Scoring Board 12×12

Glue Dots, Mini (3/16″)

Amazon.com : Accent Opaque White 8.5"…
I hope you try to make a poinsettia and mistletoe card like this so you can see first hand how beautiful these look together!