This quick and easy slimline card for a friend is so incredibly versatile!
I really enjoy making slimline cards. They offer lots of extra space to tell a story or build a scene. But sometimes you want to do something a little faster and with a single simple message. Like this quick and easy slimline card for a friend that can be changed up every single way to give you a design idea that is absolutely versatile for any occasion, theme, color story, sentiment……it's a true LBD (little black dress) card!
Basically, this card is just a few easy to make components; the base, the die cut background layer, the layered sentiments and two flowers. And by using just two main colors – the white and pink – with the green accents lets these elements standout without needing lots of additional details.
Let's make one so you can see just how easy this is!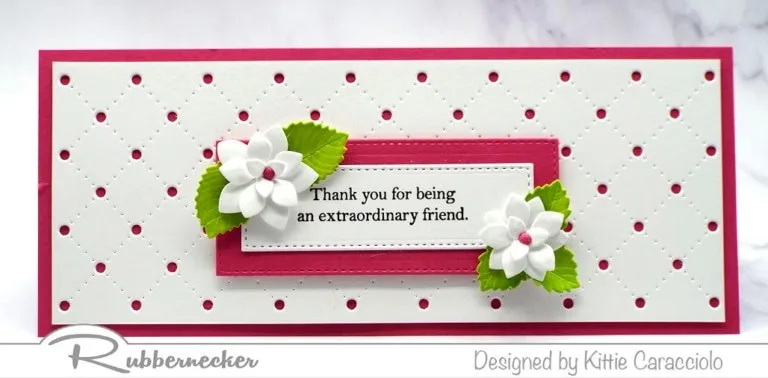 Slimline Card Base and Quilted Cover
Use white cardstock to cut an 8.50″ x 7.00″ slimline card base, place the 7.00″ side of the cardstock along the top of the Scor-Pal and score down the center at 3.50″.  
Cut the Slimline Quilted Cover using white cardstock and an 8.50″ x 3.50″ layer using bright pink cardstock.  Pro Tip:  I most always use white cardstock for my card base and then layer with the colored cardstock.  I like to leave the inside white for writing notes and sentiments. If you like colored insides, just make your base from your chosen color cardstock. 
Apply ATG adhesive to the back of the bright pink layer and attach it to the card base.
Adhere strips of double stick tape to the outer back borders of the quilted layer and a few strips in between a few of the quilt lines and attach it to the bright pink cardstock.  Pro Tip:  Placing a few strips of adhesive along the back center of the cover will guarantee that it lays flat so the color shows evenly through all of the holes.
Sentiments Layers
Use bright pink and white cardstock to cut the Mini Slimline Nested with Stitch rectangles.
Secure the white layer and the Birthday Celebration sentiment stamp in the MISTI.
Apply black ink to the stamp and stamp the sentiment.
Apply adhesive to the back of the white sentiment layer and attach it to the bright pink layer.
Apply strips of mounting tape to the back of the pink layer and attach it to the card base.
Die Cut Flowers and Leaves
Use white cardstock to cut the flowers and green cardstock to cut the leaves. Pro Tip: Use up your scraps when cutting these small pieces.
Place the flower layers face down on the molding pad and gently form the petals using a large round stylus.
Turn the flower face up on the molding pad and push down in the center of each using a small tipped stylus.  
Attach the flower layers together using glossy accents making sure to offset the layers for a natural appearing flower.
Attach the flowers to the corners of the sentiment layer using glossy accents.
Gently form the leaves with your fingers, tuck them under the flowers and attach in place using glossy accents.
Use tiny pop dots to attach the bright pink flower centers.  Pro Tip:  I cut the flower centers from the edge of the Slimline Quilted Cover on a scrap of the pink.  The negative circles were just the perfect size!.  I rounded them slightly on the molding pad with a small round stylus.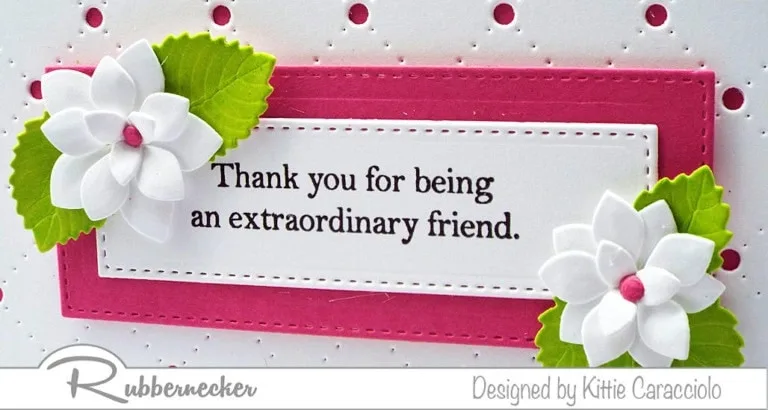 As I mentioned, I enjoy working with slimline dies-both the full sized and minis.  So much so that you can find forty-five cards in my Slimline Category if you would like more inspiration!  Here's what I used today to make this fast and easy slimline card:
5513-02D Slimline Quilted Cover

5425D Mini Slimline Nested with stitch

5508-01D stackable flowers/leaves die

35015 Birthday Celebration
The Color Catalog by Sarah Renae Clark

Tsukineko – VersaFine Clair – Ink Pad…

Susan's Garden Ultimate Tool Kit

Sizzix – Paper Sculpting Kit

McGill – Paper Blossoms Collection -…

Amazon.com: McGill Paper Blossoms…

PanPastel Sofft Applicators 12/Pkg

Scrapbook.com – Magic Mat – Standard…

Scrapbook.com – Magic Mat – Standard…

Crossover II Fabric & Paper Cutting…

Amazon.com : Dahle 550 Professional…

Scotch Advanced Tape Glider & Tape

Mini Glossy Accents, Ranger Accents

Amazon.com: 1000 Pieces Foam Sticky…

Amazon.com: Mini Foam Dots…

Amazon.com: Scotch 1/2-Inch by…

Teflon Bone Folder, Essentials by Ellen

Scor-Pal Measuring & Scoring Board 12×12

Glue Dots, Mini (3/16″)

Amazon.com : Accent Opaque White 8.5"…

New MISTI Stamping Tool – The Most…

New & Improved Mini MISTI Laser…
I recommend you bookmark this idea for this quick and easy slimline card for a friend and maybe even make some notes as to how YOU plan to change it up to suit your favorite things! There's almost no occasion for which this card wouldn't be ideal with just a few swaps!