If you are looking for slimline card ideas that will make them grin, this will do it!
I love coming up with cute and fun slimline card ideas and these doggos were just BEGGING for their turn in the super-sized spotlight! I have two puppers myself so it was easy to imagine them scampering across this oversized card. Slimline cards give you just enough extra space that you can create a whole scene or story and this one has ME smiling! There are tons of cute details that bring this scene to life and they all start with dies so almost all the work is done. All you have to do is customize with some fun tips I am sharing right here. Ready?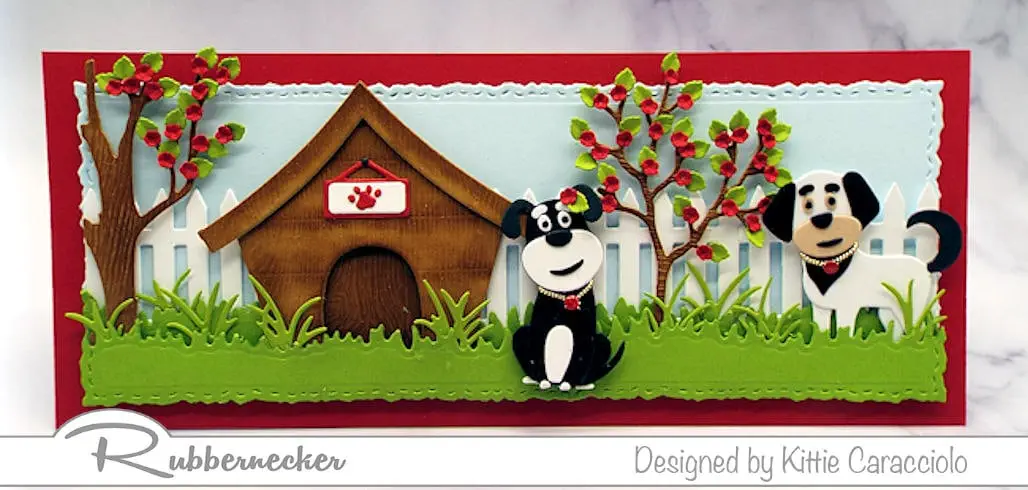 Card Base, Grass and Fence
Use red cardstock to cut an 8.50″ x 7.00″ piece of cardstock and score down the middle score with the 7.00″ side along the top of the Scor-Pal.
Cut a piece of light blue cardstock using the Slimline Solid Deckle die and attach it to the red card base using ATG adhesive.
Use green cardstock to cut the Slimline Grass sections and white cardstock to cut three Picket Fence sections.
Attach two of the fence sections together to create the larger section for the right side of the card.
Use double stick tape to attach the fence sections to the card base.    Pro Tip:  To create a little dimension I attached a few tiny pop dots on the top back of the pickets to hold them away from the base.  
Attach one grass section directly to the fence using double stick tape.
Apply a strip of mounting tape to the back of the second grass section and attach it to the card base.
Tree, Dog House and Leaves
Use woodgrain cardstock to cut the tree sections and dog house.
Apply brown ink with a wet baby wipe to color both the tree and dog house and dry with heat gun.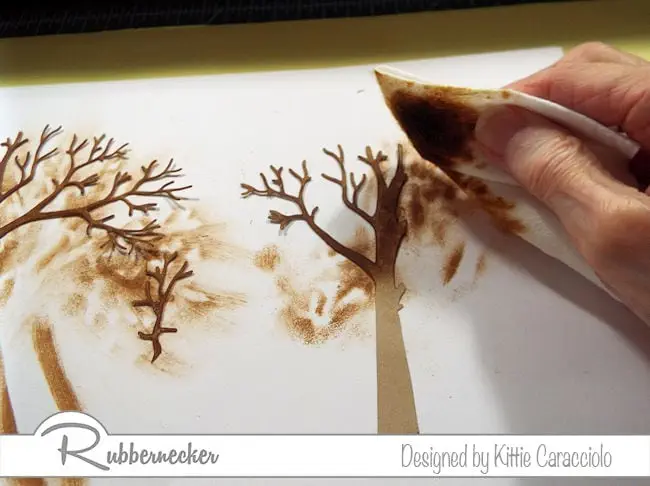 Attach the dog house sections together using strips of mounting tape.
Tuck the house in behind the grass section and attach to the card base using a large piece of mounting tape.
Use green cardstock to cut the tiny leaves.
Place the leaves face up on a molding pad and form them with the leaf tool. 
Cu the tiny flowers using red cardstock, place them face up on the molding pad and push down in the centers using a small tipped stylus.
Use glossy accents to attach the leaves and tiny flowers to the tree branches.
Apply rolled up double stick tape and pop dots to the tree trunks and leaves, tuck them in behind the grass and attach to the card base.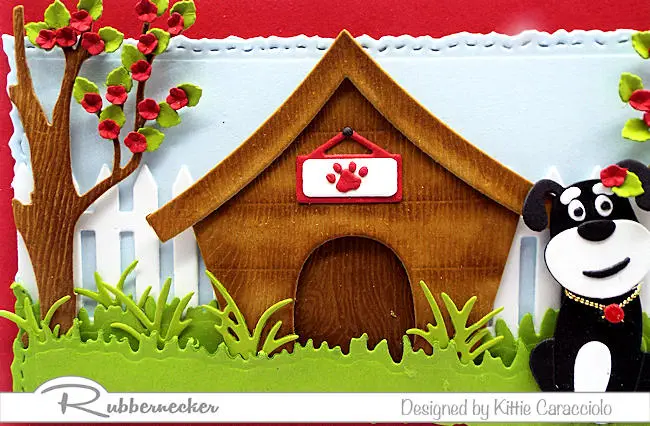 Dogs 
Cut the dogs using black and white cardstock.
Assemble the pieces and attach them together using glossy accents.   
Create collars for the dogs using gold metallic string, attach them around their necks using glossy accents.
Create tags using 1/8″ punched circles and attach to the collars using glossy accents.
Apply large pieces of mounting tape to the back of the dogs and attach them to the card front.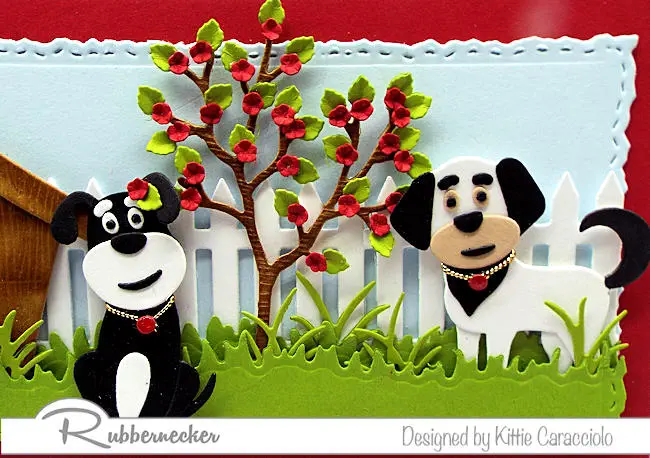 Check out my Funny Christmas Card Ideas with Dogs to see another card that I made with  the Set of Dogs.  This post has a video showing how I assembled the dog.
| | | |
| --- | --- | --- |
| 5426D Mini Slimline Tabbed Deckle | 5414-02D Set of Dogs Die | 5414-01D Dog House Die |
| 5403D Half Tree Die | Picket Fence Die Cut 5152-01D | 5328-02D Slimline Grass Die |
| 5210-02D Grass #2 Die Cut | 5334-02D Tiny Leaves #2 Die | Tiny Flower Buds Die Cut 5147-10D |
| | | |
| --- | --- | --- |
| The Color Catalog by Sarah Renae Clark | Sizzix – Paper Sculpting Kit | McGill – Paper Blossoms Collection -… |
| Amazon.com: McGill Paper Blossoms… | PanPastel Sofft Applicators 12/Pkg | Scrapbook.com – Magic Mat – Standard… |
| Scrapbook.com – Magic Mat – Standard… | Crossover II Fabric & Paper Cutting… | Amazon.com : Dahle 550 Professional… |
| Scotch Advanced Tape Glider & Tape | Mini Glossy Accents, Ranger Accents | Amazon.com: 1000 Pieces Foam Sticky… |
| Amazon.com: Mini Foam Dots… | Amazon.com: Scotch 1/2-Inch by… | Teflon Bone Folder, Essentials by Ellen |
| Scor-Pal Measuring & Scoring Board 12×12 | Glue Dots, Mini (3/16″) | Amazon.com : Accent Opaque White 8.5"… |
I love coming up with and sharing slimline card ideas so pop back often because you – and I! – never know what I am going to make next and if I can help inspire and teach you how to bring your own cards to life, I am one happy card maker!