I truly do think this might be the best quick and easy handmade card idea I've ever made!
I don't normally use words like "best" but honestly? I think this really might be the best quick and easy handmade card idea because it's ridiculously fast to make and uses so few elements. THIS one is going on the front of my shelf to remind me of something I can make in less than five minutes and can be changed up endlessly for any occasion.
Now, I used Rubbernecker's Nested  Circle Scallop with Holes, Tiny Flower Buds, Flower Stems, Best Friend Clear Set and Welcome Spring 6×6 Paper Pad to make this but every single element can be swapped out for what you have on hand. You can also change up the shape of the scalloped circle; try a square die with edged details on the diagonal. Or one of the sizes of the Nested Marquee die set. Or even one of the new decorative dies from the last release. There are so many options!
And then you can use any one of your sentiments – have you seen all the new ones in the latest release? My goodness, there are so many possibilities!
Let me show you just how easy this and why I feel OK calling it my best quick and easy idea so far.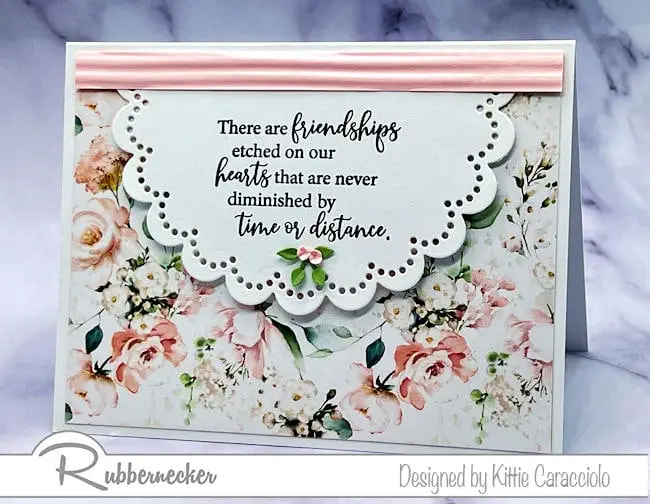 Card Base
Cut an A2 sized card base using white cardstock.
Use a piece of Welcome Spring paper to cut a 5.25″ x 4.00″ layer.
Apply ATG adhesive to the back of the designer paper layer and attach it to the card base.
Scalloped Sentiment Layer
Use white card stock and the largest die from the Nested Circle Scallop with Holes to cut the scallop layer.
Trim off a portion of the scallop layer straight off the top.
Secure the scallop layer and sentiment in the MISTI and stamp using Nocturne ink.
Apply ATG adhesive along the back top edge of the scallop layer and pieces of mounting tape to the back bottom portions of the layer.
Center the layer and attach it to the card base.
Cut a 5.25″ x .50″ strip of pink cardstock and run through the straight crimper.
Apply double stick tape to the back of the pink strip and attach it to the top edge of the designer paper layer.  Note:  I didn't care for the raw edge of the scallop layer and thought covering it would add more interest to the card. You could use a plain strip, a piece of ribbon, an embossed scrap – anything really to just create a little border to cover up the seam. And of course, you may even LIKE the look!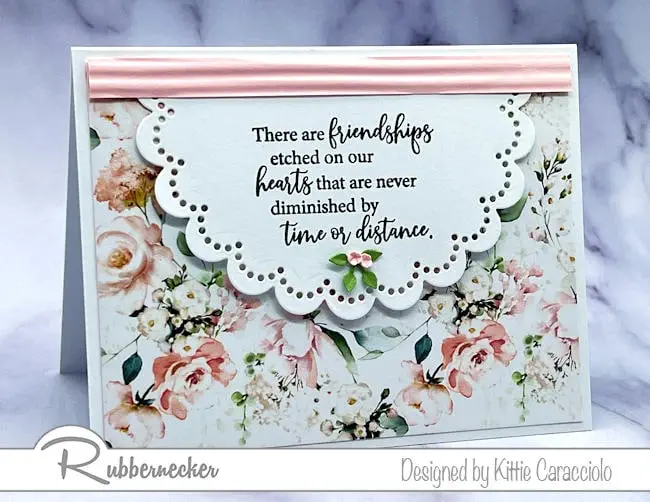 Here's what I used – again, you can use anything you spot that looks good with your paper choice:
Nested Circle Scallop w/ Holes Die…

Tiny Flower Buds Die Cut 5147-10D

Flower Stems Die 5147-05D

3334 Best Friend Set

2016 Welcome Spring Paper Pad
And here are the other items I use on a regular basis:
So – do you think it's OK for me to call this the "best quick and easy handmade card"? I know I was pretty excited when I finished it and realized it was done so quickly. I would LOVE to know how you use this idea!