Get my PRO TIPS on how to add details to die cut paper flowers for realistic, gorgeous arrangements on your cards.
In my part one post for this card, I shared all the details on how to make this charming vintage die cut suitcase. Today in part two, I am sharing how to add details to die cut paper flowers with just ink and some shaping. When you learn all the little tips and tricks I use – and see how easy they really are – you will want to start making tons of different dimensional paper flowers for your cards all the time! 
If you haven't already seen the post, you can go here and see how I used Rubbernecker's Suitcase and Decorative Rectangle #2 dies to create the setting for this floral arrangement. These were made with Rubbernecker's Stackable Flowers and Leaves #1, Tiny Flowers #2, Branches and Leaves, Leaves and Greenery and Sea Kelp dies for lots of variety and texture. Pro Tip: Using all different shapes and designs of flowers and foliage creates a very natural look so never be afraid to mix and match!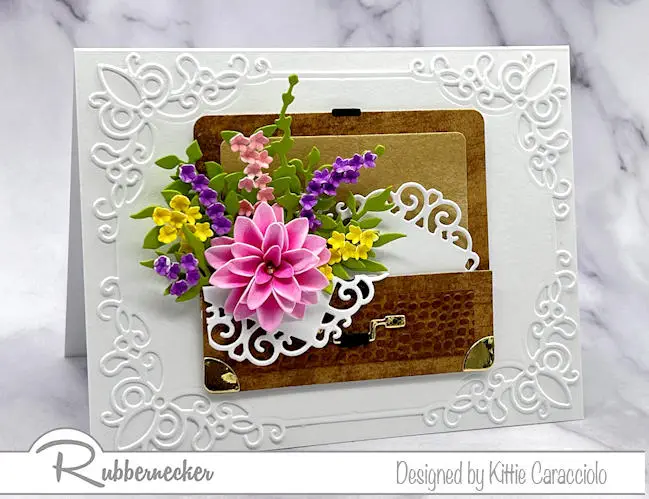 Ready to learn how to add details to your die cut paper flowers with my easy tips? Let's dive in!
The Large Multi Layer Flower
Use white cardstock to cut three sections of the Stackable Flowers and leaves #1. I used three of the second largest flower, two layers of the third size flower and one tiny flower center.  The multiple layers create a pretty full flower.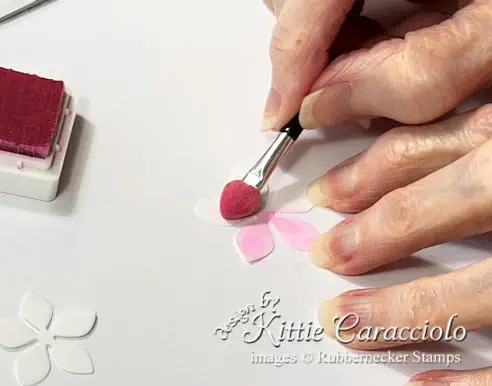 Use a very light touch to apply Rose Color Fuse Ink to completely cover each of the flowers using a mini applicator.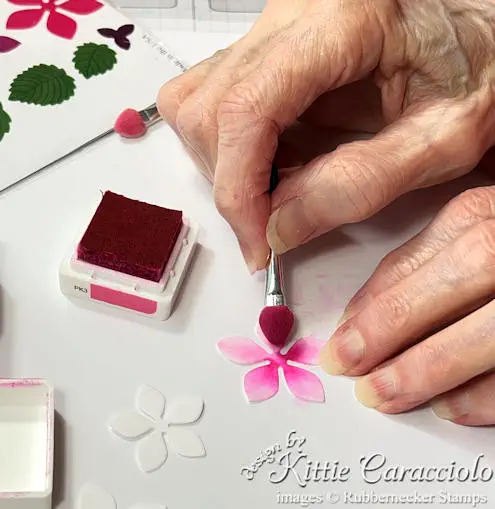 Apply Bubblegum Color Fuse Ink to the flower centers and slightly up on each petal using a mini applicator.  Leaving the upper portions of the petals pale pink adds highlight and dimension to the assembled flower.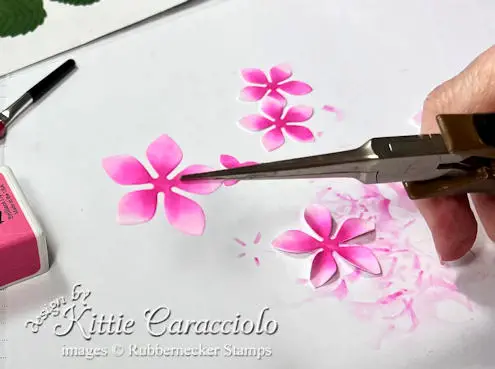 Hold each petal  in the center with needle nose pliers.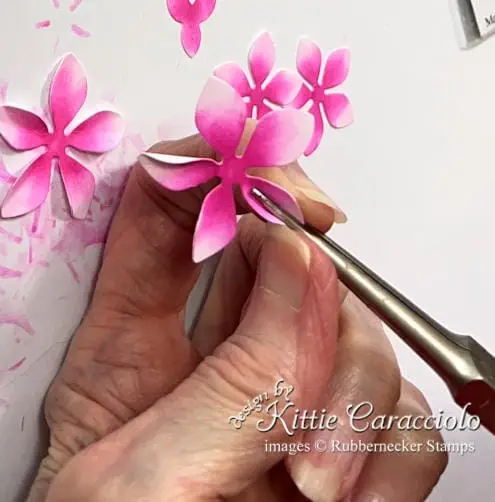 Squeeze each petal with your fingers to form the petal.  Pro Tip:  Due the size of my pliers I used my thinner tipped tweezers to form the petals on the smaller layers.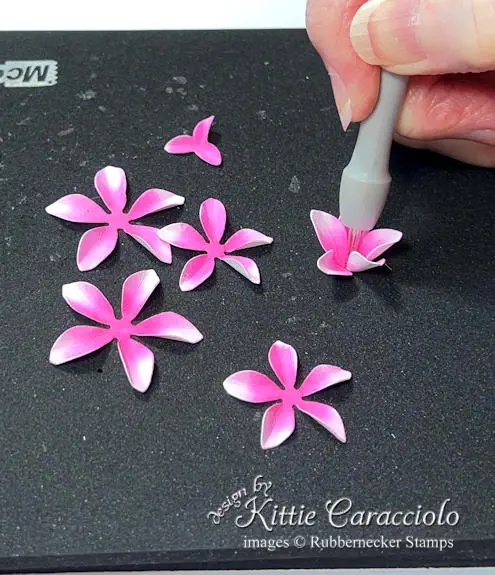 Place the flowers face up on the molding pad and push down to push the petals up.  Pro Tip:  I use three layers of molding pads stacked on top of each other to get better depth for the flower.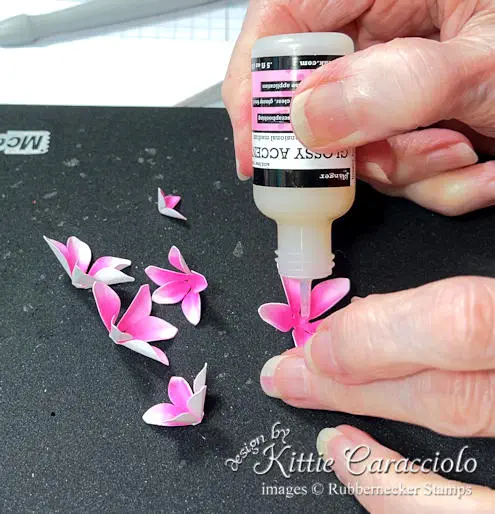 Apply glossy accents to the flower centers. Pro Tip: As I mentioned in part one, I use Connect Glue when I need to make sure any excess glue won't show on a project. For the assembly of almost all of my flowers, I use Glossy Accents as it gives exceptional hold for the more 3D elements I create.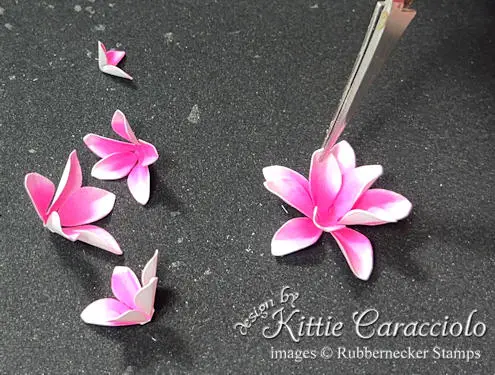 Attach the flower layers together making sure to offset each layer for a more natural looking flower.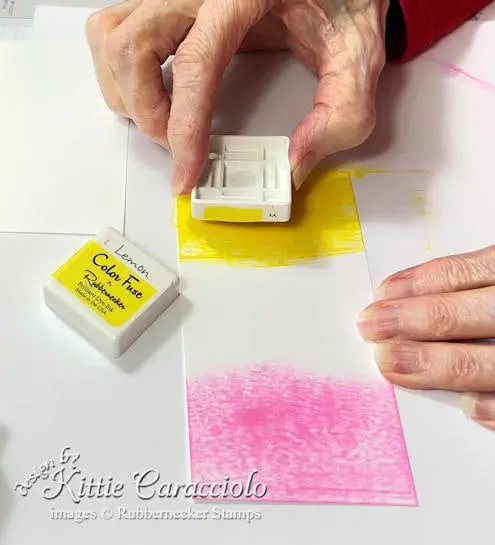 Apply Lemon, Posey  and Magenta Color Fuse Ink to a strip of scrap cardstock by swiping the pads directly on the paper. (In the photo above I haven't swiped the Magenta yet!) Pro Tip:  I use colored cardstock plenty of times to cut my flowers but I wanted these tiny flowers to be as vibrant as the large flower.  I also like the variation in color and the touch of white edges on the flowers.  These details are hard to see in the photos.
Cut the color strips apart and cut the Tiny Flowers for the stems.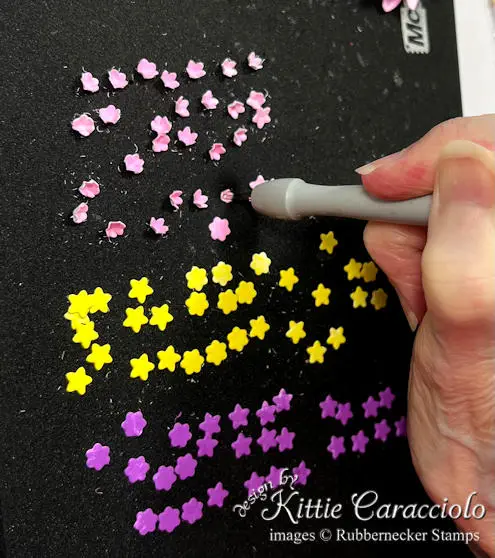 Place the flowers face up on the molding pad and push down in the centers using a tiny tipped stylus.
Cut two sections of the Branches and Leaves, Leaves and Greenery and Sea Kelp using green cardstock.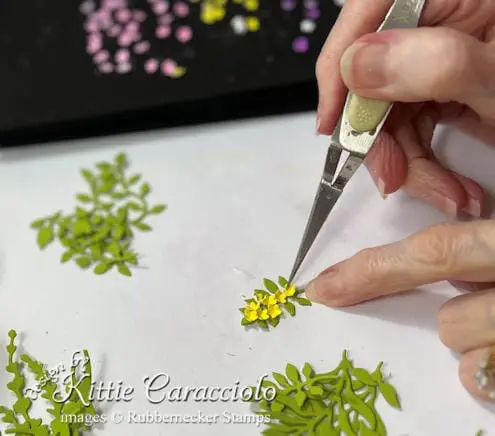 Attach the tiny flowers to the branches, greenery and kelp using glossy accents.  I use the tweezers to pick up and attach the tiny flowers.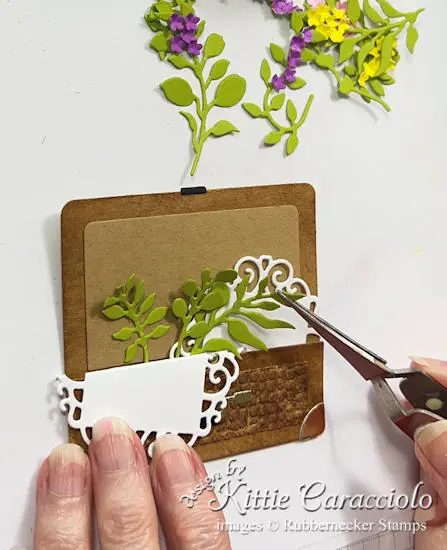 Tuck a few sections of foliage in behind the case bottom to create a green background for the arrangement.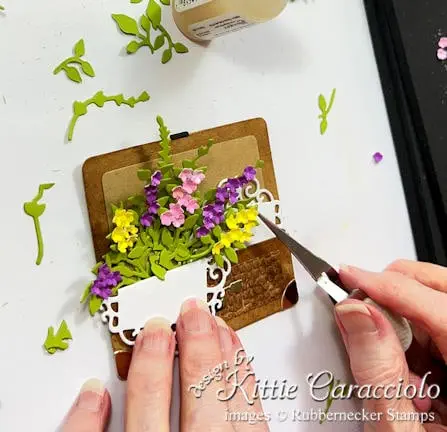 Trim and tuck the different flowers and foliage stems in behind the case bottom and to the back case base using glossy accents.  
Attach the large flower to the arrangement using glossy accents.  Once the large flower was attached I filled in both sides by attaching a few extra flowers.  I also tucked in a tall section of the sea kelp to draw the eye up when looking at the arrangement.

(See part one to understand this next step) Remove the tape backing off the mounting tape on the back of the bottom case section and apply a thin strip of tape to the top case back and attach the case to the card base.
There you have it – a stunning vintage die cut suitcase card with the most beautiful, detailed die cut flowers that will totally knock their socks off!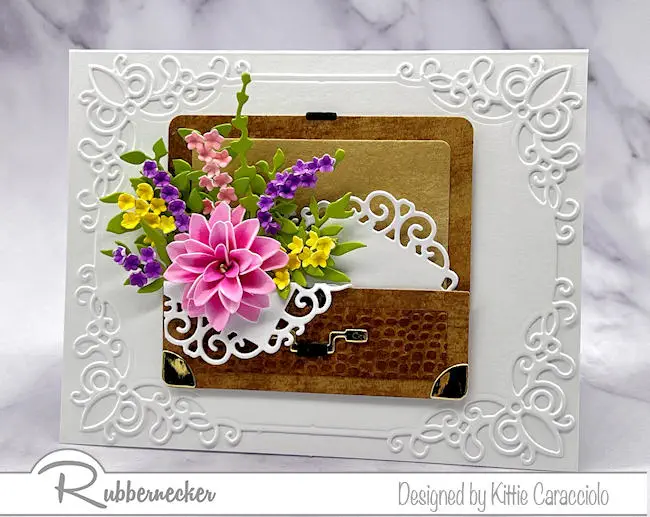 Here are the items from Rubbernecker that I used on this project:
| | | |
| --- | --- | --- |
| 5614D Decorative Rectangle #2 Die | 5613-04D Suitcase Die | 5508-01D stackable flowers/leaves die |
| 5422-03D Tiny Flowers #2 Die | 5404D Branches and Leaves Die | 5309-04D Leaves and Greenery Die |
| 5321-02D Sea Kelp Die | Color Fuse Set #3 | Color Fuse Set #5 |
| Color Fuse Set #1 | Color Fuse Set #6 | Color Fuse Set #4 |
And then for tools I used from my everyday stash you can go here to see all my other favorite crafting tools.
I hope your getting these tips and tricks on how to add details to die cut paper flowers makes you want to experiment with all your own flower and foliage dies. Don't ever be afraid to experiment with these tips and see what new, fun looks you can come up with! Once you have these easy basics – inking and shaping – down, you can add so much beautiful details to your creations and no one has to know how easy it is!