The Limited Supply Challenge today on SCS was to make small card or quick minis. I had time to make two and focused on fun spring card themes with chicks as the main image. I chose a Rubbernecker's On the Farm image for one and Anna Wight's Bo Peep's Sheep set for the other. I used Copic markers on the single chick and watercolored the momma chicken and her chicks. What fun.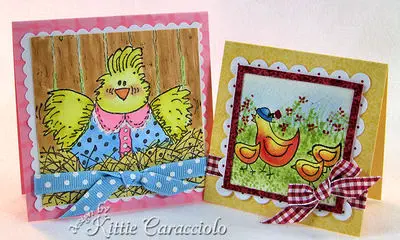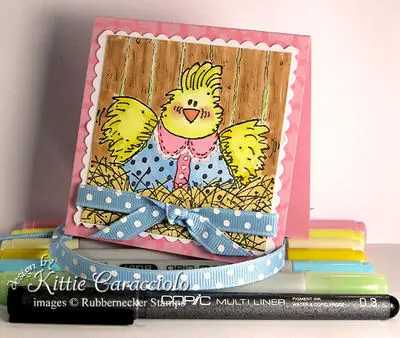 I stamped the main image with Brilliance Black Graphite, heat set and then colored with Copic markers. I used a Copic Multiliner artist pen to sketch in the little wood planks for the coop in the background and colored with Copics. I used decorative scalloped scissors to cut the white background layer for behind the image. This card measures 3.5 X 3.5".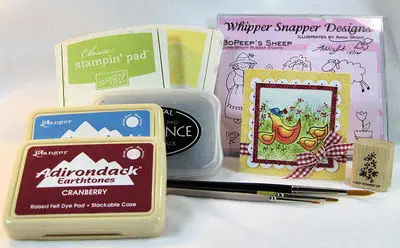 I stamped the images with Brilliance Black Graphite and watercolored the images with Adirondack Dye reinkers and SU Dye Reinkers. I used a large round brush to stipple on the celery ink for the ground and Blue for the sky. I used my fern stamp to add texture and to add little cranberry flowers and greenery in the background. I used a square Nestabilities die to cut the scalloped layer.