You are going to have to love pink to like the project I am sharing with you today. I love pink and green together and I have used it on another fun birdhouse scene card..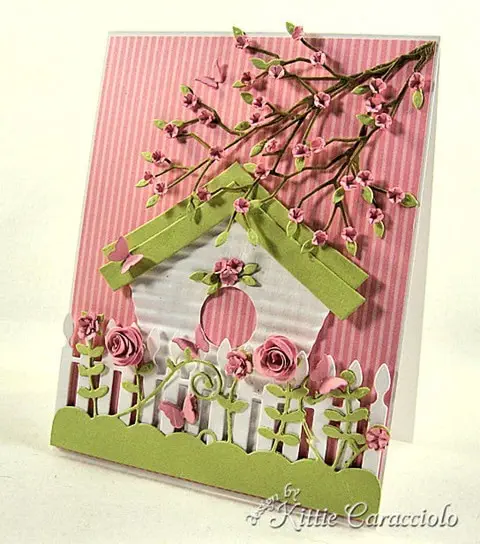 The My Favorite Things Homespun birdhouse is one of my favorite toys to play with.  I paired it with Memory Box Leafy Branch, Summer Border and Poppy Stamps Picket Fence. I added flowers to the scene using the Memory Box Floral Delights and Butterfly Delights. I tossed in a couple My Favorite Things Mini Rolled Roses to complete the flower border along the fence line.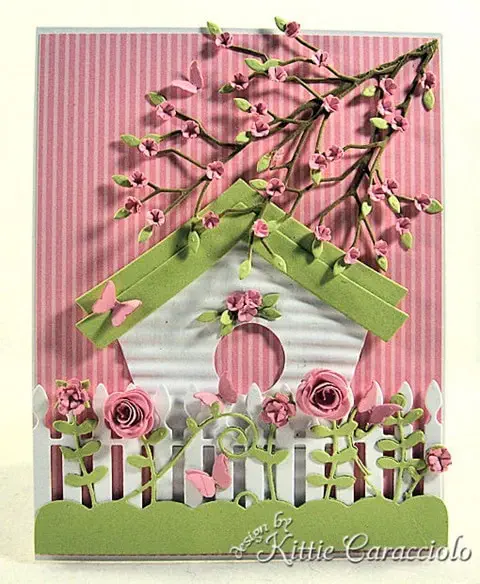 I attached the crimped assembled birdhouse to the card front, popping up the top portion with mounting tape but using ATG adhesive on the lower portion of the house to lay flat behind the fence. I attached strips of mounting tape to the back of the picket fence and attached in front of the house.  I attached the additional flowers to the Summer Border and attached it flat to the fence with ATG adhesive.
I colored the the green Leafy Branch with a Stampin' Up! Creamy Caramel marker leaving the leaves green and then attached flowers all over to add more pink and to soften.  I attached the branches to the card base with glossy accents. I placed a few butterflies around the scene and attached with glossy accents. The finishing touch was adding a few leaves and flowers to create a welcoming flower spray over the opening of the birdhouse.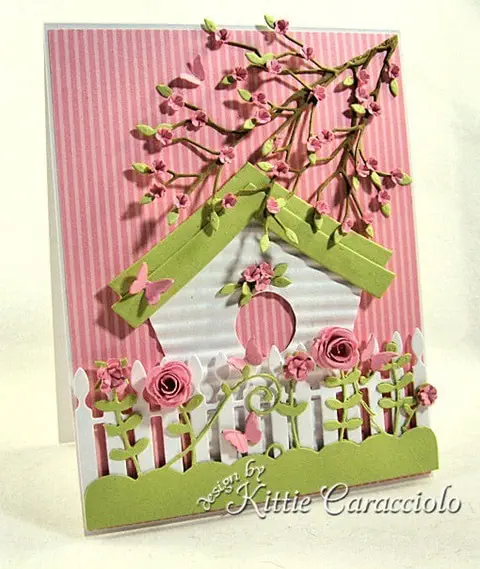 Thanks for stopping by.  Check back tomorrow to see my handmade mitered and hand painted vintage floral frame with roses made with My Favorite Things Royal Rolled Rose.
Paper: Retired SU, White, Pretty In Pink, Spring Moss
Accessories: Creamy Caramel SU Marker, My Favorite Things Homespun and Mini Rolled Roses, Poppy Stamps Picket Fence, Memory Box Flower Mound, Butterfly Delights, Summer Border, Leafy Branch, and Floral Delights, Stylus, Mat, Glossy Accents, Crimper, Glue Dots, QuickStik,