Good Tuesday morning.  I have a snowy winter window to share with you today.  I wanted to use the new Dee's Distinctively Small Snow Covered Tree in a window scene and thought it would be perfect in the Grand Madison Arched Window and paired with the largest deer from the Deer Trio.
I traced the inside of the die cut window on my card base to create a pattern to cut an opening. I cut it out with my craft knife and then attached the frame over it with mounting tape.
I cut the trees and attached all the layers of each tree together with rolled glue dots. I then applied snow to the branches with liquid applique, dabbed lightly with my finger to spread and remove bubbles and heat set. I cut the deer and sponged with brown ink.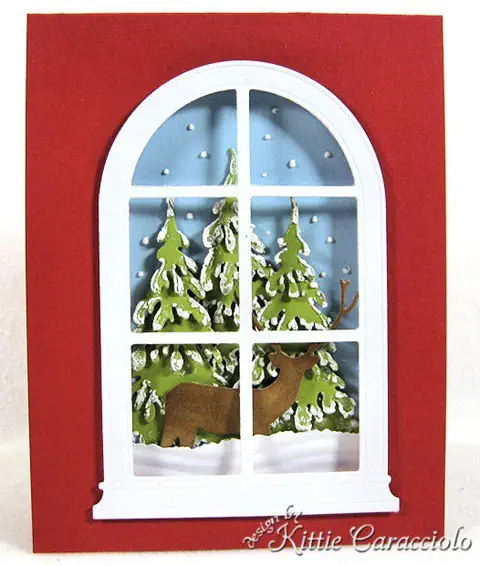 I attached the ground snow piece in the window, attached the deer and then placed the trees behind the deer.  I applied a layer of mounting tape on the inside of the window opening to create depth and then attached a large rectangle blue piece over the opening to cover and create the blue sky.  I added a few tiny dots of falling snow with liquid applique and heat set.  I love the shape of the snowy trees and now think I have to go back and get the larger snow covered tree.  Cha-ching!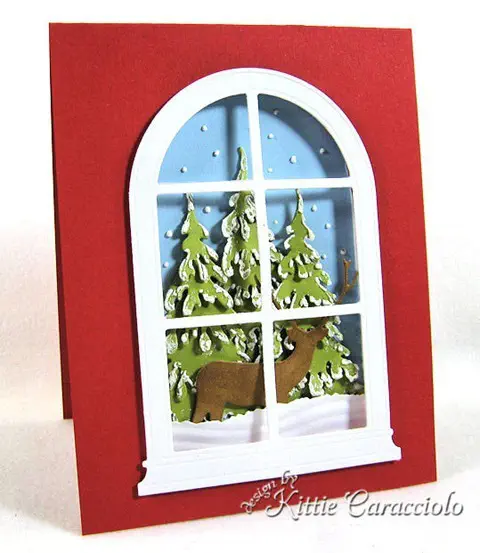 Have a great day and thanks for coming by.
Paper:  Red, White, Olive, Blue   Ink:  Distress Ink Vintage Photo   Accessories:  Poppy Stamps Grand Madison Arched Window, Memory Box Deer Trio, Dee's Distinctively Small Snow Covered Tree,  Wave Crimper, Glossy Accents, Liquid Applique, Mounting Tape, Inkssentials Ink Blending Tool,