Good Friday morning.  I am stepping a little out my box with this project. I used images and a sentiment from Impression Obsessions new CHA release.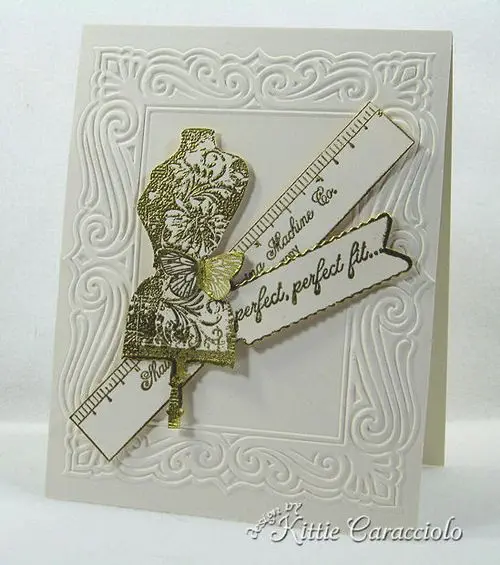 I stamped the images on vanilla cardstock with versa, embossed with gold embossing powder and cut out.  The butterfly section of the dress form was stamped a second time so I could pop it up over the base. I stamped the sentiment and cut it out using a flag die and applied versa to the edges with my versa marker and embossed with gold embossing powder.  After getting all the elements  cut out  I had a hard time figuring out how they would go on the card front but I really like how it turned out.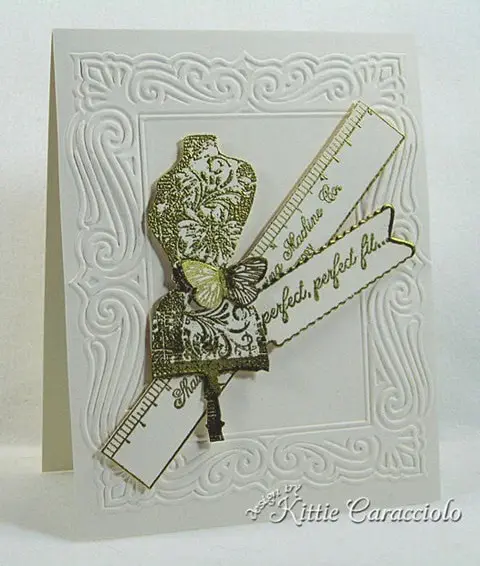 I hope you have a wonderful Friday and upcoming weekend.
Stamps:  Impression Obsession Daisy Dress Form, Perfect Fit, Sewing Ruler     Paper:  Vanilla Cream    Accessories:  Sizzix Roses and Frame Set, Impression Obsession Flag Set, Versa, Versa Marker, Gold Embossing Powder, Glossy Accents, Glue Dots, Metal Adapter Plate, Teflon Bone Folder, Mounting Tape, Snips, Paper Piercer, Gold Organdy Ribbon, Embossing Magic,