Good Thursday morning and welcome to the Impression Obsession "Pack Your Bags" design team challenge.  When I think of packing my bags for a vacation I think of going to the beach.  There is nothing quite as restful to me as sitting on the beach under a big umbrella and watching the waves go in and out.
For my project today I used Seashell Medley, Shell in your Pocket, Grass Tall 
 I started my project by stamping the images on watercolor paper, painting and cutting them out. I used Twinkling H2O's and they are very sparkly but it doesn't really show well in the picture. I cut the grass out of watercolor paper and painted them with the H2O's.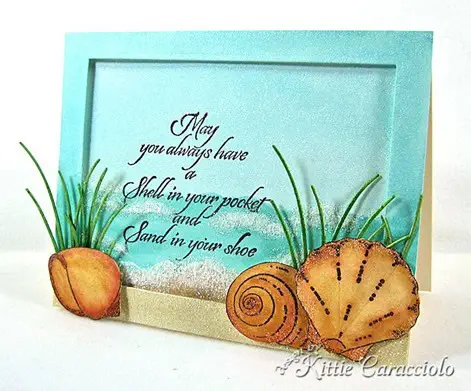 I cut a frame out of watercolor paper using the Spellbinders Matting Basics B set and then cut another piece of watercolor paper for the scene.  I wet the paper with a brush and painted in the sky, water and sand using Twinkling H2O's.  I repeated the same steps on the frame so it would blend in with the scene background.  I stamped the sentiment with Brilliance Pearlescent Chocolate ink and embossed with clear embossing powder. I applied liquid applique along the water's edge and out in the water to create sea foam.   I dabbed versa on the liquid applique and applied iridescent ice embossing powder and heat embossed. I applied versa to the sand portion of the frame and embossed with iridescent ice.  I wanted the sand to show up well to represent the "sand in your shoe" portion of the sentiment.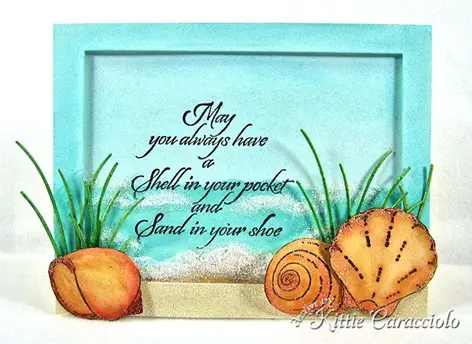 I attached the scene to the card base and mounted the frame over it with mounting tape. I attached the grass with glossy accents.  I wanted the shells to stand out for added dimension so I attached them with mounting tape.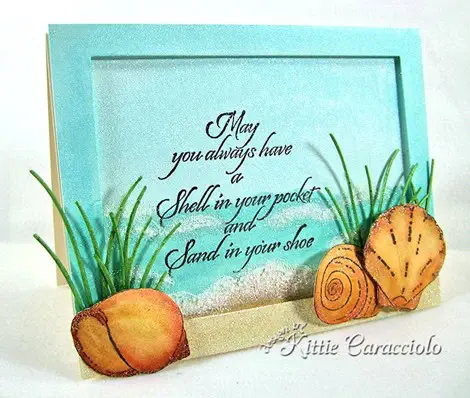 Why don't you come along and play with us. To enter the challenge go to the Impression Obsession Blog (all the details are there!). A random challenge card will be selected to showcase on the IO blog and you can to enter to win a $25 gift certificate to IO just by playing!
I hope you will go check out what the other IO teams members created for the challenge. Thanks for coming by today.
Kittie Caracciolo (you are here)



 

 

Stamps:  Impression Obsession Seashell Medley, Shell in your Pocket             Paper: Watercolor , Vanilla       Ink:  Brilliance Pearlescent Chocolate       Accessories:  Impression Obsession Grass Tall,  Spellbinders Matting Basics B, Twinkling H2O's, Brush, Versa, Clear Embossing Powder, Stampin' Up! Iridescent Ice Embossing Powder, Versa, Liquid Applique, Snips,  Plaid Dauber Set, Glossy Accents, Mounting Tape,  Paper Piercer, Metal Adapter Plate, ATG, Big Shot, Teflon Bone Folder , Guillotine Paper Cutter