Good Friday morning.  My project today was made last week for Karen Dunbrook's One Layer Wednesday challenge.  One layer cards are a little tricky and definitely requires a really special focal point that can stand on it's own.  I am far more comfortable creating dimension with my die cut flowers and scenes but a big white moon and a shadowy tree line definitely can stand on their own with any embellishment.  Here's what I came up with.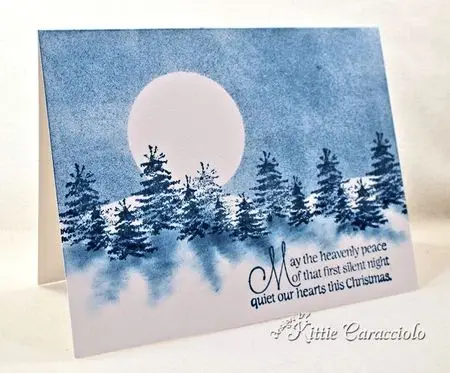 I started by punching out a circle out of a Post-it and stuck it in the sky area to create a mask for the moon.  I hand cut a strip of paper to create a mask for the ground area and sponged ink on in the sky area. You can see step by step photos of this process in my Winter Moonlight Snow Scene tutorial.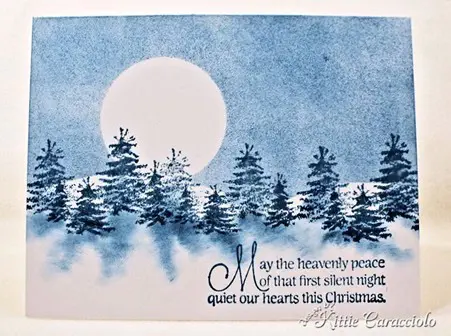 I stamped the tree image across the card front and lightly sponged ink in the snowy area using the pointed Sofft knife and cover to create the shadows for the trees. I finished by stamping the sentiment.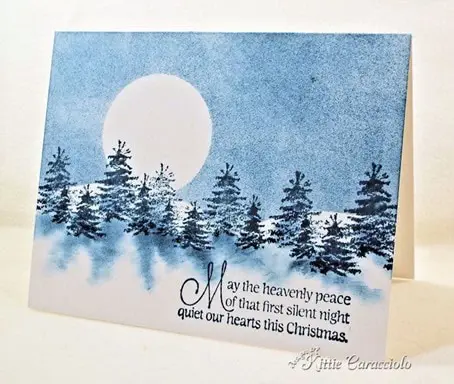 You can click on the photos to see a closer view.
I have created this kind of snowy moonlight scene several times with different tree images and I always love the outcome.  Can't you just feel the peace and calm of the frosty cold night!
Thanks so much for stopping by and I hope you have a wonderful and restful weekend.
Stamps:  Impression Obsession Brush Tree Line, Heavenly Peace     Ink:  Distress Ink Faded Jeans    Paper:  White    Accessories:  Inkssentials Ink Blending Tool, Sofft Knives and Covers, 1 3/8" Circle Punch, Hand Cut Template, Post-it