Good Monday morning.  I have a see thru window project to share with you today made using the Poppystamps Grand Madison Window, Bailiwick Background, Memory Box  Flower Mound and Butterfly Delights.
I thought the Bailiwick vines would look so pretty in the open window. I wanted to use bright colors for my tiny flowers so I picked a colorful designer paper to match for the wallpaper.  I created the scored wainscoting in white to offset the brightly colored paper.
I attached  the designer paper and scored wainscoting to the card.  I laid the window die over top of the card base and drew traced pencil lines around the inside of the window to use as a guide to cut the opening.  I cut the opening using my craft knife.  I had to go over the thicker white cardstock a couple of times to get a clean cut.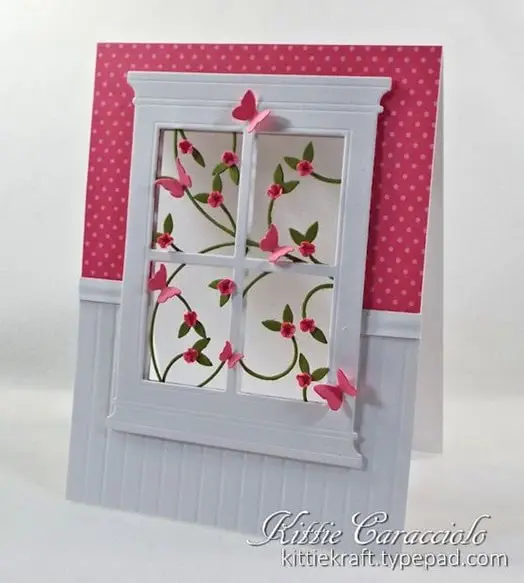 I applied ATG adhesive on all four side of the back of the window.  I laid the window over top of the Bailiwick background and pressed down to attach the two pieces the two together. I turned the window over and used my snips to cut off the rest of the background.  There were several leaf sections left after cutting so I applied adhesive to each of them and added to the backside of the window to fill in all the panes more evenly. I used the larger flowers from the Flower Mound die, formed them with my tiny tipped stylus and attached them to the vines with glossy accents.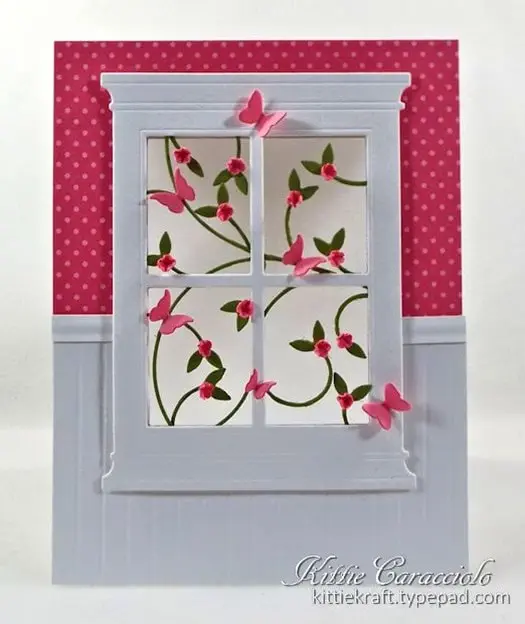 I applied mounting tape to the back of the window for added dimension and attached it to the card base.  I applied adhesive to the back of a second window and attached it to the inside of the card to create a perfect clean finish to cover up the cut edges. Here's a view of the inside of the card.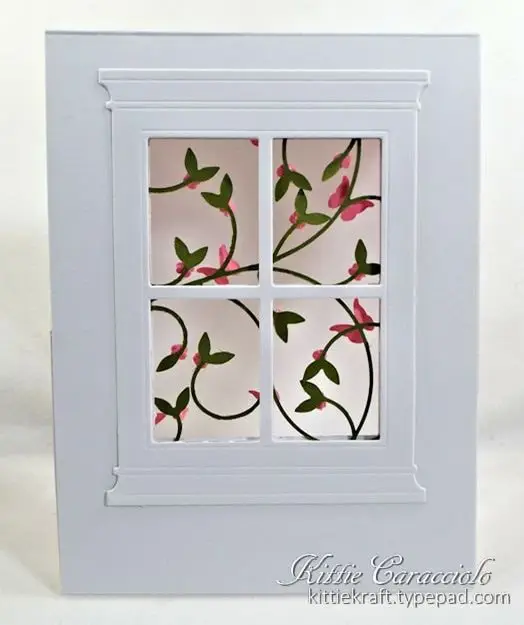 I am a butterfly nut so I added several butterflies to the card for a perfect finish. I think this is such a bright and cheery card and would be perfect for almost any occasion.  I had a lady write this week and ask where I put my sentiment or note since the window is see thru.  I always turn the card over and and write my note on the back of the card. Check out my see thru window tutorial if you would like to step by step photos of how I create this kind of window project.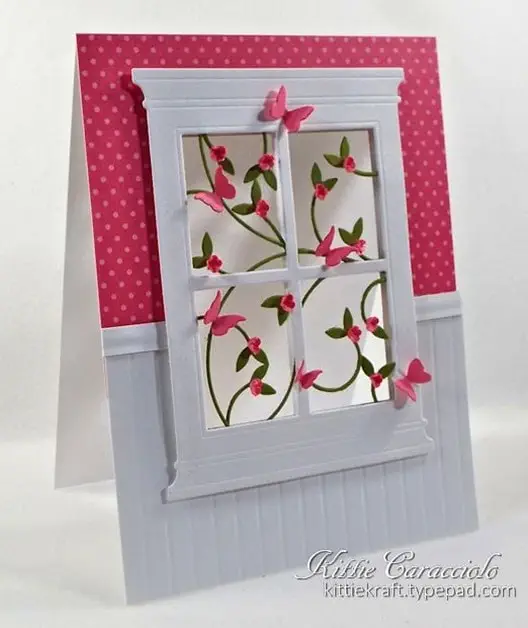 Thanks for coming by today.  I hope you have a great week.
Card Size:  5.5" x 4.25   Paper:  Papertrey Hibiscus Pattern Pack, White, Olive