Good Sunday morning.  I was in a Christmas card making mood and wanted to play with my new dies from Creative Expressions and Impression Obsession.  I used the Festive Collection Classic Poinsettia and Holly Sprays paired with the Pine Pair.  I layered the arrangement over the decorative layer created using the Granada set.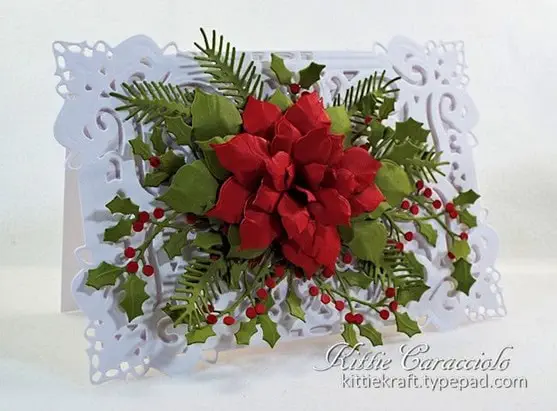 I cut the Granada layer using white cardstock covered with waxed paper to help remove the paper from the die.  I attached thin strips of mounting tape in several places on the back side and attached it to the card base.  This die is a little wider side to side and more narrow from top to bottom than an A2 sized card.  I like having the decorative edges stick out past the card base so I cut mine to 5.50" x 7.25" and scored in half.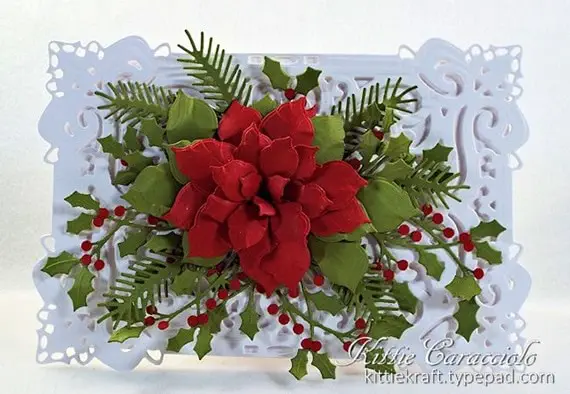 I cut four holly sprays and punched 1/8" circles and attached to the holly with glossy accents.  I cut a couple of each sized poinsettia sections, formed the petals with my stylus and molding pad and assembled using glossy accents.  I began the design by attaching three holly sprays in the center of the base with glossy accents.  I then attached the poinsettia with a healthy dose of glossy accents. I added several green leaves around the flower to fill in and then finished by tucking several pieces of pine in in the arrangement to add another element of foliage and to soften.  I love how pretty the red and green look against the beautiful decorative white background.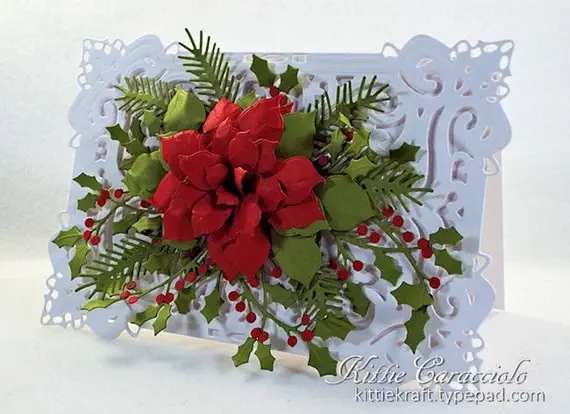 I appreciate you coming by today and I hope you are enjoying your weekend.