Good Monday morning.  I made this wheelbarrow full of spring flowers to encourage all of you folks that live in icy cold weather.  It was lots of fun to play with pastel colors and to step away from all the bright red and green I have been using for holiday cards. All the dies are made by Impression Obsession.  I used the Wheelbarrow, Tiny Flowers, Leafy Branch, Butterfly Set, Tulip Set and Small Grass Border.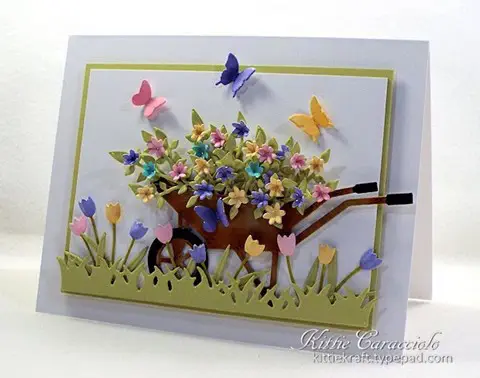 I cut the wheelbarrow using gray cardstock but added lots of rust with a mini applicator and rusty hinge ink.  I think I got a little carried away with the rust.  LOL!  The flowers were cut and formed with my tiny tipped stylus and molding pad.  I cut several sections of the leafy branch, cut the sections apart  and attached the flowers with glossy accents.  I applied a piece of 1/4" double stick tape to the back of the wheelbarrow and used it to attach the flower stems.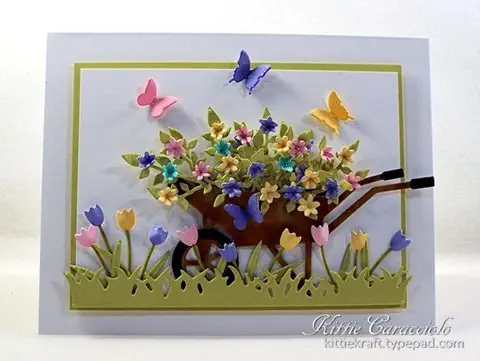 I attached the grass to the card base with rolled up 1/2" double stick tape and tucked the wheelbarrow in behind and attached with mounting tape.  I attached the tulips along the grass border and added the butterflies for the finishing touch.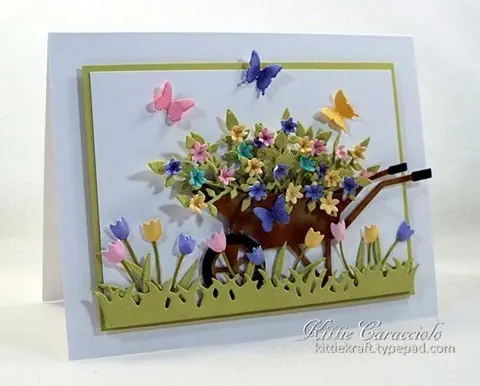 Thanks for coming by today and I hope you have a great week.  It's back to work for me.
Card size:  5.50" x 4.25"