Good Saturday morning.  My project today was made for the Splitcoaststampers Inspiration Challenge.   Great Big Canvas was our inspiration site this week and I was inspired by many of the rose pieces found when I did a search for Roses.  My card layout and watercolored roses were also inspired by Sharon Harnist's Copic Watercolored Blooms project found in the CLASSroom.  Alcohol inks are not my forte so I decided to play with the WPlus9 Coming Up Roses and distress ink and reinkers. The sentiment is from Julie's Fancy Thanks sentiment set from the new Essentials by Ellen Release. The frame is from the Impression Obsession Rectangle 6-in-1 Frames set.  Here's what I came up with. 
The roses are intended for two step stamping but I have to admit I used more than two steps as I  fumbled around a little. I started by stamping the largest rose background stamp several times on watercolor paper using spun sugar distress ink.  I misted the inked stamp each time before I placed it on the paper so it was would have a little bit of a washed look.  I repeated the same step with the smaller rose background. I filled in the roses by stamping them with the detailed stamp images with worn lipstick ink.  I used my waterbrush to move the darker pink color around but washed them a little too much.  I pulled out my barn door ink, stamped the detailed images again and tried washing them a little.  As you can see I still washed them too much so there isn't much detail.  I almost gave up and tossed it but my stubborn streak kept me from doing it.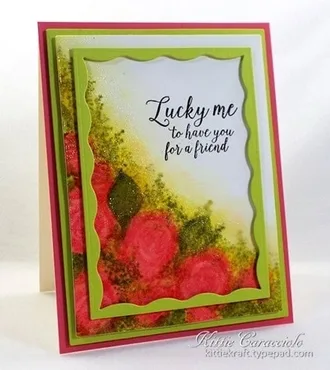 I stamped a few leaves using crushed olive ink and realized my mistake instantly.  I should have masked off the roses some so the full leaf wouldn't be out in front of the roses.  Ugh!  My mistakes just kept happening.  LOL!  I washed the leaves with my waterbrush and pulled the green out away from the arrangement to create a greenish highlight and watercolored effect.  I filled in around the leaves and flowers with a small filler image from the set that softened the arrangement.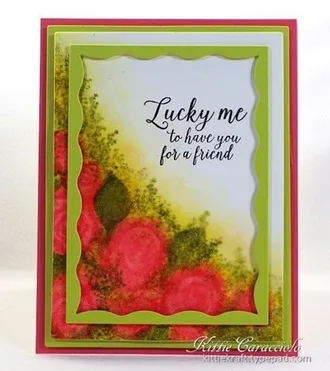 I stamped the sentiment with black versafine and embossed with clear embossing powder. Uh…..let's just say that my flowers were not completely dry so some of the embossing powder stuck on parts of the arrangement.  I just kept making mistakes.  LOL!  I applied versa over the whole flower arrangement to cover up that blunder and it actually brought out the colors of both the leaves and flowers.  Maybe it was really a happy mistake.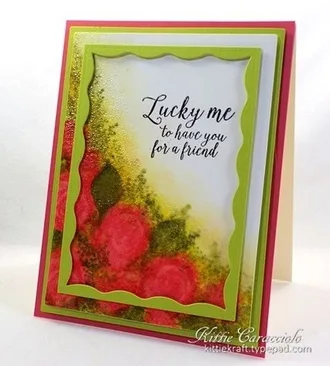 I attached the flower layer with mounting tape to juicy pear cardstock and then attached to the candy hearts card base with another layer of mounting tape.  I attached the frame to the flower layer with rolled up double stick tape. 
Thanks for coming by today.  I hope you have a wonderful weekend.
Card size:  5.50" x 4.25"