Good Thursday morning.  Welcome to the Impression Obsession Design Team "Think Spring" challenge. Could there be anything sweeter than a bunch of bunnies hopping around in the tulips.  I love the new Easter Cutout Square and think it pairs perfectly with the Bunny Set, Grass Border and the Butterfly Set.  I used cutout square  and bunnies together a couple of weeks ago creating an all white silhouette scene. For today's project I cut all the images out using watercolor paper and colored using distress reinkers mixed with water and a brush. 
I cut the images, dampened the paper with my mister to help spread the inks and watercolored.  I cut a couple extra tulips to have to fill in the scene.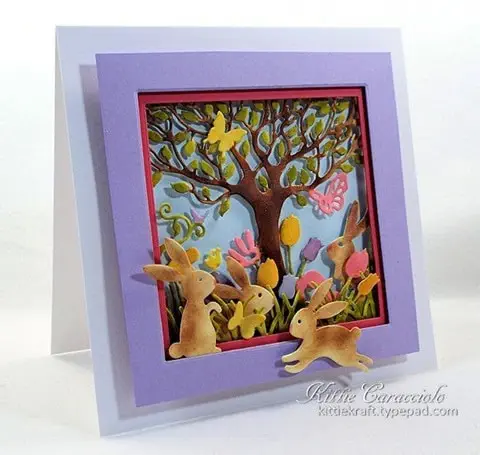 I applied rolled up double stick tape to the back of the Easter frame and attached it to a piece of  blue cardstock.  I cut and assembled the double mounted frame with thin strips of mounting tape, attached the grass border to the back of the frame.  I applied another layer of of mounting tape to the back of the frame and attached it over the tree frame. I attached the whole framed piece to the card base with ATG adhesive.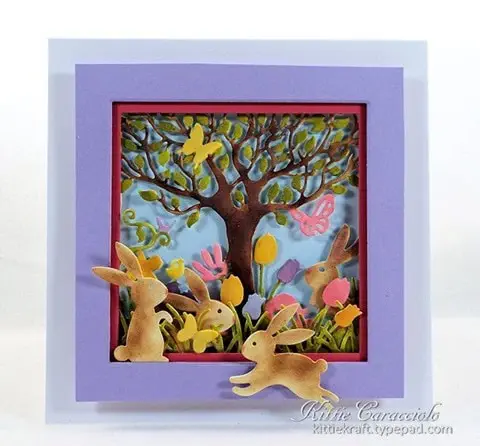 I attached the bunnies in the scene with mounting tape and then tucked the extra tulips around in the scene attaching with glossy accents.  I added a couple yellow butterflies for the finishing touch.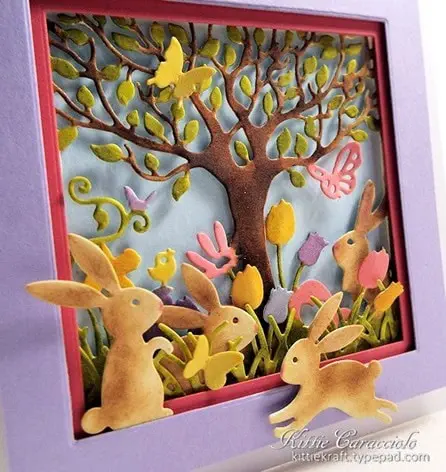 Here's a closer view to see the level of dimension in the scene.  I think it is so cute.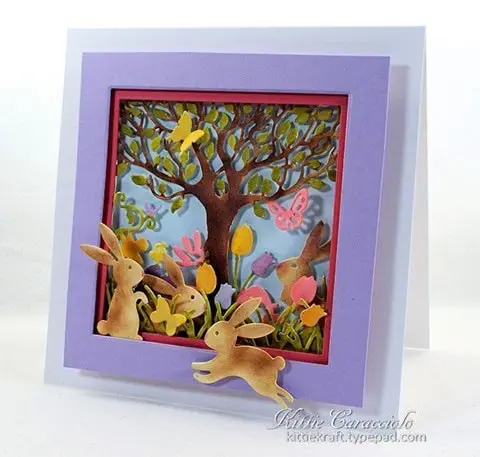 Why don't you come along and play with us. To enter the challenge go to the Impression Obsession Blog (all the details are there!). A random challenge card will be selected to showcase on the IO blog and you can to enter to win a $25 gift certificate to IO just by playing! I hope you will go check out what the other IO teams members created for the challenge. Thanks for coming by today..3.
Kittie Caracciolo  (that's me)