Good Thursday morning.  Welcome to the Impression Obsession Design Team "Happy Flowers" challenge.  Flowers definitely make me happy so this challenge was right up my alley. I think pastel when I think of flowers for spring.  I wanted my flowers and foliage to be the main star of the show so I set my arrangement against an all white background.  My white frames added another level of dimension and interest.
My project today was made using the new Open Scroll Vine, flowers from the Spring Wreath set paired with Bunch of Blossoms set, Rectangle 6-in-1 Frames and a couple sprigs from the Wide Tree.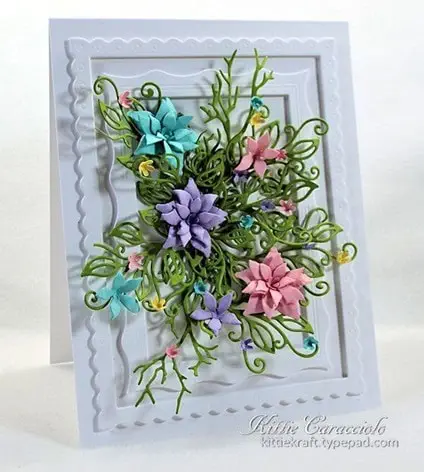 The frames were cut and attached to the card base with thin strips of mounting tape. The flowers from both sets were cut, formed with my stylus and molding pad and were assembled and attached with glossy accents. Several vines and one wide tree were cut and lightly formed with the stylus and molding pad.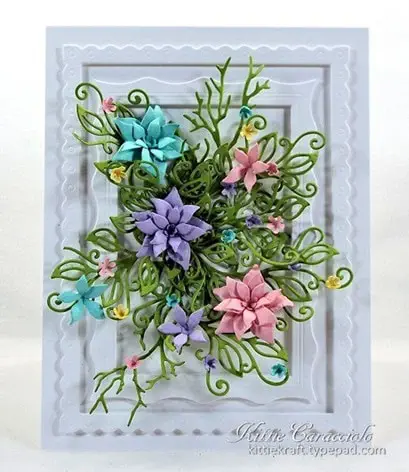 The vines were attached to the card base with glossy accents.  I love how delicate the scrolling shape of the vine is. I used several to build up a full base for my larger flowers.  The flowers were attached to the arrangement with glossy accents.  I added tiny colorful flowers and the branches of the wide tree for the finishing touch. This is sort of free spirited floral spray but I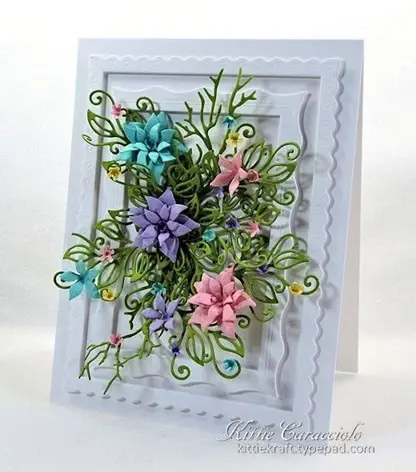 Why don't you come along and play with us. To enter the challenge go to the Impression Obsession Blog (all the details are there!). A random challenge card will be selected to showcase on the IO blog and you can to enter to win a $25 gift certificate to IO just by playing! I hope you will go check out what the other IO teams members created for the challenge. Thanks for coming by today..
Kittie Caracciolo  (that's me)
Card size:  5.50" x 4.25"