Good Tuesday morning.  I am having lots of fun playing with Susan's new Garden Patch sets by Elizabeth Graft Designs.  My project today is a bright spring shadowbox full of flowers and was made using the Garden Patch 1 Inch and Mini Daisy and Chrysanthemum set and framed using the Lifestyle Crafts Nesting Squares.  I also have some tool talk at the end of my post regarding Susan's Garden Tool Kit. 
My original plan was to create a see thru window with a window box full of flowers.  But when I got finished with my tiny flowers I thought they would look so pretty in a shadow box.  These tiny flowers are so perfectly sized for card fronts.  I'm sure they are going to be well used in my future card making.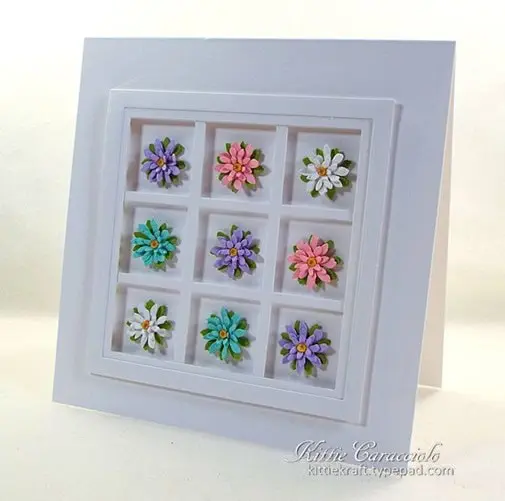 I cut the frame from Susan's set and layered it with a double matted frame.  I had already cut an opening in the card front to create the see through window so I attached the frame over the opening with strips of mounting tape. I attached a piece of cardstock on the inside of the card to cover the opening with strip of mounting tape. I wanted the flowers to appear lower inside the boxes.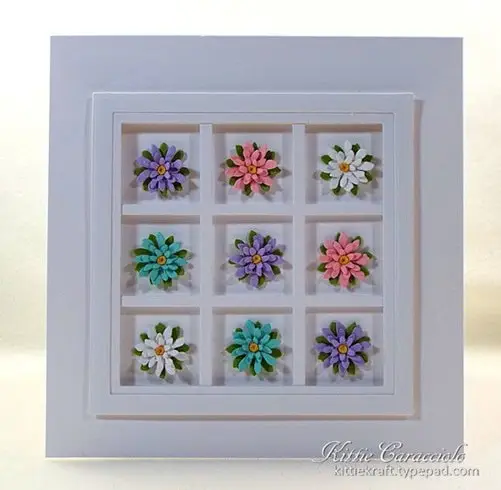 I used my stylus and molding pad to form all of the bright flowers and assembled them with glossy accents.  I used the largest flower in the set to create a green background layer for each flower.  I used a 1/8" circle punch for the flower centers and formed then with my tiny tipped stylus.   I attached each flower to the inside of the shadow box using glossy accents.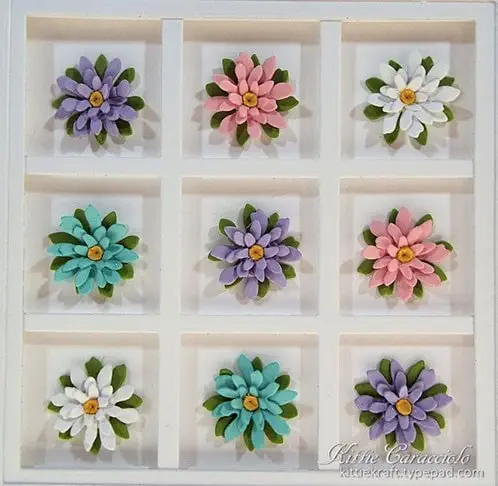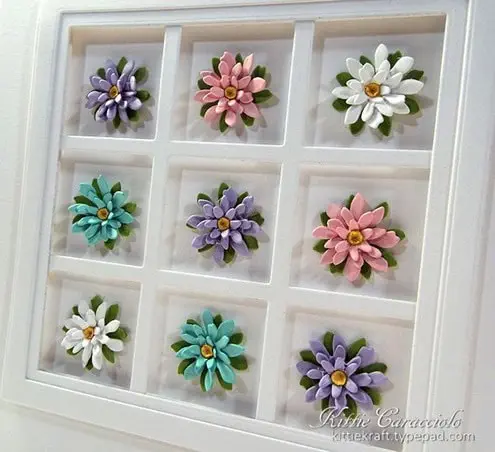 Here a couple closer views to show the depth of the shadow box and the sweet mini Chrysanthemums.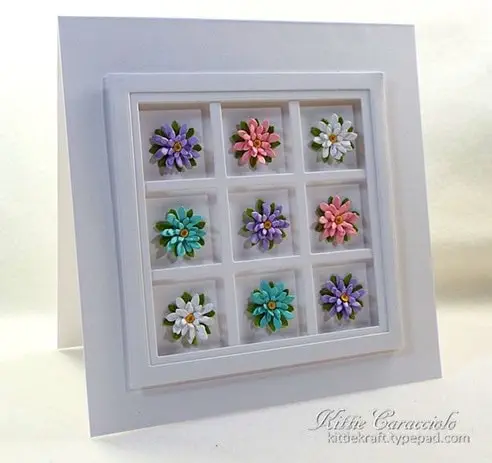 I love this color combination together.  It screams spring and Easter to me.
Card size 5.25" square
Susan's Garden Tool Kit
I just received Susan's new Garden Tool Kit by Elizabeth Craft Designs.  If you follow my blog regularly you know that I use Susan's original Accessory Tool Kit tool kit for almost every project I make. Although I loved the original kit I have always had issues with the rubber outer covers slipping down on the stylus, leaf tool and loop tools while I was gripping with my fingers.  Maybe it was just caused by the wear and tear I put the tools through. Although this didn't prevent me from using the tools but it was frustrating to me. 
I had the opportunity to talk on the phone with Susan a few weeks ago (she is so sweet)  about her new kit and the improvements made on the tools. She explained that the tools were similar to dental tool handles and made from solid steel with engraved finger grips on each tool handle.  .  I could hardly wait to get them in my hands.
The tools come in an impressive case that snaps shut to secure the tools.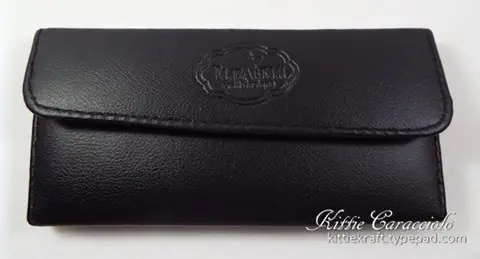 Each tool is held in place with elastic bands.  This case is perfect to secure your tools when taking them to a paper crafting event or class.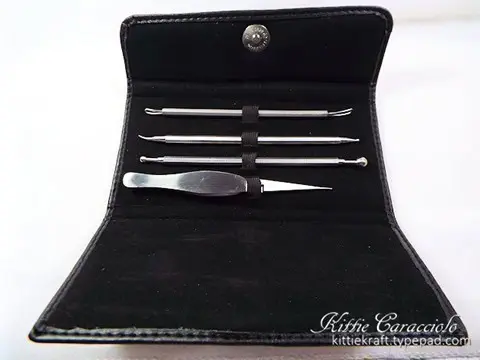 Here is a close up of the stylus so you can see the engraved groves on the handle.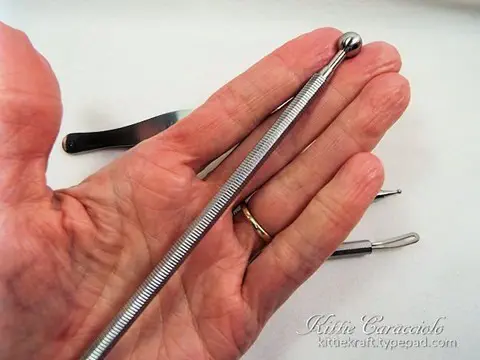 I had the opportunity to use the new tools on my project today and I am so excited to have them.   I highly recommend this tool kit if you don't already have a good set of tools for your dimensional die cutting and flower making.  Good tools make all the difference in the final outcome of your projects.
I am off work today and Bob and I are going to go visit the Tiffany Wing of Morse Museum in Winter Park. The Morse Museum houses the world's most comprehensive collection of works by Louis Comfort Tiffany (1848–1933), including the artist and designer's jewelry, pottery, paintings, art glass, leaded-glass lamps and windows; his chapel interior from the 1893 World's Columbian Exposition in Chicago; and art and architectural objects from his Long Island country estate, Laurelton Hall. The Museum's holdings also include American art pottery, late 19th- and early 20th-century American painting, graphics, decorative art.
My sister Cindy and Bob visited the museum few weeks ago. They both loved it and Bob said he couldn't wait to take me there.  I'll fill you in on my adventure later this week.  Thanks for stopping by today and I hope you are enjoying the day.